Rays bucking baseball's strikeout trend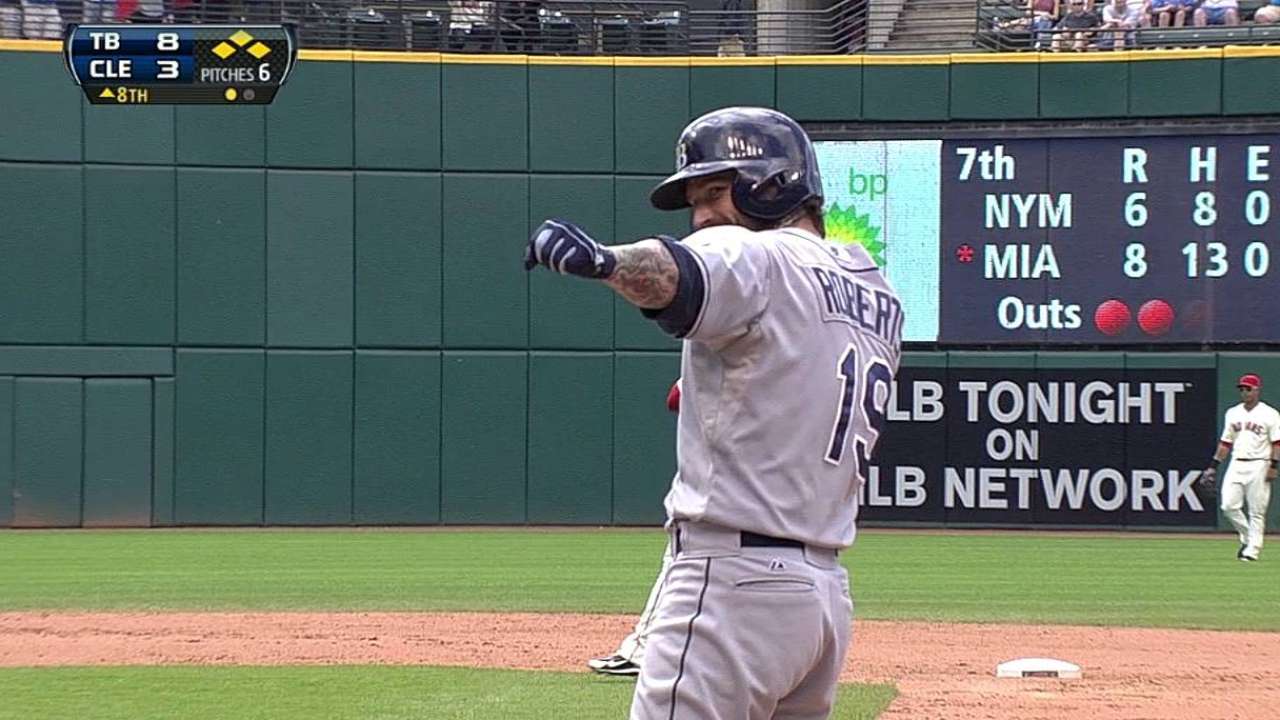 DETROIT -- Rays batters have cut down dramatically on their strikeouts, even while strikeouts have risen across Major League Baseball every year since 2005.
The 2012 Rays averaged 8.17 strikeouts per game, a number that is down to 6.84 -- the second-largest drop in the Major Leagues behind the Orioles (8.12 to 6.46).
"I think our personnel has a little bit to do with it," Rays hitting coach Derek Shelton said. "But I think, also, we talked in Spring Training about having a little bit of an offensive identity and trying to make sure that we move the ball more. And I think we've done a good job of that.
"We did a really good job in the month of May with runners in scoring position. Even if it wasn't hard contact, the ball was moved. Hitting's contagious when guys start to put the ball in play. We had a rally in Cleveland the other day where I think we hit one ball hard, but we scored three runs. We put the ball in play. I think mindset-wise, it has been a little bit of a conscious effort."
Desmond Jennings had a simple explanation for the difference.
"When it's going good, it's just going good," Jennings said. "When the team's hitting good, you're just seeing the ball better, and you're probably going to strike out less. Everything's flowing the way it's been flowing offensively for us. I don't know. I guess everybody's just seeing the ball pretty good right now."
Ryan Roberts allowed that he has never thought about a team not striking out being contagious in the way hitting is considered contagious.
"I just thought, more or less, with the way the lineup pans out, guys don't feel as much pressure, because they know the guy behind them has their back and has just as much opportunity to drive them in," Roberts said. "It would be more comfort in not trying to do too much at the plate in knowing that the job would get done at some point. If you don't get it done, somebody will pick you up at some point. That relieves some pressure and keeps you from trying to do too much, help you cut down your swing and make contact moreso than over-swinging and trying to do too much. … You're just trying to make solid contact and get base hits to keep the line moving."
Matt Joyce believes the new personnel has played a big part in the decreased strikeout numbers.
"I think it's just adding guys like [James] Loney, Kelly Johnson, guys that are willing to put in the work, willing to put in the time, who really do such a great job of preparing and have a plan up there every time," Joyce said. "They know what they're looking for. They know what to expect. And they're staying with their plan. And so far they've done a great job."
Bill Chastain is a reporter for MLB.com. This story was not subject to the approval of Major League Baseball or its clubs.