Prospect Archer to rejoin Rays, start Saturday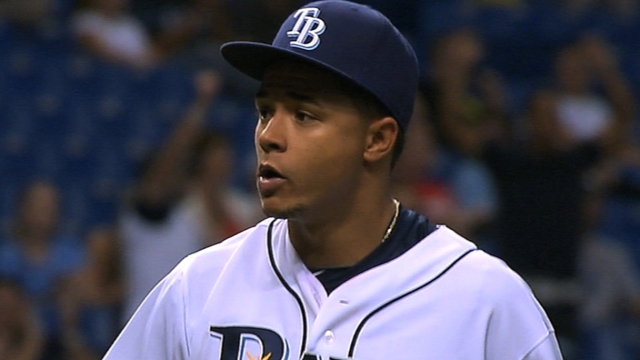 MIAMI -- Chris Archer, ranked No. 4 on the Rays' Top Prospect list, will be recalled to start Saturday's game against the Indians in Cleveland.
The 24-year-old right-hander will be making his first start of the season for the Rays after going 1-3 with a 4.60 ERA while striking out 36 in 29 1/3 innings in six appearances in 2012. He is 5-3 with a 3.96 ERA in 10 starts for Triple-A Durham this season.
"Archie did a nice job up here last year," Rays manager Joe Maddon said. "Seems like we're giving everybody an audition for later in the season, so I kind of like it, actually."
The announcement that Archer will start Saturday capped a week of pitching moves that began when Jake Odorizzi received the news he'd been optioned back to Durham after making two starts for Tampa Bay. According to the team, that move was made necessary because of a bullpen that was running on fumes from overuse.
Alex Colome was recalled to bolster the 'pen, but two factors quickly changed that situation.
First, Roberto Hernandez pitched 8 2/3 innings Wednesday night to give the bullpen a rest in the Rays' 3-1 win over the Marlins, rendering Colome unnecessary in that one. Meanwhile, behind the scenes, Alex Cobb quietly nursed a split fingernail on his right middle finger.
Cobb's situation prompted the Rays to make other plans for Friday night, when he was scheduled to start against the Indians. Rather than have Cobb make his start, they opted to push back Matt Moore, Thursday night's scheduled starter.
The Rays then decided to start Colome against the Marlins on Thursday night, which turned out to be a fortuitous move. After Colome allowed just an unearned run in 5 2/3 innings in a 5-2 win over Miami, Tampa Bay announced its decision to start Archer Saturday. He is expected to join the team Friday in Cleveland.
Bill Chastain is a reporter for MLB.com. This story was not subject to the approval of Major League Baseball or its clubs.