Colome to start with Cobb battling split nail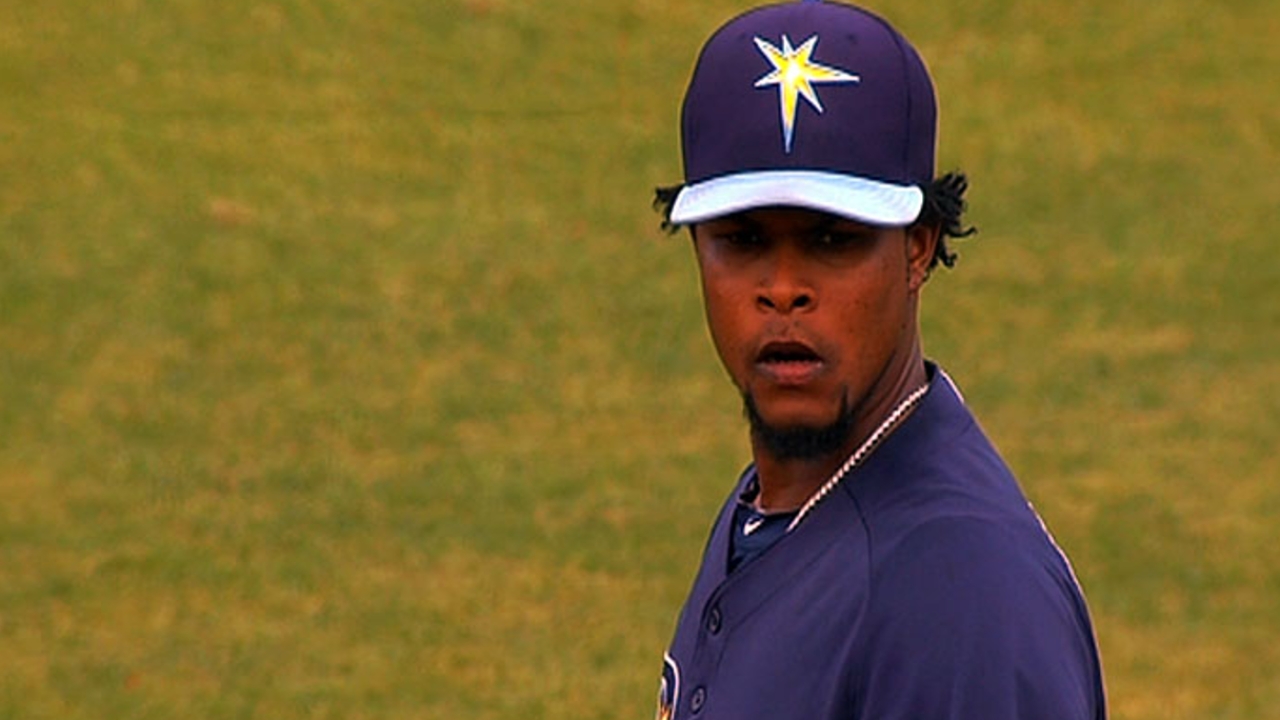 MIAMI -- Alex Colome arrived to the Rays clubhouse Wednesday afternoon with a glow just to be in the Major Leagues. Once Wednesday night's 3-1 win over the Marlins played out, he had learned he would be the Rays' starter on Thursday due to a minor setback to Alex Cobb.
Cobb suffered a small split in the fingernail of his right middle finger, which has been causing him some discomfort.
"It happened last game, in the New York game, I got a little split," Cobb said. "And it started bleeding a little bit throughout the game. Didn't think too much about it, thought it would heal.
"I waited an extra day for my bullpen. I threw my bullpen [Wednesday] instead of [Tuesday]. And then, I couldn't throw any offspeed pitches. Curveball and changeup both kind of hurt. Fastball felt fine, but I didn't feel comfortable going into the game without knowing if I'd be able to throw my offspeed pitches. They decided it would be better to give it an extra day and try to let it heal."
Cobb had been scheduled to start Friday night in Cleveland, and now his next start is up in the air.
"I told them I could throw if I had to, but it wouldn't be with all my best stuff," Cobb said. "It's not something I've had before, so I think the less setbacks I have during the week, I'll be fine by Sunday or Tuesday."
Matt Moore will be moved from his scheduled start Thursday in Miami to Friday night against the Indians. Saturday's and Sunday's starters are to be determined. But Thursday's starter will be Colome, who was told of his fate by Rays manager Joe Maddon following Wednesday's game.
"He told me, if I want, I start tomorrow," Colome said. "I said, 'Yes, why not?' He say, 'You got it, I don't want you to change anything. You do the same things you do in Durham and throw your game.'
"It's the dream I've waited for for a long time. I feel great, because it's my first time in the big leagues. Now I'm starting. Something good."
Colome, a 24-year-old right-hander, was recalled from Triple-A Durham in the corresponding move for Jake Odorizzi getting optioned to Durham on Tuesday night. Ostensibly, he was slated to help out the bullpen.
"It's really fun, because last night before the game, I didn't think to come here to be here today," Colome said. "But last night when [Durham manager] Charlie [Montoyo] called me and told me I go to the big leagues, I say, 'Wow, you joke or what?' He say, 'No, no, I don't joke. You go to big leagues.' I say all right, and I feel good, because I've been waiting to be here a long time."
Colome noted that he called his family in the Dominican Republic and his roommate, Durham left-hander Alex Torres, who had an abbreviated tour with the Rays earlier this season. Colome reported that his family was happy, and that Torres dispatched some advice.
"He tell me, 'You know what you have to do,'" Colome said. "It's the same thing. You go to big leagues, throw a strike. You have to do the same job you do here in Triple-A."
Among the family members Colome called was his uncle and former Rays right-hander, Jesus Colome.
"He say, 'Yeah, I'm feeling really happy for you, I don't have to say anything to you, because you know how you have to pitch in the big leagues, you know what you have to do, I have nothing to say,'" Alex Colome said. "He tell me every time I'm home, because we live together, he tell me about the big leagues. 'When you get to the big leagues, you have to pitch. Don't fight with nobody. You have to be good teammate and everything.' He teach me everything."
Colome could not hide the joy derived from his promotion. He smiled when asked if he thought he would be in the Major Leagues this season.
"Yeah, I think about that," Colome said. "Because I think I did a really good job in Triple-A. And sometimes I wake up and say, 'When am I going to the big leagues?' That happened last night."
Colome was 4-5 with a 2.60 ERA in 10 starts for the Bulls this season. He struck out 61 in 55 1/3 innings and walked 22. He has been a starter throughout his Minor League career, but he said he pitched out of the bullpen in winter ball, so he is ready for anything thrown his way after Thursday's start. Wednesday would have been his night to start in Durham.
Colome credited his strong showing thus far this season to a slight alteration in his mechanics, which has helped his control.
"Neil Allen [Durham pitching coach] help me," Colome said. "My cutter is really good this year. My changeup, I don't throw a lot of changeup before. Now, [Joel] Peralta help me in Spring Training, he pushed me to throw my changeup. Now my changeup is really good. I can throw for strike, strikeout, whatever. … I feel better. I feel more comfortable."
Bill Chastain is a reporter for MLB.com. This story was not subject to the approval of Major League Baseball or its clubs.