Odorizzi optioned to Triple-A; Colome recalled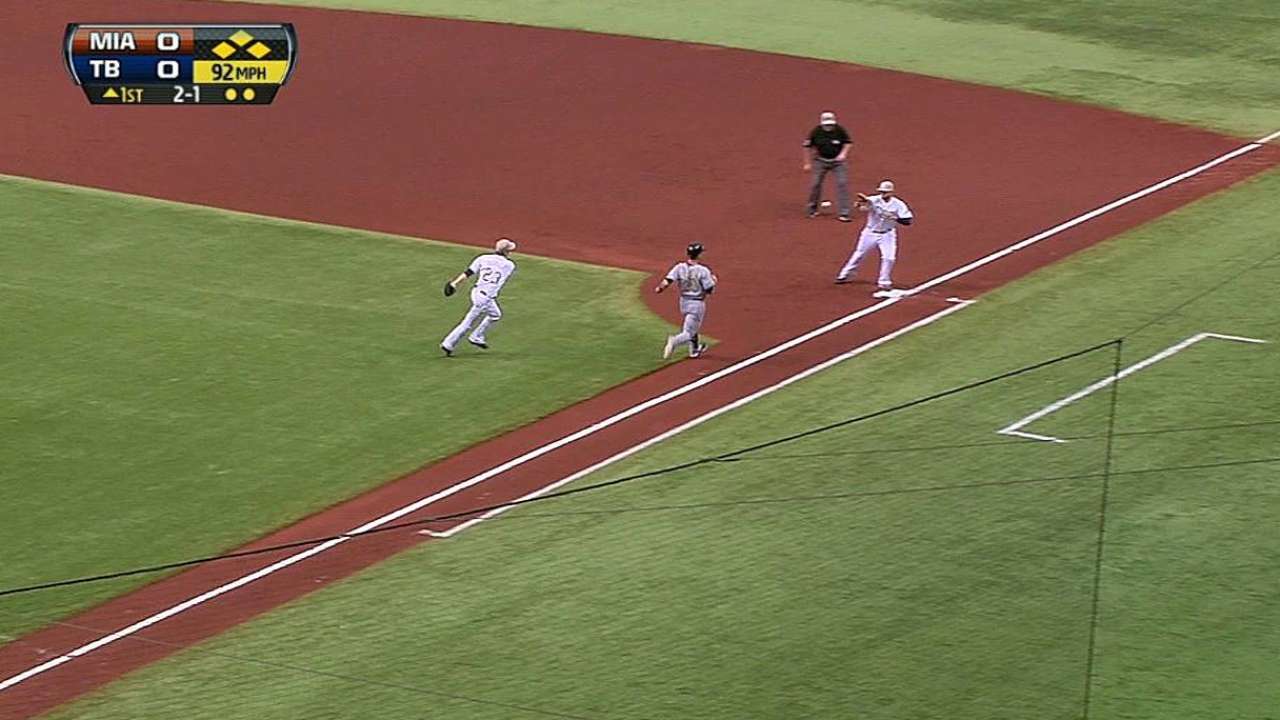 ST. PETERSBURG -- Jake Odorizzi was clearly disappointed with the news that he'd been optioned to Triple-A Durham on Tuesday night, sent back to the Minors after only two starts with the Rays. But with an overworked bullpen and plenty of other young pitchers waiting in Durham, the move made perfect sense for Tampa Bay.
Right-hander Alex Colome was recalled from Triple-A Durham and will be available in the Rays' bullpen for Wednesday night's game against Miami. The Rays will call up another pitcher, most likely Chris Archer, to start Saturday against the Indians. Odorizzi, a right-hander, had been scheduled to make the start in the rotation spot opened up by David Price's injury, but instead he'll head back to Durham.
Tampa Bay gave Odorizzi, its No. 3-ranked prospect, a six-run lead in his start on Monday against the Marlins, but he promptly gave up six runs before getting chased in the fifth inning without retiring a batter.
"I'm disappointed. I was hoping to get some more innings, especially after that last outing," Odorizzi said. "I really wanted to get back out there. I was ready to get back out there today, but obviously it's not possible. It's just part of it."
Pitching coach Jim Hickey told Odorizzi a few things he can work on after his second stint in the big leagues, manager Joe Maddon said, but equally important in the Rays' decision was their need for a fresh arm in the bullpen.
"If I would've gotten the win [Monday], it wouldn't have really mattered," Odorizzi said. "So it wasn't a reflection of outings or anything. It's just, they need somebody and I'm the lucky guy, I guess."
Maddon pointed to setup man Joel Peralta, who's pitched four days in a row, and closer Fernando Rodney, who's worked three of the last four days. There's also Jake McGee, who warmed up on Tuesday despite Maddon's plan to sit him, and Kyle Farnsworth, who was up and down at least twice.
Colome, 24, was 4-5 with a 2.60 ERA in 10 starts for the Bulls. He struck out 61 in 55 1/3 innings while walking 22.
"There's been a lot of craziness among the bullpen, and so we needed to square that up a little bit, too," Maddon said.
Archer would appear to be the most likely candidate to take Price's spot come Saturday. He last pitched on Sunday for Durham, where he's 5-3 with a 3.96 ERA in 10 starts this season.
Bill Chastain and Adam Berry are reporters for MLB.com. Follow Adam on Twitter at @adamdberry. This story was not subject to the approval of Major League Baseball or its clubs.