Rays, behind Longoria, becoming known for offense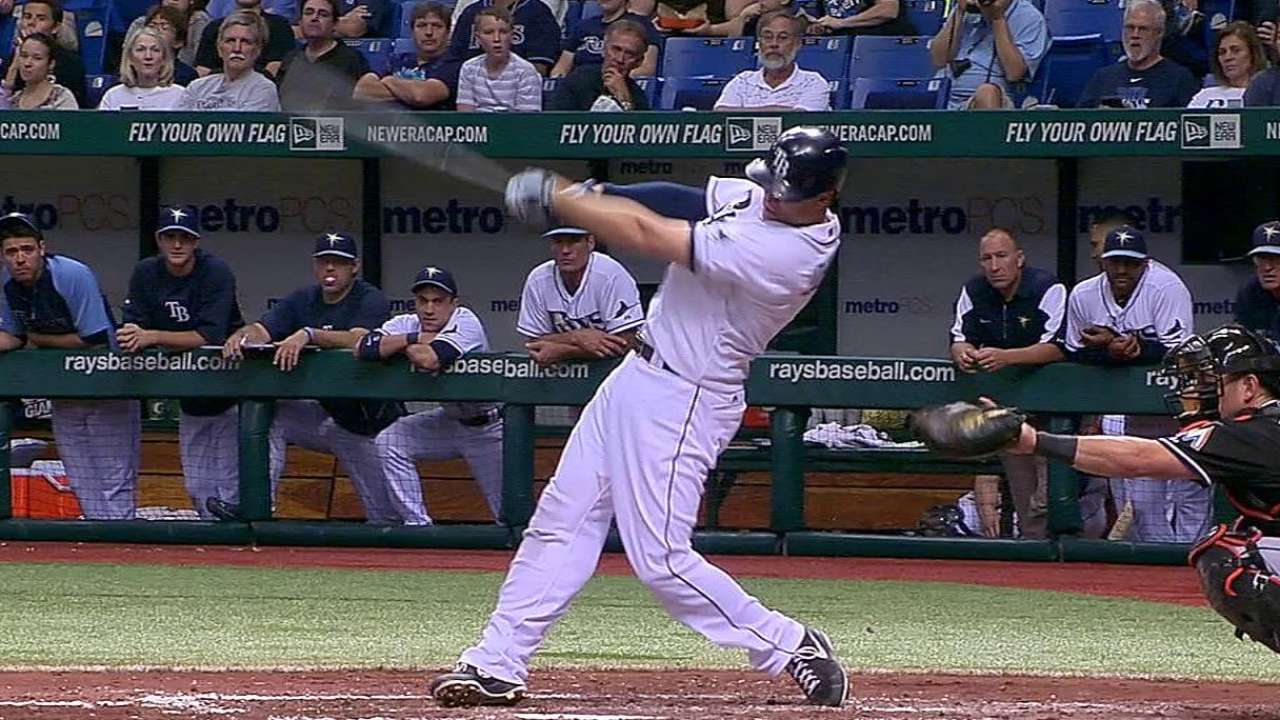 ST. PETERSBURG -- The shoe is on the other foot.
For years it seems that most criticism directed at the Rays has been associated with the team's offense, while the pitching has been a celebrated group.
Even though it's early in the 2013 season, this one has had a different hue than in the past, as the Rays' bullpen has blown leads and the starting rotation -- save for Alex Cobb and Matt Moore -- has been inconsistent. Meanwhile, the offense has been thumping.
In the Rays' last 37 games (beginning April 17), they lead the Major Leagues in runs scored (208, 5.6 per game) and hold the American League's third-best record at 22-15. On Tuesday, they scored seven runs in a win over Miami.
"It definitely is a little bit of a change, and a welcome change for us on the offensive end," said Evan Longoria, who's hitting .320 with nine home runs and 30 RBIs. "I felt like we were always putting a ton of pressure on ourselves because our pitching was so good and has been so good for so long. And they're going to be good.
"Like [Rays manager] Joe [Maddon] says, these are the guys who were probably a top-5 group last year and we're pretty much running the same guys out there. They're going to figure out a way to be better. But it's good to know offensively that we're able to produce some runs and be able to help them."
Hitting coach Derek Shelton has often been the target of those looking to blame someone for the team's offensive woes. Not this season.
"I'm sure it takes a little bit of the pressure and the weight off him," Longoria said. "But I think we all understand how hard he works, [and] how well he's respected from the offensive guys in this clubhouse. … We understand how hard he works and how much pride he takes in his job. So it's good to see the results. And it's good to see us producing, not for him, but in his behalf."
Longoria noted that the offense has been "lucky overall" to have players get hot at different times.
"I mean [first baseman James] Loney was really hot for a long time," Longoria said. "Then Kelly [Johnson] kind of steps in and gets uber-hot after him and really, you see the trickle effect all the way down the lineup to feed off of what one guy is doing. And you don't want to get left behind."
Longoria had an interesting take when asked if this year's offense has been the one the Rays envisioned.
"We talked a lot in the spring about developing the offensive identity and what kind of team we're going to be," Longoria said. "I think the home run production is definitely more than I thought we would produce this early in the year.
"But as far as the way that we've scored runs, I think we've done what we've expected of ourselves as far as moving runners along and being able to get a runner on second with nobody out and score that guy, whether it's with a bunt and a sac fly, no matter how we do it. We've really put good at-bats together. And I think that was something that was definitely expected."
Early in the season when the bats weren't working, Maddon said that this year's team had the capability to have a "swarming" offense, which has since come to fruition.
"It is [swarming]," Longoria said. "Because you kind of get it from all angles because you can't predict all the angles in this lineup. Like I said, Kelly in the three hole [Monday], he's probably been as low as seven or eight [in the lineup]. Yunel's [Escobar] been one, nine, two, he's been all over. [Maddon has] figured out a way to fit the puzzle pieces together and kind of create that swarming offense."
When Longoria was asked whether this year's offense was the best he's been a part of with the Rays, he quickly pointed out that the team is not striking out as much as it has in the past.
"And in those situations where we need to move the ball, we have," Longoria said. "I think that gives you the ability to produce a lot more runs based off of the fact you're putting the ball in play. It's just been fun to watch and I hope we continue it."
Bill Chastain and Adam Berry are reporters for MLB.com. Follow Adam on Twitter at @adamdberry. This story was not subject to the approval of Major League Baseball or its clubs.