Jennings needs to make chances to steal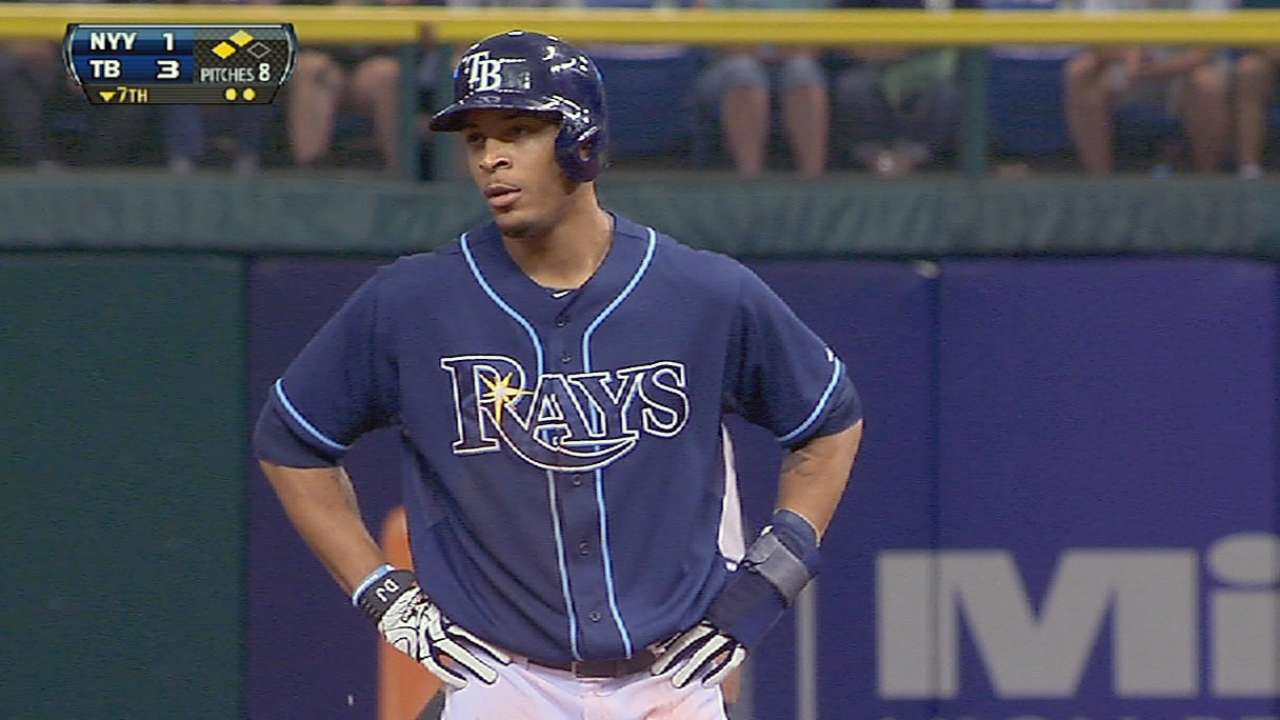 ST. PETERSBURG -- Stealing bases isn't always about stealing bases. Desmond Jennings has the speed and the ability to be one of the Majors' best thieves, but he entered Sunday's game against the Yankees with just seven.
"A lot of it has to do with getting on base," manager Joe Maddon said. "When you get a little bit cold offensively, as a basestealer, of course, you don't have as many opportunities. Good basestealers, they're getting out there on a consistent basis, and they've got that vibe going on."
Jennings entered Sunday's action hitting .233, with a .293 on-base percentage.
"He just needs to get back out there, get that on-base percentage back up there," Maddon said. "Accept his walks. Early in the year and during Spring Training, his strike zone was in good order when he was out there a lot. And that's when you see him go. That's always been the case. All the good basestealers that I've had, when they've struggled, then they get out there sporadically, [they're] not as clean on the basestealing. He needs to just get out there more."
Jennings agrees.
"It's just like any other thing," Jennings said. "When you get on, you don't want to just get on and run. You don't want to run into an out or get picked off. It's something, when you haven't been on base in a while, you have to get the timing of the pitcher. You have to get your jumps. It's different. It's about a comfort level more than anything."
The Rays have just 22 stolen bases this season. Clearly, they are not the running Rays of years past.
"We're more situational than we have been," Maddon said. "We've been OK, we've gotten thrown out on the bases way too often this year. A lot of it has been pickoffs. A couple of line drives. Sometimes that can be cyclical also. I just want us to be smart."
Bill Chastain is a reporter for MLB.com. This story was not subject to the approval of Major League Baseball or its clubs.