Longoria credits consistent health for success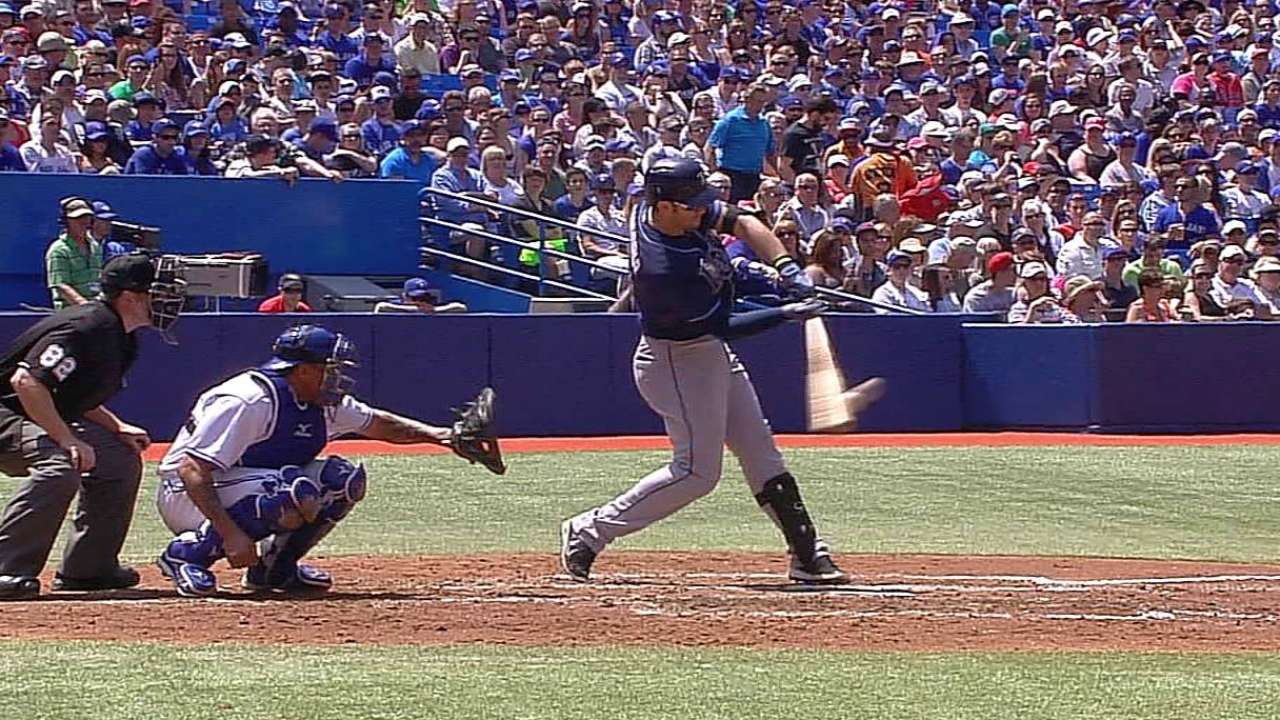 TORONTO -- Joe Maddon recently commented that Evan Longoria was playing better than he had ever seen him play.
Longoria downplayed the Rays manager's compliment.
"I just think that I'm happy I've been able to be healthy and on the field," Longoria said. "And just that in itself creates a real positive mentality, a real ability to just be focused on one thing every day. And that's going out and winning the game any way we can and being able to help in as many ways as I can.
"Again, I just continue to do the things I've been doing to stay healthy in the training room and in the weight room, and hopefully it continues to pay off on the field."
Longoria took a career-high 15-game hitting streak into Wednesday afternoon's game against the Blue Jays. There have been only six longer streaks in club history.
Longoria played in only 74 games last season due to a partially torn left hamstring. The Rays posted a 47-27 record in those games and went 43-45 when he did not play. To ward off the injury bug this season, Longoria normally spends a couple of extra hours on daily conditioning.
"It's a constant balancing act to keep in good shape and try not to tire yourself out, to be ready to play the game on a daily basis," Longoria said. "I've been doing a good job to this point and I'll continue to do the same thing."
Longoria confessed to reporters that he went through an early spell this season when he questioned his health.
"I felt pretty bad after the first week of the season; like 10 games in, I was kind of scared," Longoria said. "You probably don't play but three or four games in a row at the most toward the end of Spring Training. Once we got a week to 10 days into the season, my legs were tired and thoughts started to creep in about how I was going to do it for 162 games. But I had a [designated hitter] day and then we had an off-day. And ever since then, I've felt like my legs have responded really well on a daily basis.
"I haven't felt that same fatigue. I felt like my legs have been getting stronger and feeling better as the season goes. So with that worry behind me, it's just, again, I can be focused on other things. When you don't feel physically 100 percent, it's tough to do anything up to your capability. So I'm just happy that I feel well."
So how many games will Longoria play this season?
"Again, 155 would be awesome," Longoria said. "I mean, 155 games, there's probably just a fraction of the Major League Baseball population that plays 155 games every year. So to be included in that would be awesome. Of course I would love to be able to play 162, but I'd take 155 for a lot of years."
Bill Chastain is a reporter for MLB.com. This story was not subject to the approval of Major League Baseball or its clubs.