Wright's heart with tornado-ravaged Moore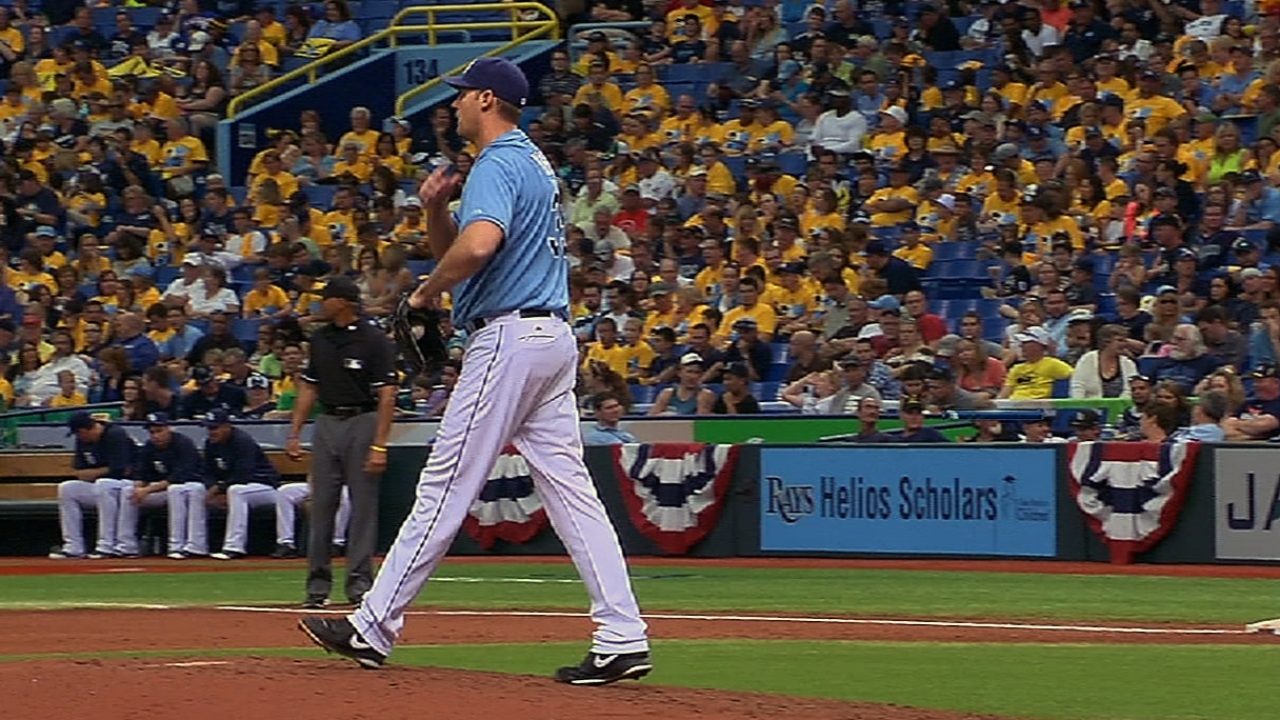 TORONTO -- On Monday, the Oklahoma City suburb of Moore was devastated by a mile-wide tornado that left a path of destruction, with dozens reported killed.
Jamey Wright's heart was with Moore on Tuesday, as the Rays reliever hails from Oklahoma City, where his parents and sister live near Moore in South Oklahoma City.
"We're not too far off," Wright said. "My sister just moved, two or three years ago, and the home that they did live in, I know it was demolished."
Fortunately, Wright's family survived Monday's disaster, as they did when a similar tornado ripped through the same area in 1999.
"All the weather calculations looked like something was going to happen that [Monday]," Wright said. "I don't think they had as much time as they did in the [tornado] that hit in '99. My dad said that came through pretty quick. That came pretty fast.
"Sixteen minutes for anybody who went through it in '99 -- that might as well be two hours. You don't sit around and think about what to do. You know what to do: you get in your car and leave the area, or you get underground or you don't make it. It's just awful, awful, awful."
Wright got a call from his wife, Marnie, right after Monday afternoon's game against the Blue Jays. Both are from the same area and attended the same high school.
"She was balling because she was on the phone with her parents, and they were in the car running from it," Wright said. "And she was talking to them, and the phone went dead. You know, that's a bad feeling.
"I told her I'd call back. I called my dad. He said it was just a little bit south of them, and they were all fine. They were having a tough time getting me up here in Canada."
Wright detailed the plan of action followed by his family.
"My parents [have a shelter], the next-door neighbors have one, my sister has one," Wright said. "So my dad was out at my sister's, and my mom was next door. My dad had come home from work, and he went straight to my sister's house. So they missed my parents and my wife's parents by two or three miles, almost the same path that it did in '99. Unfortunately, now there is just so much more in that area, so the destruction will be two or three times worse than it was in '99."
Wright noted that he reached out to his former Dodgers teammate, friend and Oklahoma native, Matt Kemp.
"I think his mother's house is gone," Wright said. "She lived in that area. I called to check on them. Said everybody was safe, but everything's gone."
Wright noted that as tragic a day as Monday was in the Oklahoma City area, the residents of the area were resilient and tough.
"I'm proud to say my home people where I grew up, they are the kindest and most generous people on the planet," Wright said. "So they'll be fine. They'll get through it. It will be hard, but they've been through it before."
Bill Chastain is a reporter for MLB.com. This story was not subject to the approval of Major League Baseball or its clubs.