Escobar's revelry has new meaning in Toronto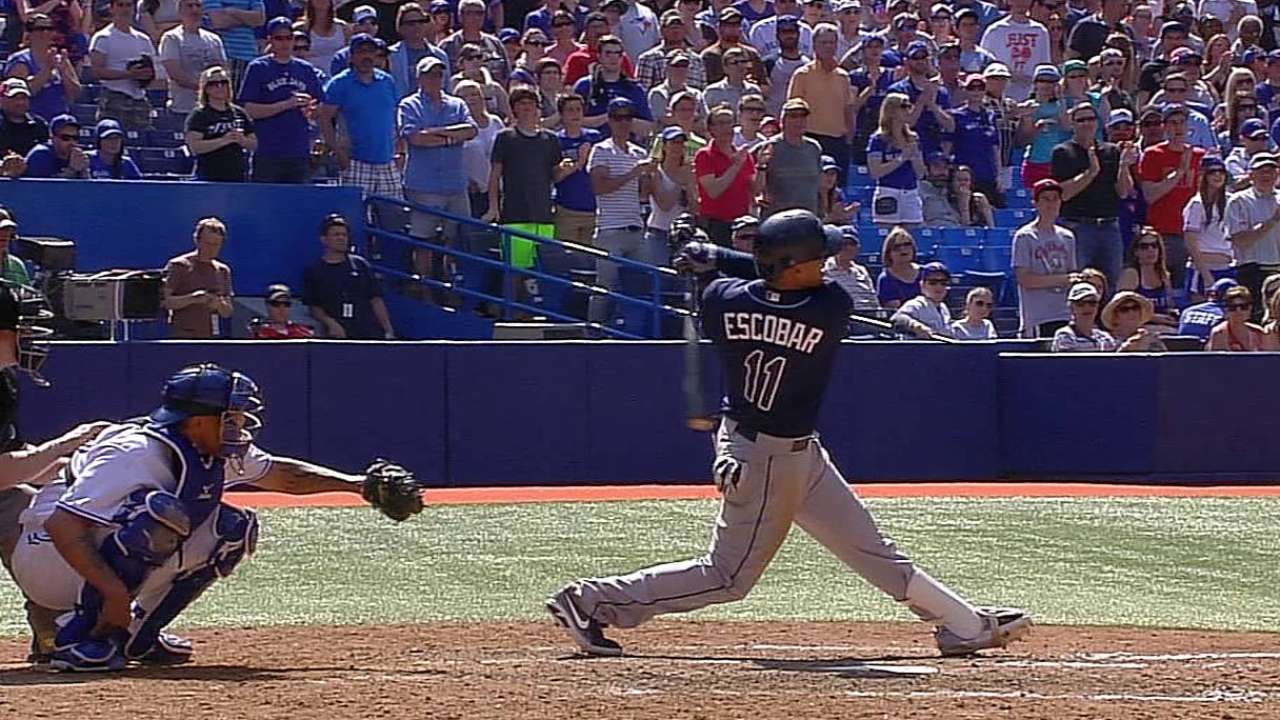 TORONTO -- Yunel Escobar experienced a homecoming of sorts Monday when the Rays shortstop returned to Toronto to play before the Blue Jays fans he had played in front of for three years.
Based on the boos, one could surmise that the overall reaction was negative, though Escobar did manage to place the final exclamation mark on his return.
With the Rays trailing, 7-3, in the ninth, Escobar homered off Casey Janssen with a runner aboard. Typical of Escobar's flair, he made a demonstrative "safe" sign when he touched home plate to mint his fourth homer of the season.
Rays manager Joe Maddon is widely known for giving his players a lot of rope. Nevertheless, he clearly did not care for Escobar's gesture.
"I'm sure that was an emotional moment for him," Maddon said. "The booing probably promoted the reaction that he had, and I'm going to talk to him about that tomorrow.
"I love the fact that he competed the way that he did. Obviously we've been talking about how well he's been doing; he's been doing great. And I love him on this team, I love him in the clubhouse, I love everything about this young man. But I still want to talk to him about the reaction after his home run, and I'm certain you're not going to see that again."
Escobar spoke to reporters with Rays reliever Joel Peralta serving as the translator.
"What I do at home plate, I always do every time I hit a homer," Escobar said. "I don't want to misinterpret that. It's just something that I do every time I cross home plate.
"I'm going to explain to Joe that I do that every time," he added. "I'm here to talk about it, and I'm just here to try and win games."
Janssen did not see what happened.
"I missed it, completely missed it," Janssen said. "I don't know what happened. I heard a couple of boos, and that's it."
Though Janssen did not see Escobar's gesture, he showed little concern even after hearing an explanation of what happened.
"He hit it; he hit his homer," Janssen said. "Like I said I didn't see it. I don't think he's doing anything directed at me. We were teammates; I had nothing wrong with him, you know, move on."
Bill Chastain is a reporter for MLB.com. This story was not subject to the approval of Major League Baseball or its clubs.