Maddon wants Rodney to get 'back into that groove'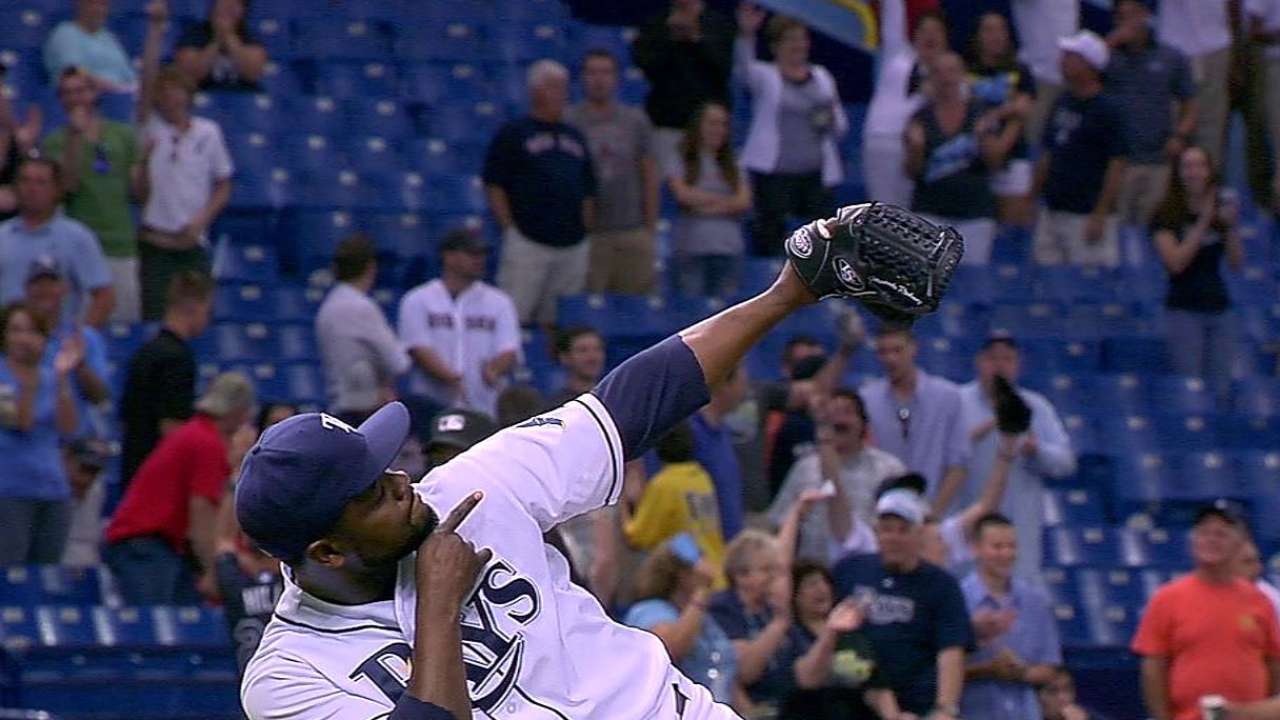 BALTIMORE -- Fernando Rodney blew the save Thursday night against the Red Sox, prompting Joe Maddon to note that the command of the Rays closer has been "off just a little bit."
"Stuff is great," Maddon said. "You can see the stuff. The velocity hit 100 [mph] again. The stuff is fantastic. We've just got to get him back into that groove where he's getting ahead in counts and being able to dictate to the hitters more. Pitching with that kind of stress all the time makes it very difficult."
The big hit against Rodney on Thursday night was a bases-loaded double by Will Middlebrooks off a changeup that hung. Maddon does not believe that Rodney is throwing too many changeups.
"I don't think so," Maddon said. "I think actually he should be throwing more changeups on occasion. I was all for that pitch. I was all for the pitch that Middlebrooks hit. I was all for the changeup. I was hoping that he would throw one. It just didn't apparently sink enough under the zone enough, and he was able to get to it."
Maddon said that he did not know why Rodney has had command issues this season after compiling such an immaculate line in 2012. Rodney has already blown three saves in 10 chances this season after blowing just two in 50 chances last year.
"You even saw him in Spring Training and then in the WBC, [Rodney's command] was outstanding," Maddon said. "More recently, it's not been as good. I don't have any solid answers. We've discussed different things with him to try to get him to replicate what he had been doing more closely, and I think he has. I thought we had worked through it, and then all of a sudden [what happened Thursday night]."
While Maddon allowed that something clearly is off-kilter with Rodney, he said he was not "really concerned yet."
"I think it's just one of those things you continue to support," Maddon said. "You could say the same thing about Jake [McGee]. Jake's run through the same issues right now, and you've just got to stay with your guys in these moments because they're good and they've been really good on this homestand outside of that first game. It's unfortunate, but I'm not running away from Fernando. We'll get him right."
No matter what, Maddon made it clear that the Rays need Rodney to perform if they are going to be contenders this season.
"We need to get him right," Maddon said. "We need to have him do his thing at the end of the game. We've been getting there. We've gotten there several times, and it's not turned out in our favor.
"But he's going to keep going out there. I believe in him strongly, and I believe you're going to see him finish very well during the course of this year."
Rodney does not cut the figure of someone who would carry mental baggage from a blown save. Friday afternoon, he said that he has put Thursday night behind him. He then smiled when a reporter asked if he's really struggling this season, or if it just appears that he's struggling because he had such an incredible season in 2012.
"That's baseball; that thing happened last year, I can't say how," Rodney said. "I threw the ball unbelievable all year. This year [is] a tough year early in the season, but I feel in myself, I can come back and do the job like I'm supposed to."
Bill Chastain is a reporter for MLB.com. This story was not subject to the approval of Major League Baseball or its clubs.