Excelling at Triple-A, Torres called up to join 'pen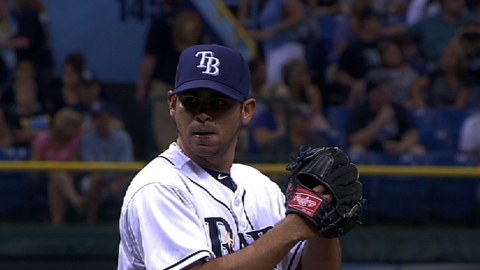 ST. PETERSBURG -- Alex Torres was sitting around watching TV around midnight Wednesday. He and his Triple-A Durham roommate, Alex Colome, had seen on Twitter that the Rays were going to need another pitcher in the wake of David Price's injury, and they knew it very well could be one of them.
The Rays opted to call up Torres on Thursday afternoon, giving them another arm in the bullpen this weekend and possibly a starter for Monday's game. The lefty was 2-2 with a 2.39 ERA in seven starts for Durham, but perhaps more impressively, he racked up 49 strikeouts to only 14 walks in 37 2/3 innings.
"I'm just focusing on the strike zone, trying to throw the ball around the knees of the catcher, get a ground ball or double play when I need it," Torres said.
Torres gave some credit for his improvement in that area to manager Joe Maddon, pitching coach Jim Hickey and the rest of the Rays' coaching staff. He said they drove home the point during Spring Training that he simply had to start throwing the ball around the plate for his Major League-ready stuff to make an impact.
"We've been really pounding on him and talking to him a lot," Maddon said. "This guy's got great stuff. He's got strikeout stuff. He's got strikeout stuff within the strike zone. He's also got the chase kind of stuff and the ability to pitch in this division against these kinds of hitters. We know that.
"You've got to keep talking, man. Redundancy and coaching are probably one in the same thing. Eventually, the message hits home. Hopefully it's hit, because this guy has got great stuff. He's got good makeup. He's a tough guy. It's just a matter of him throwing strikes when he wants to."
Torres also benefited from pitching in winter ball in Venezuela over the offseason. He said that experience provided him with much more confidence in his pitches, and Maddon noted that it probably didn't hurt that he had more chances to get a feel for his delivery and repeat it.
"All the credit goes to him," Maddon said. "This kid really wanted it, and he's gone out and he's done a great job and he's on the verge of becoming a Major League pitcher."
Torres was available out of the bullpen Thursday night against the Red Sox, though he hadn't been told whether he'll also be used as a starter come Monday.
"I'm just here to help the team win the games. I don't care [what's] going to be my role, if it's as a starter or as a reliever," he said. "When Maddon gives me an opportunity to pitch, I'm just going to make outs. That's all I'm looking for."
Bill Chastain is a reporter for MLB.com. Adam Berry is a reporter for MLB.com. Follow him on Twitter at @adamdberry. This story was not subject to the approval of Major League Baseball or its clubs.