Rays mulling over who will fill Price's rotation spot
Odorizzi, Archer, Torres, Colome finalists to start Monday in Toronto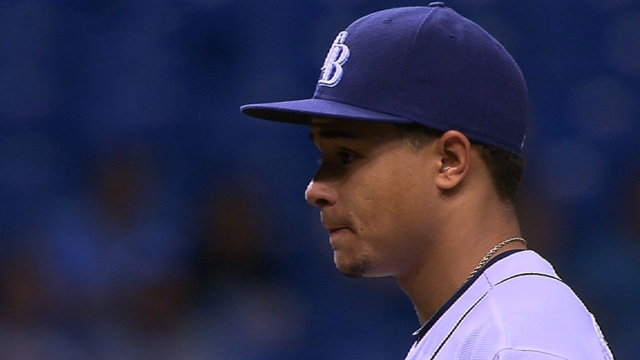 ST. PETERSBURG -- The Rays know David Price won't be making his scheduled start Monday in Toronto, but they're not quite sure who's going to be filling in for their injured Cy Young Award winner.
Manager Joe Maddon said Thursday that Tampa Bay's front office is deciding who to call up for that spot in the rotation. The finalists, Maddon said, are Jake Odorizzi, Chris Archer, Alex Torres and Alex Colome. Odorizzi would seemingly make the most sense out of that group, as he's pitching on the same schedule as Price, has some Major League experience and hasn't been held back by pitch limits like Archer has recently.
"We haven't gotten to that point yet," Maddon said. "We're talking about different things."
Odorizzi is 4-0 with a 3.83 ERA in 44 2/3 innings over eight starts for Triple-A Durham. Archer, who threw 73 pitches in five innings Thursday, is 4-2 with a 4.38 ERA. Torres, called up Thursday to provide additional bullpen depth, went 2-2 with a 2.39 ERA in seven starts, while Colome is 2-5 with a 2.84 ERA. They're all on the Rays' 40-man roster, so Tampa Bay wouldn't have to do any additional roster maneuvering to call them up.
"There's all kinds of different options that we have. There's a lot of good stuff going on down there," Maddon said. "We have to grow our own, man. We have to be that group. We have to fertilize it, grow it, tend to it, weed it and all that kind of stuff and make sure we have it, and it's hard to go buy that kind of stuff."
The Rays have always taken pride in their Major League-ready pitching depth, which has kept them well-equipped to deal with offseason losses like James Shields or in-season injuries like Price's strained left triceps.
"David is obviously a Cy Young winner. There is really nobody who can walk in and fill his shoes," third baseman Evan Longoria said. "On the flip side, we do have a lot of talent down there. Whoever it may be who fills in for the two or three starts, whatever it ends up being, I'm sure will be more than capable."
Bill Chastain is a reporter for MLB.com. Adam Berry is a reporter for MLB.com. Follow him on Twitter at @adamdberry. This story was not subject to the approval of Major League Baseball or its clubs.