Lueke performing well in leveraged situations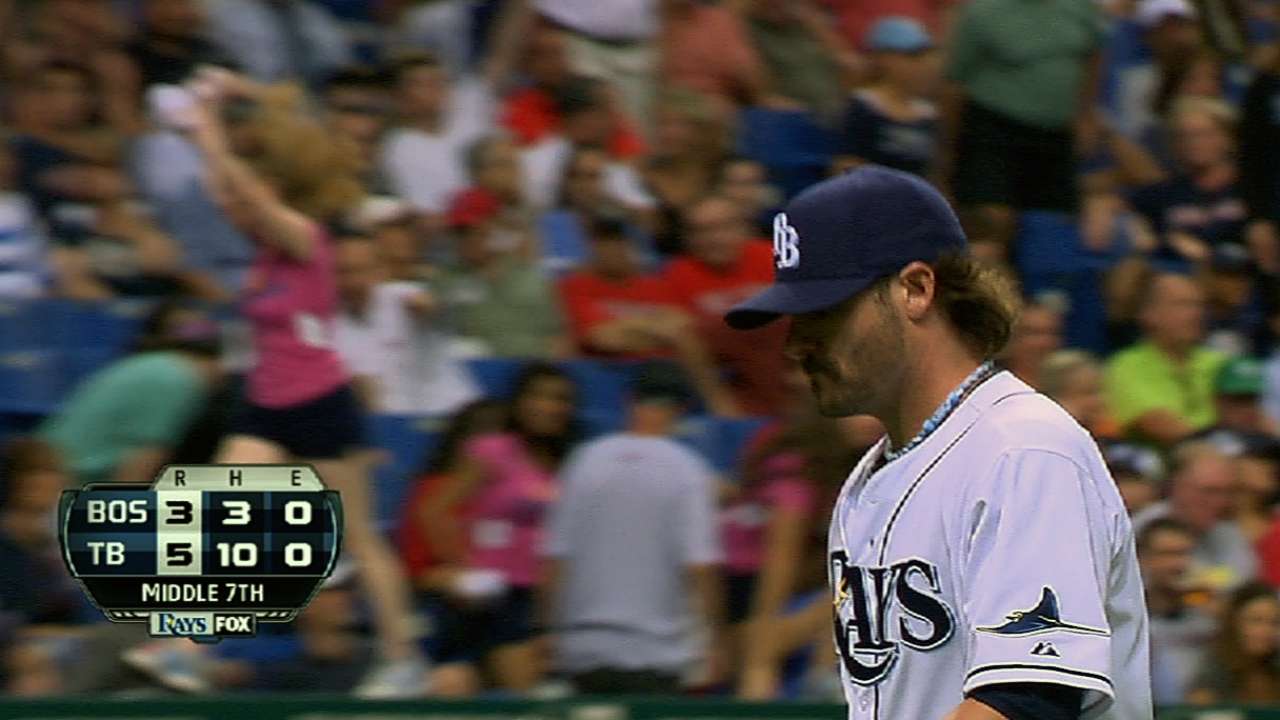 ST. PETERSBURG -- Since Josh Lueke's recall from Triple-A Durham on Friday, he has made two scoreless appearances. Each time, the right-hander has come into the game with runners on base and stranded all three.
He arrived to St. Petersburg on Friday to take the place of Brandon Gomes, who went on the disabled list with a strained right lat. Lueke pitched that night against the Padres, and he notched two strikeouts and didn't allow a hit over 1 1/3 scoreless frames. On Tuesday night, he entered the game with two outs during the seventh in relief of Jake McGee with two on and he got Shane Victorino to line out to first base to end the threat.
"That first time we brought him out, he looked pretty good here, he got four outs," manager Joe Maddon said. "So the way that just set up [Tuesday], he was warming up to go in the sixth, and then I wanted to roll it over to Jake in the seventh. My only concern was the fact that he warmed up in the sixth that he would be all right in the seventh. So we called down there and he said he was fine.
"So there's a guy who's already hot, and it's the right spot, it's the kind of guy he needs to get out. And, of course, to be really good, everybody down there needs to contribute. So I thought, 'He can do it,' and I also thought, 'Let's see if he can do it.' And as it turned out, good at-bat by Victorino and we were fortunate the ball found the first baseman."
In 12 of Lueke's 14 appearances for Triple-A Durham this season, he had 29 strikeouts and seven saves in 12 games.
Bill Chastain is a reporter for MLB.com. This story was not subject to the approval of Major League Baseball or its clubs.