Gear adds color to already brilliant Rays catch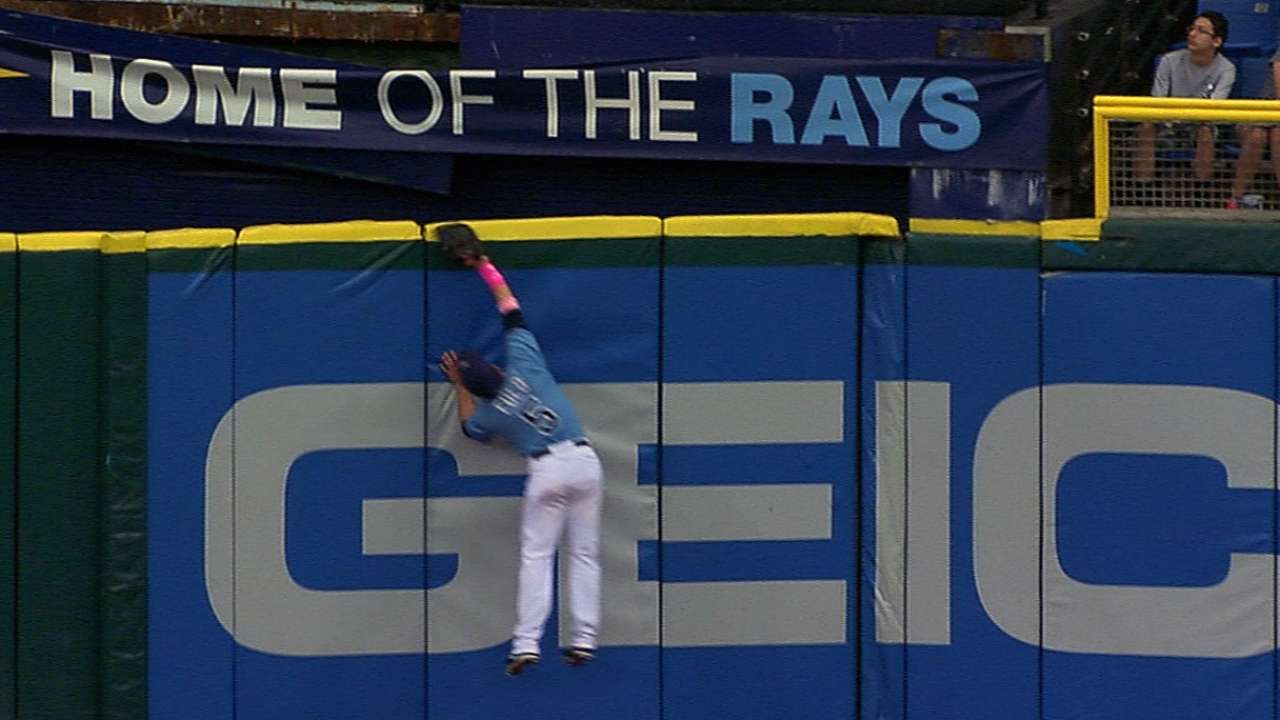 ST. PETERSBURG -- You might have noticed the pink sleeve on Sam Fuld's right forearm as he crashed into the wall in center field to rob Will Venable of extra bases in the first inning. Or you might have seen the pink wristband up by his elbow, or perhaps the pink necklace he wore or the pink ribbon on his jersey.
Fuld was one of several Rays to don special pink gear on Mother's Day, and all of Tampa Bay's uniformed personnel were outfitted with a pink ribbon on their jerseys. The game was played with a special Rawlings ball with pink stitching, a few players used pink bats and third-base coach Tom Foley sported some bright pink shoes.
And the Rays continued what they would surely like to see become a Mother's Day tradition: They won their third straight Mother's Day game since being on the wrong end of Dallas Braden's perfect game in Oakland in 2010.
Third baseman Evan Longoria drew a walk while using a pink bat in his first plate appearance Sunday, though he went back to his usual lumber when he clubbed a double to lead off the sixth inning. Every Tampa Bay player who contributed to Sunday's 4-2 win over San Diego sported at least some pink gear, whether it was James Loney with his pink sleeve and wristbands or Yunel Escobar sporting a similar look.
But the Rays' most prominent pink gear -- the stuff most likely to be seen again and again -- was that worn by "Super" Sam Fuld as he raced toward the fence, left his feet and completed another spectacular defensive play.
"Those plays are difficult, because it's tough to take your eye off the ball here; it's easy to lose it," Fuld said. "I lost it for a while. I was just running to where I thought it was going to be, then I was lucky to pick it back up."
The Rays also gave away a "Rays Flower Pot" to the first 10,000 women who entered Tropicana Field on Sunday. Tampa Bay is now 8-8 all-time on Mother's Day.
Adam Berry is a reporter for MLB.com. Follow him on Twitter at @adamdberry. This story was not subject to the approval of Major League Baseball or its clubs.