Known for defense, Loney not disappointing at plate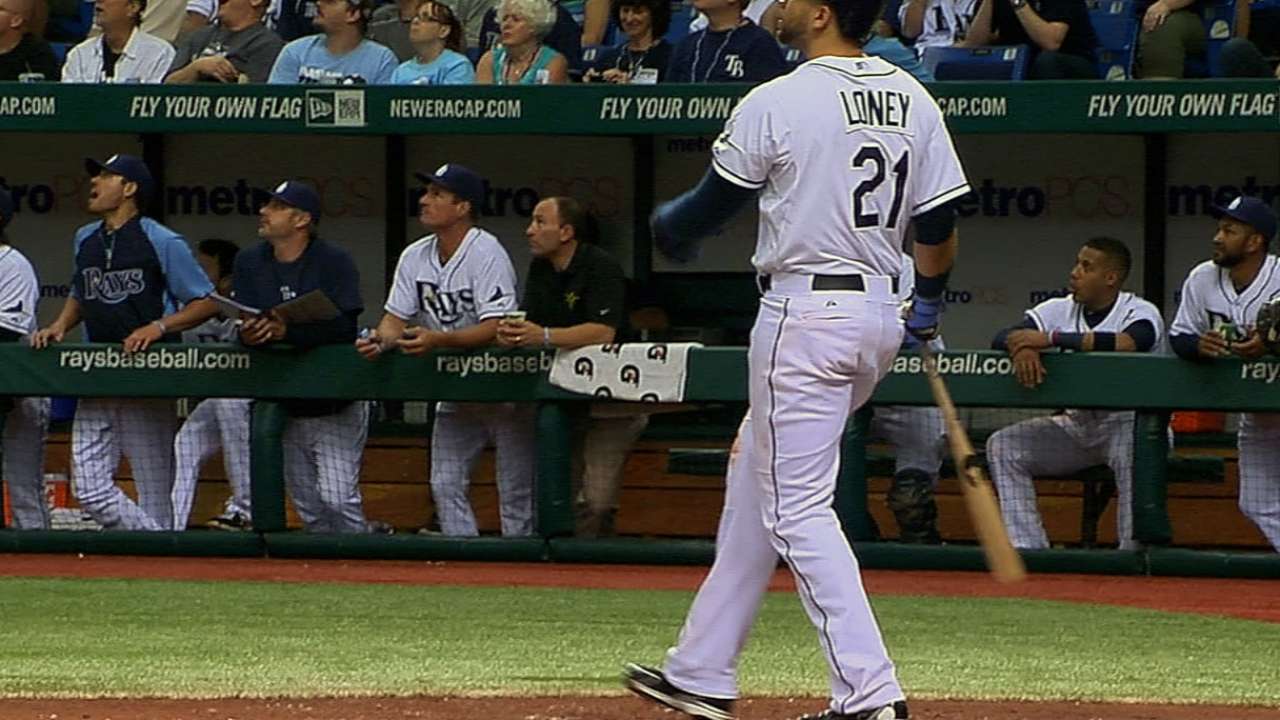 ST. PETERSBURG -- The Rays knew they were getting a quality defensive first baseman when they signed James Loney to a one-year, $2 million deal in early December. That much was a given.
"He's a Gold Glove first baseman," Evan Longoria said. "That goes without saying."
But Loney's bat was the real question. Though manager Joe Maddon called his raw power "severe," Loney has never been much of a home run hitter, with only 73 over his first seven Major League seasons. Tampa Bay knew he would make contact, sure, but would that result in a .249 average like last year's or something more in line with the .288/.346/.427 batting line he posted with the Dodgers from 2007-11?
So far, it has been the latter. And then some.
Loney entered Sunday afternoon's game hitting .371, second in the American League, with a .426 on-base percentage and .533 slugging percentage. He unloaded on a towering homer Saturday night that nearly hit the wall at Tropicana Field. He has had seven three-hit games this year, tied for the most in the Majors, and he has helped spark a much-improved Tampa Bay offense.
"He's been our hottest hitter," Longoria said. "Really, it's no surprise to me. Just watching from the outside, I know he had a ton of success in L.A. When they signed him in the offseason, I was excited about having him around because he's one of those guys -- you look at [general manager Andrew Friedman's] track record here and the guys that he's been able to sign that have had really good careers outside of maybe their last one or two years and been able to come here and have success.
"So it's no surprise to me that he's having the success that he is. Obviously he's one of the focal points of our offense right now."
The biggest question now is whether Loney can sustain his pace. Not that anyone is predicting that he will finish the year batting .370, of course, but can he remain a middle-of-the-order force for the Rays? Manager Joe Maddon believes so, in part because he has seen a side of Loney that he seldom, if ever, shows to those outside the clubhouse.
"I think he can because he uses the whole field," Maddon said. "He has showed me some emotion that nobody else has seen that I really love. But he plays with a lack of emotion in some ways outwardly that I think can be confusing. He's shown me some things that I think this guy is way more competitive than people realize. But then again, he's able to process things well, so that's why I think he can hit."
Adam Berry is a reporter for MLB.com. Follow him on Twitter at @adamdberry. This story was not subject to the approval of Major League Baseball or its clubs.