Longo feels, and looks, back to normal in field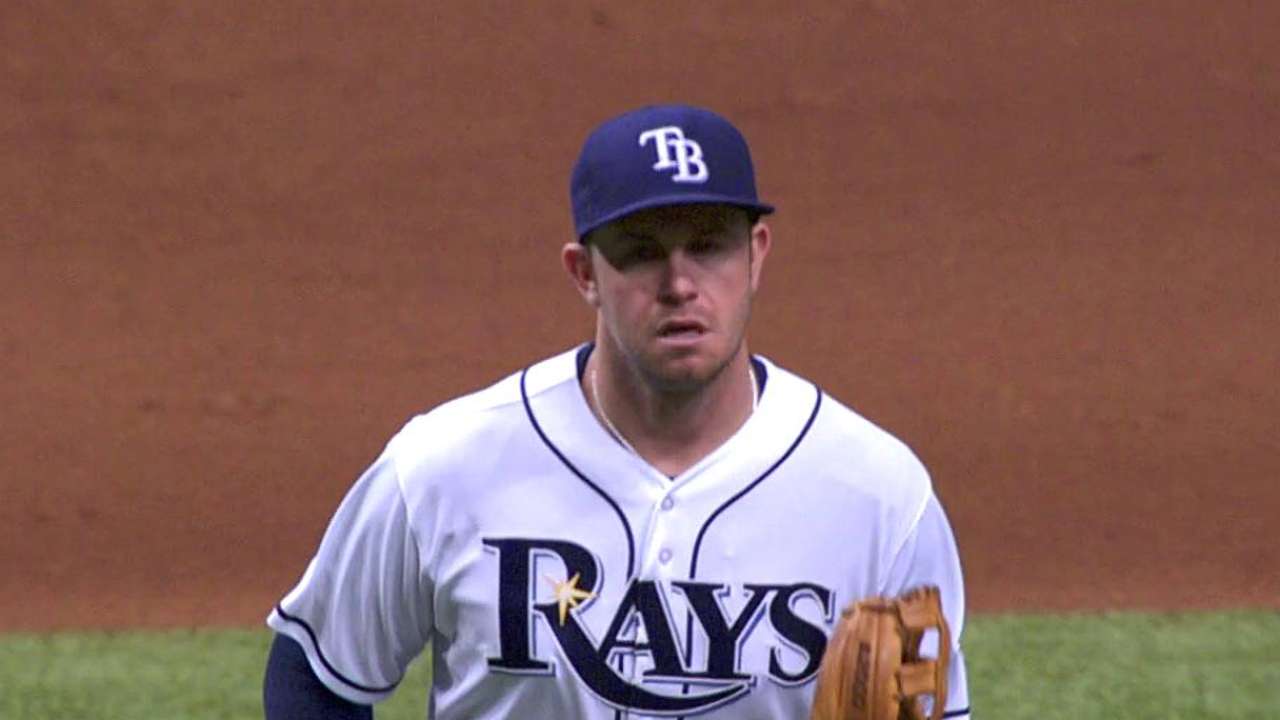 ST. PETERSBURG -- Evan Longoria's bat work has been difficult to miss, as he has been the team's most consistent hitter since the start of the season.
Equally encouraging has been his return to form in the field after being slowed last season with his hamstring injury that eventually required surgery.
Those observing the Gold Glove third baseman since the beginning of Spring Training have witnessed a gradual progression from tentative movements to where he is now, back among the top fielding third basemen in baseball.
"In the spring I was just coming off the surgery, and I hadn't played at all, so a little bit of the hesitations and reservations were because of that," Longoria said. "I was just working myself back into baseball shape. Now I have a bunch of games under my belt, and I've felt good. I think just a lot of it is being back on the field."
Rays infield coach Tom Foley has seen the fluid nature of Longoria's movements and noted: "I just think he's playing the way he's capable of playing."
"In Spring Training he was taking it slowly," Foley added. "He was taking his days off, making sure he was taking care of his legs and stuff. Now he's out there, and he's doing his work. To me, he's Longoria.
"When he was hurt, you knew there were balls he wasn't going to get to. He was cautious with his legs. He had a little bit more trouble at the time last year going to his right than going to his left. So we moved him a step or two closer to the line, where going to the left was easier for him. For me it's just a gradual thing for him. He's probably not even thinking about it now."
Rays manager Joe Maddon was asked if anything he had seen about Longoria in the field told him that he had indeed returned to form.
He answered: "I think two things: the hard play to his left, when he really gets extended to his left, because he's really good with the ball to his right. When he gets extended to his left and gets up quickly to make a good throw. That tells me something. And the other one is just a slow roller with the bunt. That's just a hard play. And he makes that play great. But my point is, to be able to do that all the time, his legs have to feel good to do that. He's made a couple of those already."
Longoria acknowledges that he has been surprised about how good he has felt so far.
"You could say that I'm more fluid or whatever it is; I think it's just a product of being more comfortable," Longoria said. "Feeling like my legs are underneath me and I don't have anything to worry about as far as that goes."
Bill Chastain is a reporter for MLB.com. This story was not subject to the approval of Major League Baseball or its clubs.