Rays place Gomes on DL, call up Lueke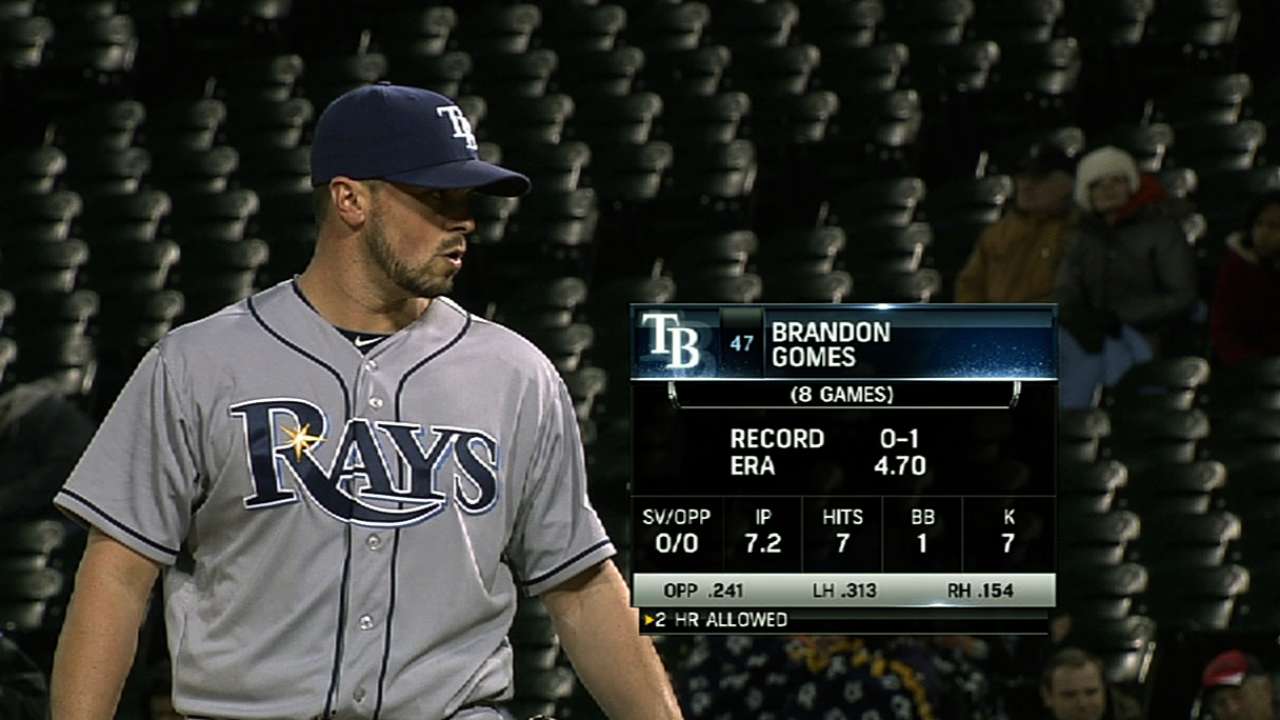 ST. PETERSBURG -- The Rays on Friday placed reliever Brandon Gomes on the 15-day disabled list with a right lat strain and recalled Josh Lueke from Triple-A Durham to take his place.
"This is something, it happened quickly," Gomes said. "A couple of games in Colorado, I wasn't feeling great, just trying to power through it. I was warming up last night. But once we won the game, it definitely was a good thing, because I didn't feel good. And I came in here, and I was like, 'I can't throw through it anymore.'"
Gomes, who last pitched Tuesday, had retired the three total batters he faced over his last three appearances. In 14 appearances this season, the right-hander had tallied a 5.40 ERA to go along with 16 strikeouts and just two walks over 11 2/3 innings of work.
"It's just painful every time I go to throw the ball," Gomes said. "I was trying to get through it with treatment. It was getting to the point where it was starting to affect stuff."
Lueke, meanwhile, had compiled a 2-0 record, seven saves and 0.95 ERA in 14 appearances with Durham.
"It's always surprising to get the news, because everybody up here's been doing their thing and just kind of going about it," Lueke said. "Every day, you follow the big club just to see what's going on up there, but in the same sense, you've got to kind of just stay level-headed and do your own thing. If it happens, it happens. If it doesn't, go out there the next day."
Lueke feels confident and more positive than he has in the past, thanks in part to a new approach.
"The physical adjustment would be just the change in work ethic, the change in the offseason workout approach altogether," Lueke said. "Working out with Gomes pushed me a lot harder than I've done in the past. Working with him and then getting into the earlier throwing -- because normally I'd kind of wait until like December to start throwing. We kind of started right when their season was over up here, so we got right into it. Then I just carried it over all the way through spring and just kind of rolling the ball uphill, I guess."
Because the two worked out together, Lueke called it "tough news" to be getting an opportunity at the expense of his friend.
"I'm glad he's not getting sent down or anything," Lueke said. "It's never good when somebody goes on the DL, especially obviously the guy I've been working out with the whole offseason. It'll be a quick comeback, and he'll get back out there and do what he does."
Bill Chastain is a reporter for MLB.com. This story was not subject to the approval of Major League Baseball or its clubs.