Maddon ejected for second straight night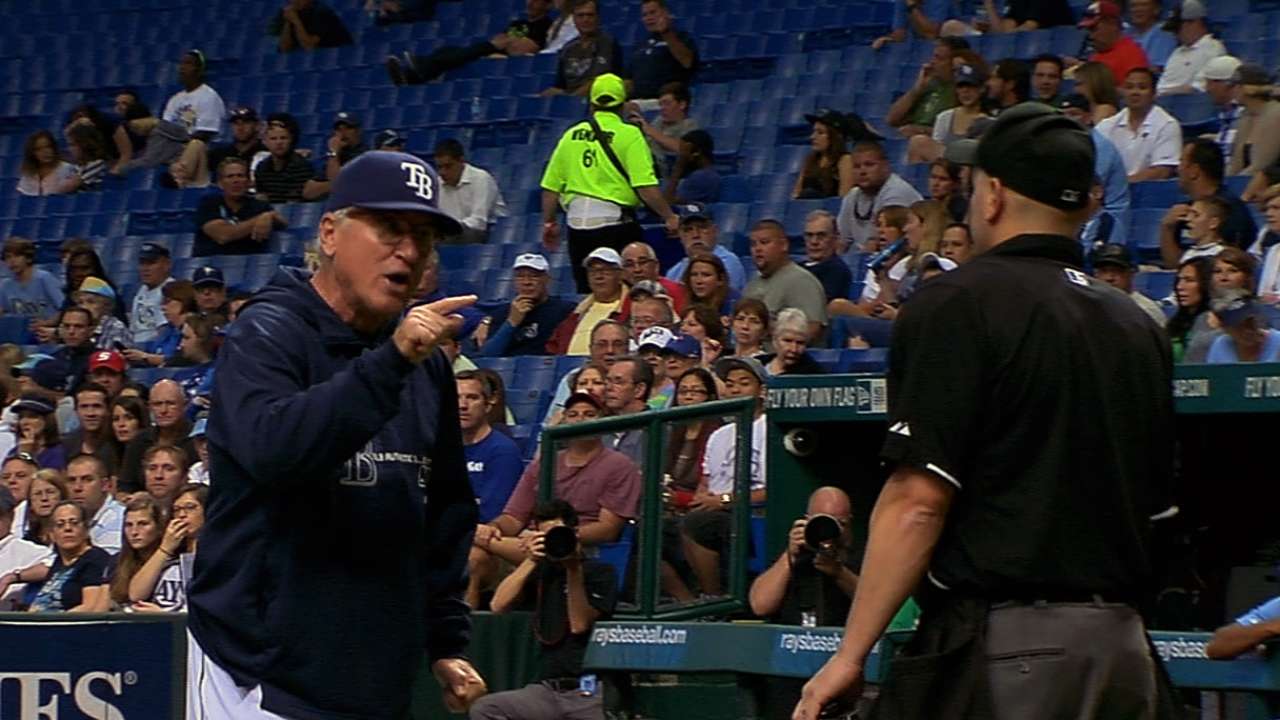 ST. PETERSBURG -- Rays manager Joe Maddon was ejected from Wednesday night's game against the Blue Jays at Tropicana Field.
In doing so, Maddon only managed five of the 8 1/2 innings played in the game that gave him his 600th win as skipper of the Rays.
With Jamey Wright beginning his first inning of relief in the sixth, Toronto's Maicer Izturis hit a ground ball to first baseman James Loney for what appeared to be the first out of the inning. Much to Maddon's chagrin, the ball was ruled foul based on the premise that it had struck Izturis on the foot -- which replays showed it clearly did not. The call prompted Maddon to bark at home-plate umpire Scott Barry from the dugout, which earned him an ejection. Once ejected, Maddon went onto the field to get his money's worth before he retired to the clubhouse for the rest of the evening.
On Tuesday night, Maddon was ejected for arguing a call at home plate made by Marty Foster. Wednesday night's dismissal was his third of the season and 30th as manager of the Rays. He also earned the dubious distinction of being the only manager in team history to be ejected from consecutive games and leads the Major Leagues for most ejections this season.
"I have to defend myself," Maddon said. "They have all been warranted. The thing tonight, I just can't permit that. Beyond the out, it's just a matter of we're low in the bullpen. We only have so many pitchers available. And I'm counting pitches. I'm counting every pitch that is thrown. So you know that permitting [Izturis] to come back into the box and continuing that at-bat, there's a threat of a really long inning going on versus Jamey."
Maddon noted that Barry was "a really good umpire."
"My issue with him is that, 'You saw it. You knew what the right call was and you chose to not argue with the other guy [first-base umpire Tim Welke] because he is the crew chief,'" Maddon said.
The Rays have had several critical calls go against them this season, which helped shape Maddon's perspective.
"You get to that point where you just can't permit it anymore," Maddon said. "I think we've been tolerant. I think we've handled this really well, but there's a line to be drawn."
He was asked if his fighting back against umpires could backfire by giving him a reputation as a complainer.
"Only if it wasn't warranted we would get the reputation," Maddon said. "I think if it's warranted, you have to. I'd rather get a bad reputation arguing warranted moments as opposed to getting a horrible reputation among my players. That is much more important to me."
Bill Chastain is a reporter for MLB.com. This story was not subject to the approval of Major League Baseball or its clubs.