Maddon expects starting staff to turn things around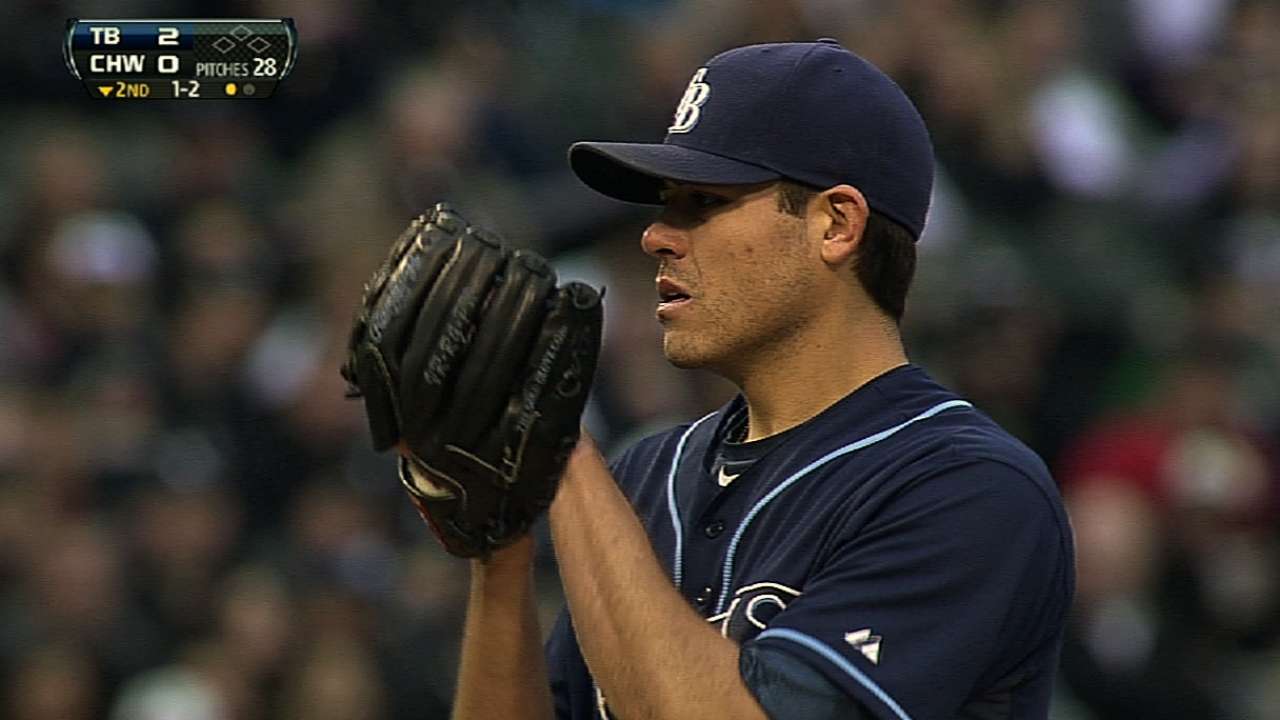 ST. PETERSBURG -- Entering Monday night's game against the Blue Jays, the Rays had given up a lead in 11 of their 16 losses, a fact that can largely be attributed to what Rays manager Joe Maddon called a "mediocre" performance by the Rays' starting staff.
Maddon cited Alex Cobb and Matt Moore for being consistent, for the most part, but he pointed out that the team can expect a stronger performance in the coming months from the starting staff, which is considered the team's backbone.
"I just want to see more fastball," Maddon said. "I want to see more cowbell, I want to see more fastball. Throw your fastball where you want to and get ahead of hitters. And then pitch off that. That's what I think our problem has been more than anything, is to not be aggressive enough with our fastball."
Maddon likes fastball pitchers, and the staff is chock full of fastball pitchers, much to his delight.
"It's still the best pitch in the game," Maddon said. "Changeup is the second-best pitch in the game. And then it goes down to curveball and you can move it down the line. When you have a good fastball like we do, and if we're able to throw it where we want to and get ahead in counts, we can dominate games again. But we choose to not be aggressive with our fastball and want to really try to utilize all the other things. I think that's what's really getting us in trouble."
Maddon's stated preference is for his pitchers to do what they do best.
"I like when our pitchers dictate to the other team," Maddon said. "I don't care what it says on somebody's bat. I don't care how hot somebody is, I believe our pitchers, pitching at their best level, doing what they do best, will beat the better hitters on the other team. I've always felt that way."
After Saturday night's loss to Colorado, David Price fell to 1-3 with a 6.25 ERA. Maddon was asked if the team can expect to contend if the reigning Cy Young Award winner doesn't come around.
"No, we have to have David pitch like he can," Maddon said. "There's no question about that. He is the leader on the staff. He's one of the best pitchers in all of baseball. He'll be back, there's no doubt in my mind. He is trying to expedite that a bit. But he needs to lead the way among the rest of the group. ... He's the rudder of that starting-pitching boat, and when he gets going again, and he will, you'll see them all pitch better."
Bill Chastain is a reporter for MLB.com. This story was not subject to the approval of Major League Baseball or its clubs.