Maddon holding roster spot as Zobrist tends to family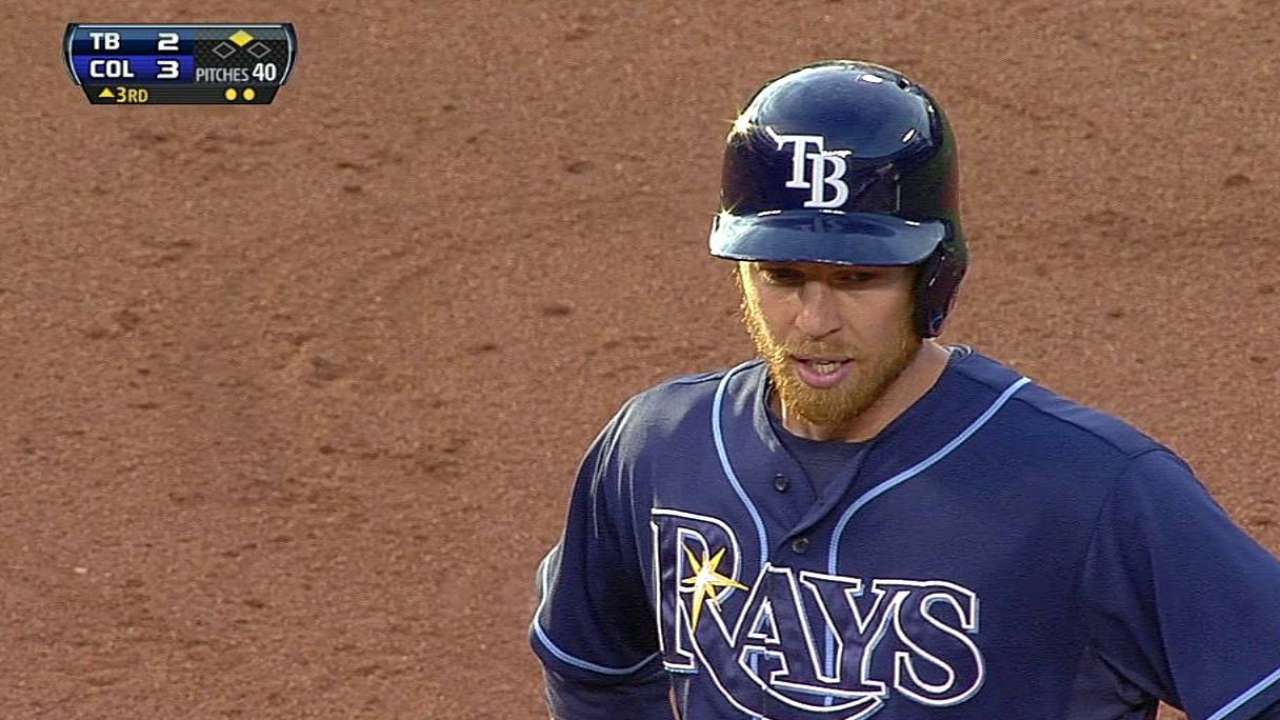 DENVER -- Ben Zobrist left the Rays on Sunday to fly home to Illinois following the death of his grandmother Friday.
"He's going to miss today and tomorrow," manager Joe Maddon said before Sunday's series finale against the Rockies. "He'll be back Tuesday."
Zobrist is not going on the bereavement list, which carries a minimum three days off the roster and a maximum of seven, so the Rays started Sunday's game with only 22 players available in their dugout. Shortstop Yunel Escobar is out after being hit on the hand with a pitch from Jon Garland in Saturday night's game, and Monday's starting pitcher, Jeremy Hellickson, left for the airport before Sunday's game so he could get in early before his start the following day. Maddon could potentially use a starting pitcher to pinch-run or pinch-hit for another pitcher.
"We're a little bit hamstrung today, so we have to pick and choose differently," Maddon said. "Regarding the utilization of pitchers, I'm really apprehensive about that. I'm not really comfortable with a pinch-running role this early in the year under these circumstances. They haven't had a chance to really get into it. That part bothers me a little bit."
When Escobar left the game in the second inning Saturday, Zobrist moved from second to short, and Ryan Roberts came in at second.
"Yunel is sore, but he's in good spirits," Maddon said. "[Head Athletic trainer Ron Porterfield] thinks maybe three days, something like that. Yunel wants to play. He just can't; the hand's too thick right now. Give him a couple days, and the hand will be fine."
The situation leaves the Rays without their first two choices at shortstop, giving Sean Rodriguez the start with Roberts back at second. If game circumstances call for another shortstop, Maddon confirmed his choices would be third baseman Evan Longoria, Roberts or left fielder Kelly Johnson.
"It depends on the time of game who's going to be in there," Maddon said. "I feel comfortable with Longo there, but I don't know how he's feeling necessarily. I feel good with Ryan over there, but then you'd have to put Kelly at second. We still have the ability to do different things, but it's obviously not within our normal comfort range where we like to be able to do a lot of different things."
Maddon considered putting Zobrist on the bereavement list and calling up a shortstop for three days but ultimately decided against it.
"I'd rather play one day short here and then have him back one day sooner on the back side," Maddon said. "I'd rather have the third day of Zobrist. The National League game was the only part of it that made it a difficult decision.
"I'd like to see the bereavement list changed," he added, feeling the rule penalizes a player who can otherwise return earlier. "Why three days? I think there should be a maximum number of days, but not a minimum. It's a legitimate reason why he's gone."
Owen Perkins is a contributor to MLB.com. This story was not subject to the approval of Major League Baseball or its clubs.