Cobb eager to take first swings at Coors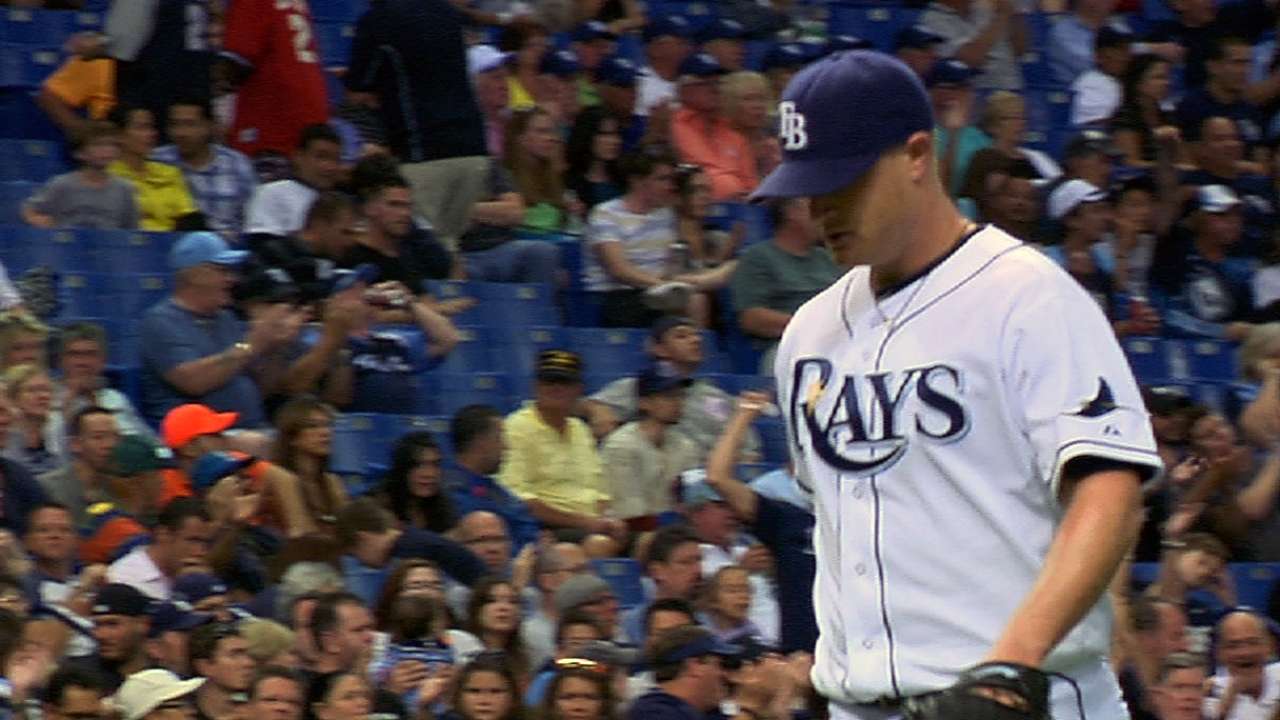 DENVER -- Though he's in his third big league season, Rays starting pitcher Alex Cobb's head is spinning with thoughts of a Major League milestone he'll pass when he starts Sunday's series finale with the Rockies.
He'll have the chance to do something he hasn't done in a baseball game since he was a senior at Vero Beach High School in Florida: swing a bat.
"I'm pretty excited," Cobb said of the opportunity that has eluded him through his first two years in the American League. "I've got to contain myself a little bit and not focus too much on the hitting part of things. Remember, I got a game to pitch, too. I'm very excited, I've been taking extra BP. I have a lot of swings running through my head where it's usually pitching mechanics. I'll make sure to get my mind right before I step on the mound."
Cobb described himself as a "three-hole" hitter in high school, hitting for average and power and comparing himself to Evan Longoria.
"I like to think of myself as Longo," Cobb said. "I had a decent average. I think I had three or four home runs, nothing to talk about. I probably had a .350-to-.400 average."
Cobb was happy to see Friday's starter Matt Moore get the green light to swing in two at-bats with men on base and none out in the series opener, a sign of confidence from manager Joe Maddon.
"It depends on who my pitcher is and who their pitcher is," Maddon said. "If I think our pitcher who's hitting can handle their pitcher, then I'll let him swing. If I don't think that they can, based on what I'm seeing, then we're apt to try to bunt."
On Friday, the Rockies had Jeff Francis on the mound, and with a fastball topping in the mid-to-upper 80s, Maddon liked the matchup with Moore, who moved the runner both times with infield grounders.
"You got a good athlete in Matty Moore -- he can hit," Maddon said. "If Francis had made a mistake there, I could see a double going down that right-field line, too. In [Coors Field], it's hard to just play for the one-run victory early in the game. I learned that lesson many years ago. So I don't even want us to think about that. We have pitchers on this team that are offensively challenged that I would have had bunting right there, absolutely. But if the guy's got some ability, we'll let him hit."
Asked if he'll be borrowing a bat from one of the position players, Cobb seemed taken aback.
"I've got my own," Cobb said. "It's the big leagues. It's got my name on it and everything."
Owen Perkins is a contributor to MLB.com. This story was not subject to the approval of Major League Baseball or its clubs.