Maddon looking for McGee's velocity to rise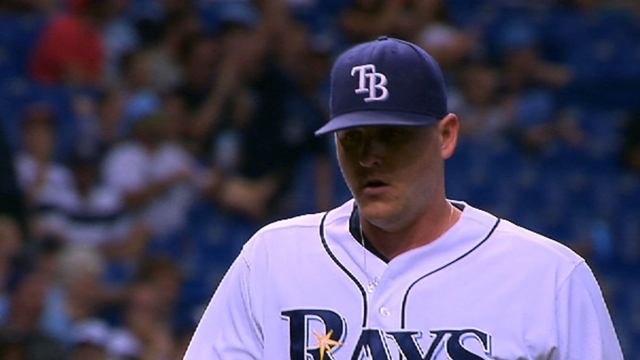 DENVER -- Hard-throwing Rays reliever Jake McGee has experienced a slow start to his 2013 season, as he tries to replicate a stunning 2012 campaign. But manager Joe Maddon isn't seeking a new look from the southpaw.
After going 5-2 with a 1.95 ERA and 73 strikeouts versus only 11 walks (four intentional) in 69 games and 55 innings for the Rays last year, McGee, 26, owned a 10.24 ERA in 12 appearances this season entering Saturday, including six runs on 10 hits and five walks in his last five appearances spanning 4 1/3 innings.
On Friday night, McGee pitched during a critical eighth inning in a tie game the Rays won, 7-4, in 10 innings, allowing two hits and intentionally walking pinch-hitter Troy Tulowitzki to load the bases before striking out Eric Young Jr. and giving way to Brandon Gomes, who struck out Jordan Pacheco to end the inning without any damage.
"Jake got us through that inning," Maddon said. "He didn't complete that inning, but got a big punchout to keep that runner on third base. He should feel good about himself."
McGee mixed in a new slider, which crosses the plate at 89 mph and serves like a changeup when used off his 95-98 mph fastball, but Maddon isn't sold on the need for a secondary pitch in McGee's case.
"I think that's overstated," Maddon said. "Everybody keeps talking about that. Last year, he pretty much went wall-to-wall with the fastball. I really believe that he just needs to get his velocity back where it had been, which it's in there, and then the location of his fastball. Those are the two biggest items with Jake that I believe to this point have been off."
"When you see a guy struggling -- and again, he hasn't been pummeled -- I don't want him to get it in his head that he has to do something different, when he doesn't. He has to just be Jake. If he wants to continue to work on that other pitch, I'm fine with that. But his success is always going to be routed in him throwing a good fastball that rides, and he throws it where he wants to. To try to recreate himself right now, I think would be not very wise. I disagree with that 100 percent."
Owen Perkins is a contributor to MLB.com. This story was not subject to the approval of Major League Baseball or its clubs.