Scott, Rays look to adjust to NL rules in Colorado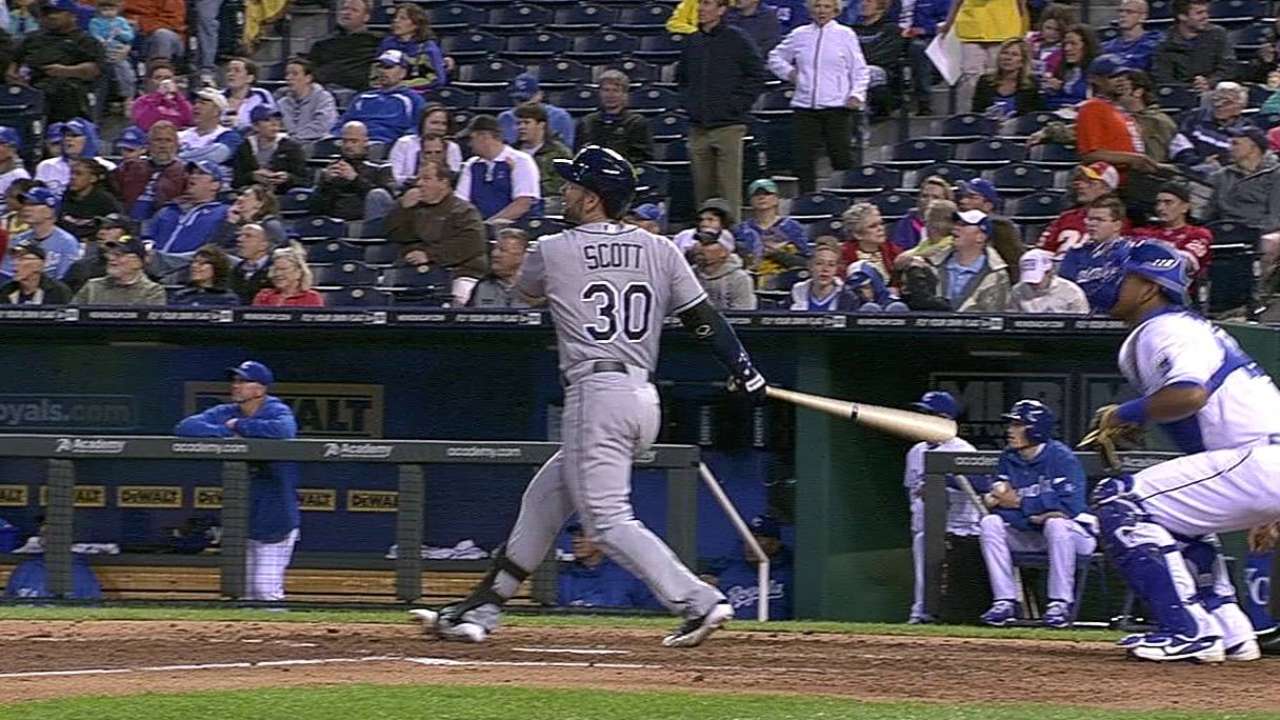 DENVER -- It took Luke Scott all of one game to warm up after starting the season on the disabled list with a strained right calf. He was 0-for-3 in his debut Tuesday, then went 3-for-3 with a home run, two runs, two RBIs and a walk on Wednesday, reaching base in all four plate appearances.
But no sooner did Scott come off the DL than the Rays went to the NL to start an Interleague matchup with a three-game set against the Rockies.
"He's swinging the bat really well," manager Joe Maddon said before Friday's series opener. "I talked with him, and he should be getting some fly balls in left field and some ground balls at first. Definitely be involved in pinch-hitting and possibly a double-switch maneuver. But he did look pretty darn good those last couple games in Kansas City."
The Rays play 20 Interleague games this year, spread out between Friday in Colorado and mid-August in Los Angeles, the result of each league now having 15 teams, an odd number forcing constant Interleague Play following Houston's move to the AL.
"It was more of a block before," Maddon said. "Now it's not a block, it's just going to pop. I don't know how I feel about it yet, I'd have to wait until the end of the season. It's just awkward having to get, all of a sudden, your pitcher's got to play. [Pitching coach] Jim Hickey does a great job of preparing them offensively and mentally about running the bases and different things like that. Our guys are ready to do this, but nevertheless, it's still awkward. I always believe that the National League should have an advantage when it goes back and forth, because all they have to do is add a hitter to the game, whereas we have to permit our pitchers to hit, and also to play a different kind of game mentally, too."
Despite feeling the inherent disadvantage of a tougher adaptation for AL teams in NL parks, Maddon relishes the additional challenge of managing without a DH.
"We spend a lot of time thinking about it," Maddon said. " We do a lot of stuff in an American League game that'd be similar. There will be times we pull our DH in the game and then go right into the National League rules at that point. We do a lot of maneuvering because that's who we are. A lot of match-ups with right vs. left, etc. But there's still a difference about where you always have to keep track of that pitcher. Boom, boom, boom. That's the one that's different. When you come here, you have to keep track of that pitcher constantly."
Owen Perkins is a contributor to MLB.com. This story was not subject to the approval of Major League Baseball or its clubs.