Rays riding 16-game homer streak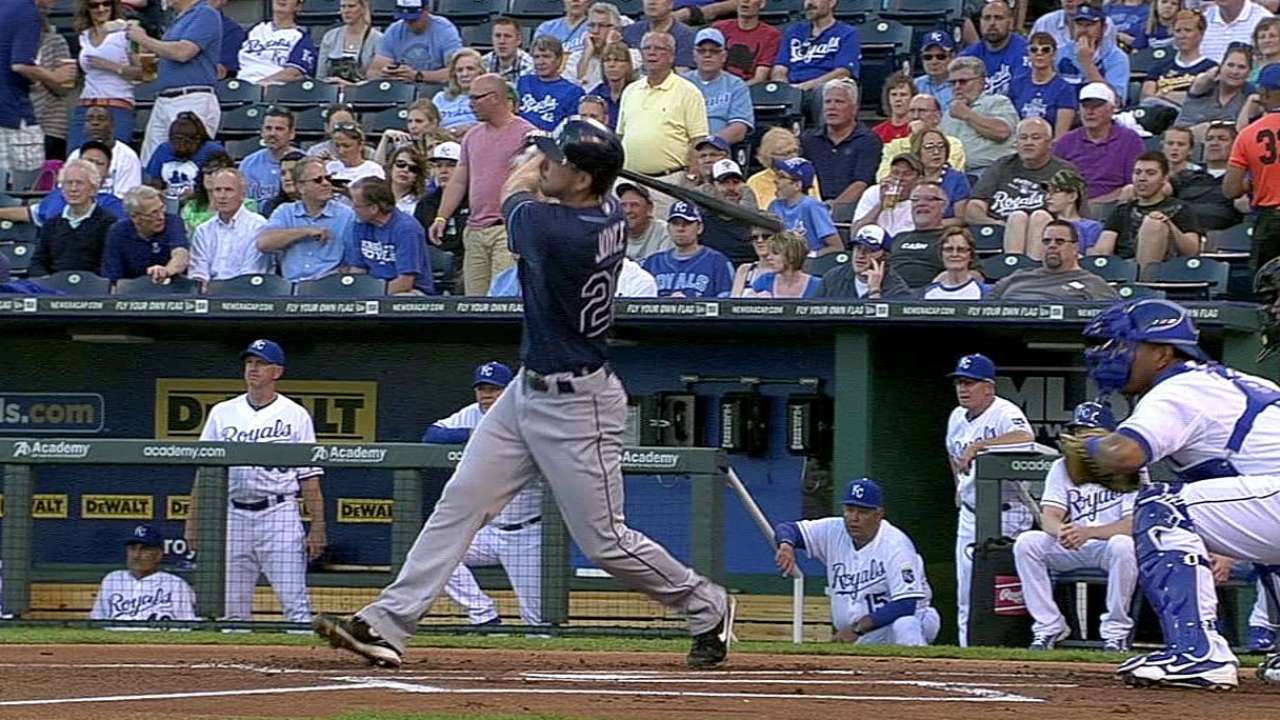 KANSAS CITY -- Tampa Bay entered Wednesday night's contest against the Royals having homered in 15 consecutive games, and Matt Joyce and Ben Zobrist promptly increased that number to 16 with back-to-back homers in the first inning. Strangely enough, the Rays hit just four homers through their first 11 games.
The team's streak is the longest in the Major Leagues this season; in 2012 there were five streaks of 14 or more games, with Seattle's September streak of 18 being the longest.
So what kind of club do the Rays have this season? A slugging, homer-hitting club, or a team that doesn't hit home runs?
"To be honest, I feel like we're still trying to figure out what our club is like," Joyce said. "We still have a couple of guys who probably aren't swinging the bat as well as they want to. So, I think that's just a matter of time before they get going.
"We're trying to learn and get better at driving in runs. But overall, I mean, everybody knows we've been hitting a lot of home runs. It just hasn't equaled success."
Joe Maddon looked at his lineup card and pointed out that the team's power was underestimated, given the fact that they have several guys with pop, prompting the Rays manager to rattle off the names of Desmond Jennings, Evan Longoria, Kelly Johnson, Zobrist, Joyce, Luke Scott and James Loney.
"There's guys in this lineup with power," Maddon said.
While the team has displayed power during its current home run streak, Maddon noted that he expected the team's offense to be "more swarming" due to the fact that he felt that year's club was capable of making more contact than teams of the immediate past.
"And I still believe that's forthcoming," Maddon said. "And if we can do that and maintain this kind of power production, that could make for a really interesting offense as we get this thing in gear and get this thing together."
The numbers back up Maddon's belief that this year's team will strike out less. In April, Major League teams averaged 7.65 strikeouts per game. However, the Rays averaged 7.42 strikeouts per game, which was down from 8.17 strikeouts per game over the full 2012 season. The drop of 0.74 strikeouts per game represented the fourth largest in baseball behind the Rangers, Orioles and Athletics.
Bill Chastain is a reporter for MLB.com. This story was not subject to the approval of Major League Baseball or its clubs.