Scott expected to come off DL by Tuesday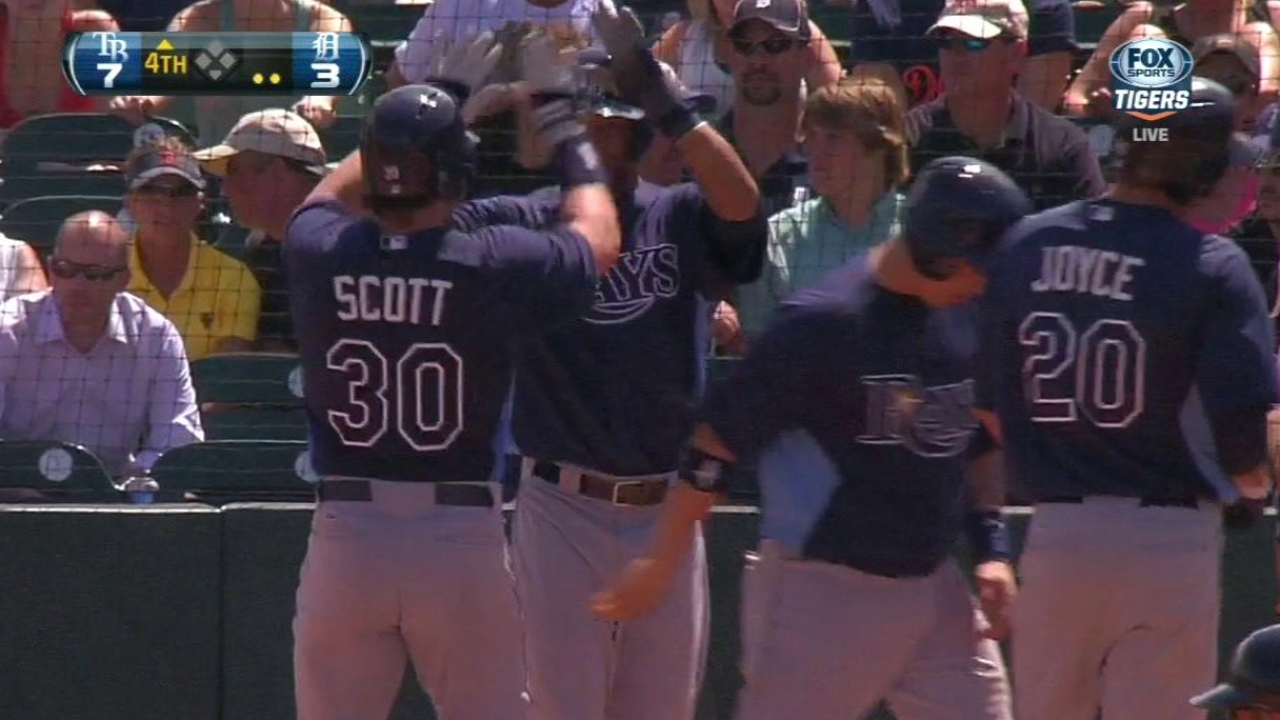 CHICAGO -- Barring a last-second setback, it appears that Rays designated hitter Luke Scott is likely to be activated from the disabled list before Tuesday night's game in Kansas City.
"He's on track to play tonight," manager Joe Maddon said of Scott before Sunday's game against the Chicago White Sox, referring to Scott's Minor League rehab assignment. "Once that happens, then we'll see. He's kind of on track to join us in Kansas City. We'll know more after today."
Scott has been sidelined since Spring Training with a strained right calf, so the Rays are excited to get back a player they counted on being a run producer in the middle of the lineup.
"This guy's a good RBI guy," Maddon said of Scott. "Now what James Loney's doing is a little interesting, because it's a little different than what we intended. Again, it goes back to that swarming offense I've been thinking about. You saw it last night and that's what it has the ability to look like."
With the hits and RBIs spread throughout the lineup, the Rays produced a season-high 10 runs and 19 hits Saturday. Maddon doesn't expect that kind of production on a nightly basis, but believes the potential is there for more games like that with Scott -- who had 14 home runs and 55 RBIs in 96 games last season for Tampa Bay -- in the lineup.
"What it means from Scotty's perspective, putting him in the middle somewhere and getting him hot, getting him driving in runs like he can, it just makes us even better," Maddon said.
"I don't know where he's at right now. Getting a guy off the DL is nice, but it doesn't necessarily mean he's ready to contribute like he can after he's been playing on a consistent basis. What I think it means overall is a lot of RBIs in the middle. Is he ready to do that now? I'm not certain, but it definitely makes us better."
John Jackson is a contributor to MLB.com. This story was not subject to the approval of Major League Baseball or its clubs.