Maddon sees looser clubhouse benefiting Rays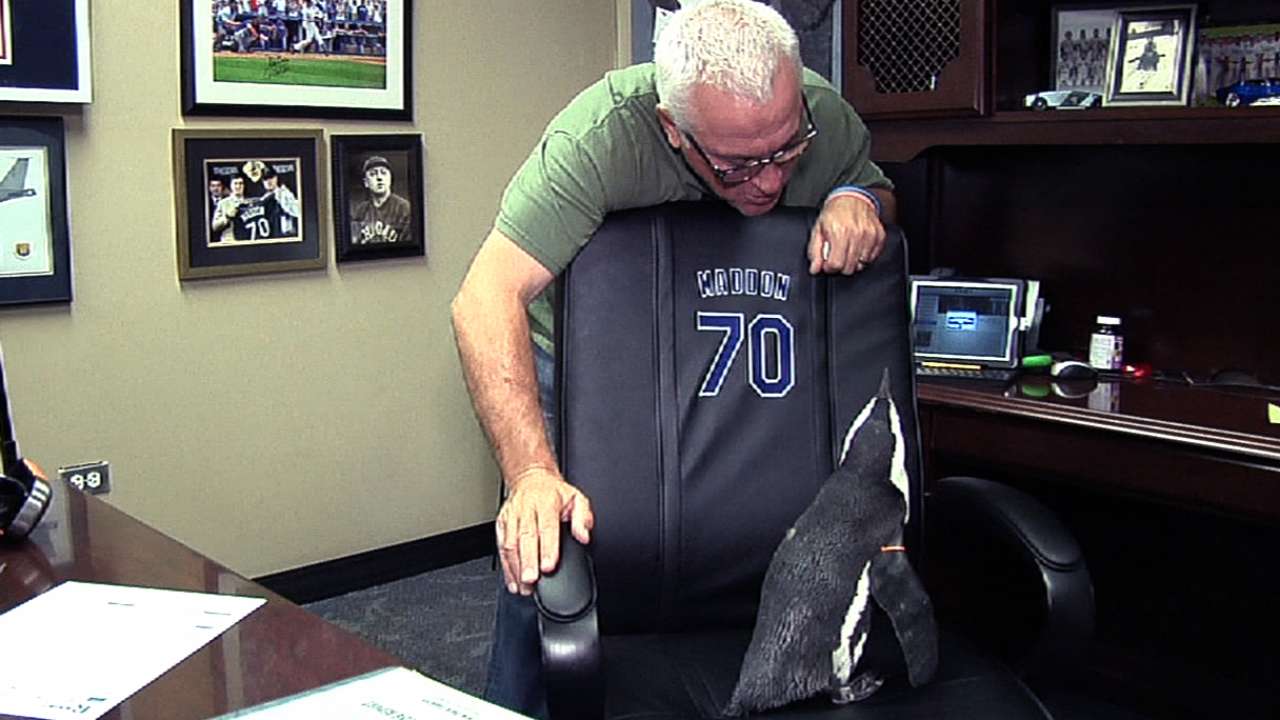 ST. PETERSBURG -- As promised, Joe Maddon staged one final circus act for the Rays' clubhouse on Wednesday: penguins.
Throughout the current six-game homestand, the Rays' manager has orchestrated visits by a magician, a DJ, a cockatoo and finally penguins.
Wednesday's guests were a pair of penguins named Cliff and Shelley, who call the Florida Aquarium in Tampa, Fla., home.
"Penquins were great," Maddon said. "Cliff and Shelley -- very friendly penguins. I was told Cliff is one of the friendliest penguins in the world. … It's just an attempt, again, to get our players to chill out a bit."
Given Ben Zobrist's knowledge of the Bible, the Rays' super-utility man was the obvious player to ask whether the parade of animals was an indication that an ark was being built at Tropicana Field.
"I don't know; are there more animals coming in?" Zobrist said. "I'm not surprised at penguins, honestly. Nothing surprises me in here anymore. If there were more animals coming in, like a zoo, then I would wonder if there was an ark."
Maddon's attempt to loosen up his players during the homestand appears to have paid off. After winning just twice on their nine-game road trip, the Rays took a 4-1 mark into Wednesday night's game, the final contest of the current homestand.
Maddon noted that his team's clubhouse now has more of a natural feel and that his team is playing the way it should be.
"Not only that the feel in the dugout [is improved], but the energy prior to the game, the believing we're going to win once the game begins," said Maddon, who said the team just wasn't as energetic or confident in itself until this homestand. "And again, that just happens to every team, every year at some point. It just happened to us early."
Bill Chastain is a reporter for MLB.com. This story was not subject to the approval of Major League Baseball or its clubs.