Instincts behind Maddon's advice to Yunel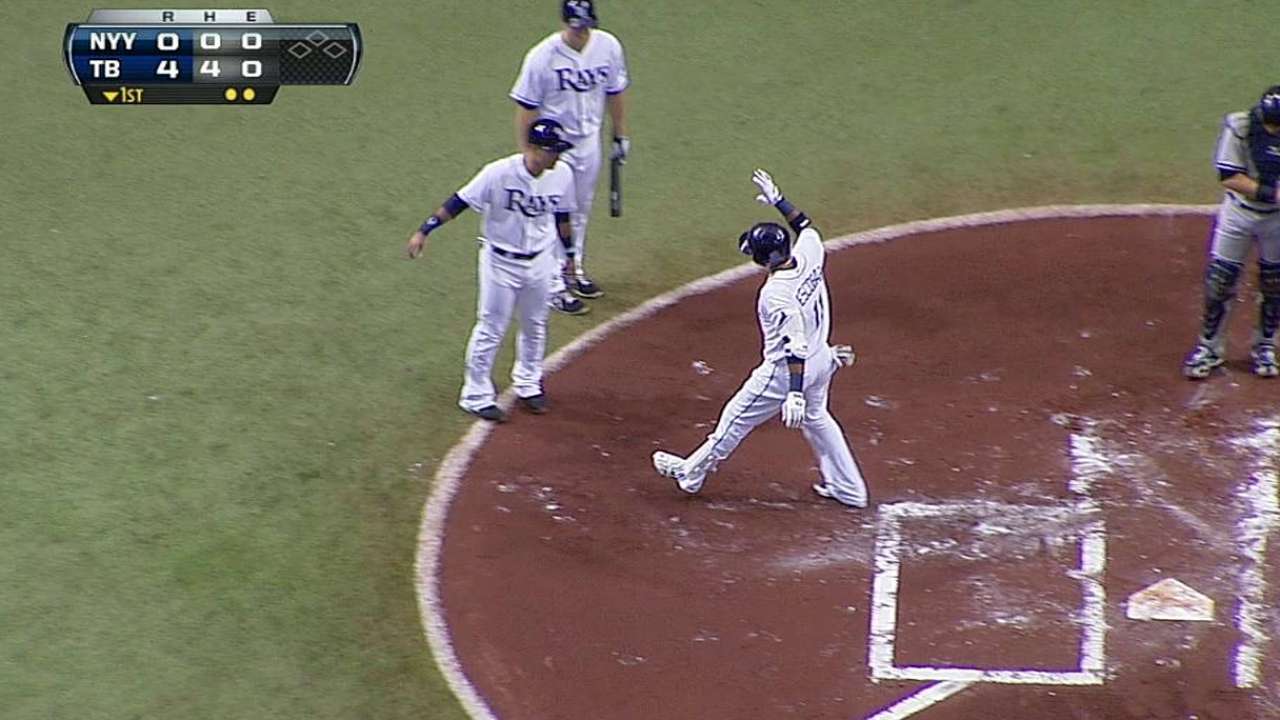 ST. PETERSBURG -- Yunel Escobar went 3-for-4 with a home run and a double in Sunday's 8-1 Rays win over the A's. After spending the previous five games hitting ninth for the first time since his rookie season, Escobar moved up to sixth in the order on Monday night against the Yankees.
It didn't take long for the move to pay off, as Escobar took ace left-hander CC Sabathia deep with two outs and a runner on in the bottom of the first, extending the Rays' lead to 4-0. Escobar, who was hitting .089 (4-for-45) over his first 13 games of the season, credited Joe Maddon for the turnaround, as the Rays manager gave him a tip.
Maddon seemed surprised Escobar had mentioned that he had given him a tip, then the manager explained the advice he offered his shortstop.
"I'm an old hitting coach by trade," Maddon said. "There are different things I used to do back in the day. The part of him that I had seen or thought I had seen, there were a lot of balls off the end of the bat, and he's really a strong fellow. It's not like he's late; he's never been late. He's not long, he's not late, he's on the end of the bat -- so what's going on here?
"I just suggested a bigger, longer, heavier bat, and just thinking the logic through that. He just has a little more coverage with the end of the bat and it's a little bit heavier, which forces you to use your hands more and not so much your arms. That was pretty much it. And he's responded pretty well."
Bill Chastain is a reporter for MLB.com. Adam Berry is a reporter for MLB.com. Follow him on Twitter at @adamdberry. This story was not subject to the approval of Major League Baseball or its clubs.