Tests to clarify Rays prospect Lee's injury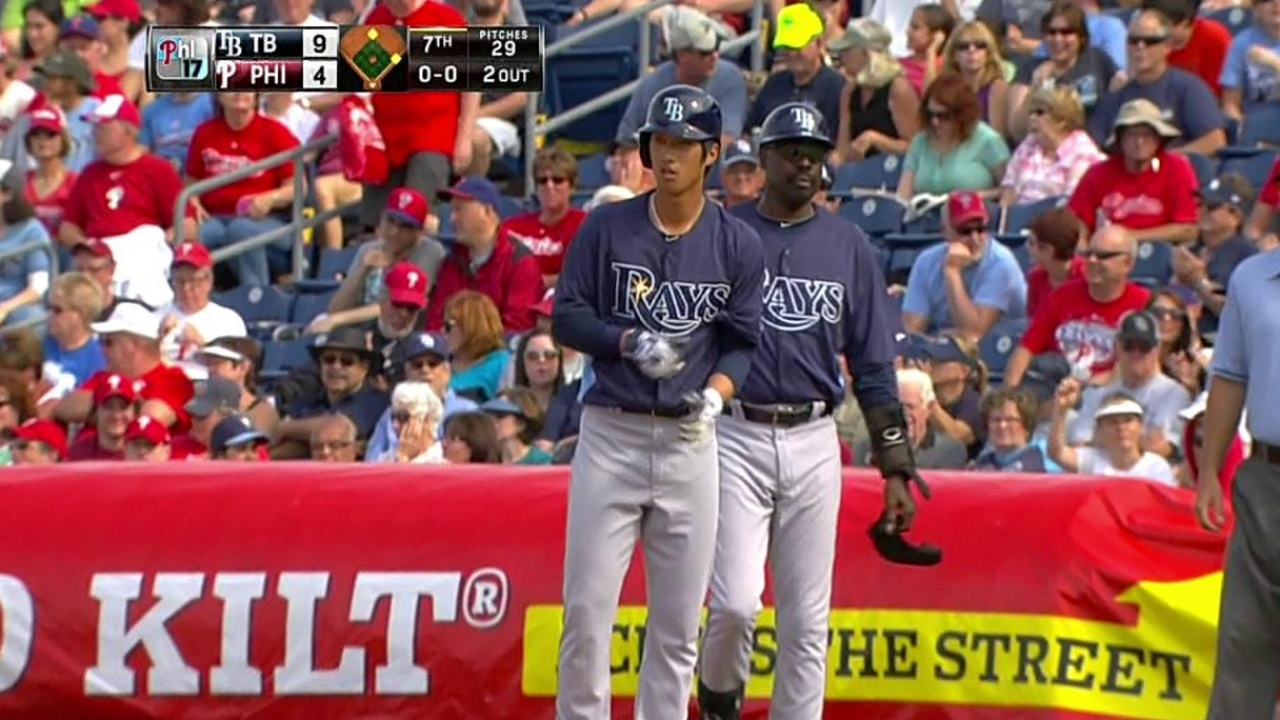 ST. PETERSBURG -- Shortstop prospect Hak-Ju Lee flew down to the Rays' Minor League complex in Port Charlotte, Fla., on Monday to undergo a second MRI exam and determine a course of action for the torn ligaments in his left knee.
Mitch Lukevics, Tampa Bay's director of Minor League operations, said Lee will also visit Dr. Koco Eaton, the Rays' team physician. After Lee's MRI, the Rays should have a better idea regarding the extent of the 22-year-old shortstop's injuries, but it would appear likely that Lee will undergo season-ending surgery.
"There is a pretty good chance, I would say," Lukevics said. "Nothing's definitive, but there's a pretty good chance. ... With ligament damage, there usually is."
Lee, MLB.com's No. 56 prospect overall and the No. 5 prospect in the Rays organization, was involved in a rough collision at second base in the first half of Triple-A Durham's doubleheader on Saturday and left the field without putting any weight on his left leg. In addition to providing his usually excellent defensive work, Lee had gotten off to a much improved start at the plate, batting .422 with a 1.136 on-base plus slugging percentage through 15 games.
For now, Lee is doing limited work with the Rays' training staff in Port Charlotte, icing his knee and keeping it mobilized. Lukevics heard that Lee's spirits were "OK" on Monday but that the shortstop was unsurprisingly disappointed.
"Obviously, he's down in the dumps; it's only human nature to be down in the dumps," Lukevics said. "I know it's his goal -- I know it's our goal -- that we get him back. We're going to get him back playing at some point, and we're going to get a big leaguer out of this."
With Lee likely out of the picture for the rest of the season, former No. 1 overall Draft pick Tim Beckham should pick up most of Durham's starts at shortstop. The Bulls also have middle infielders Cole Figueroa and Mike Fontenot on their roster, however, so Durham can move those three all around the infield, much like the Rays do with their players.
"You know what we do -- we play them all all over, and it's a wonderful thing," Lukevics said. "It's all good. We're going to play them. ... We have to do these things in the Minor Leagues where, if a young man comes up here, hopefully it's not his first time playing at a position in the Major Leagues, the toughest level."
Bill Chastain is a reporter for MLB.com. Adam Berry is a reporter for MLB.com. Follow him on Twitter at @adamdberry. This story was not subject to the approval of Major League Baseball or its clubs.