Jennings embracing responsibility of leadoff spot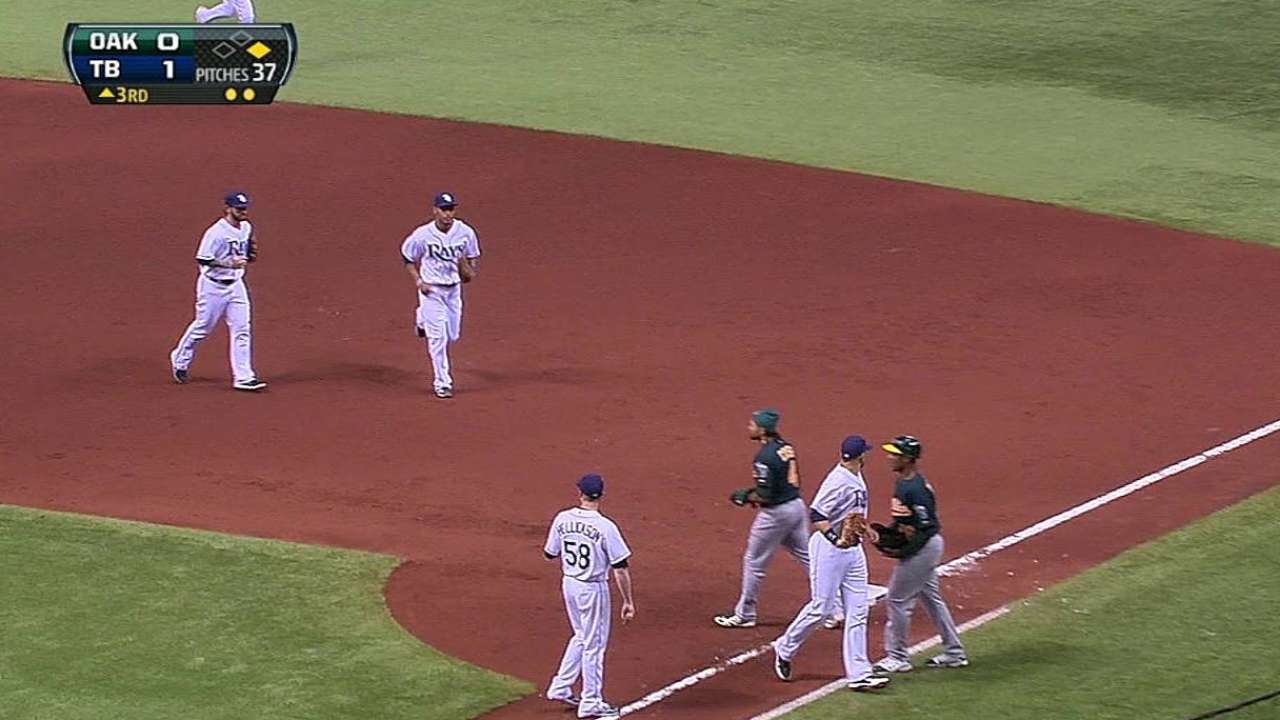 ST. PETERSBURG -- Desmond Jennings will admit he can hit homers -- he's hit 25 in 229 Major League games -- and that he'd like to do it more often. He hit two leadoff shots in the same series against Baltimore earlier this week, too. But that's not what he takes pride in.
For all of manager Joe Maddon's lineup tweaking and shuffling -- he's used 15 different batting orders in 17 games -- Jennings is the only player who's manned the leadoff spot. And to Jennings, that means finding any way to get on base so he can let his game-changing speed take over.
"As a leadoff man, you've got to score runs. Your job is to get on, set the table and score runs," Jennings said. "That's what I'm trying to do, score as many runs as I can."
Going into Sunday's game, Jennings had been on base 23 times and scored 14 runs, meaning he'd crossed home plate 60.9 percent of the time he'd reached base. His .242 batting average is still relatively low, roughly on par with the .246 mark he posted last season, but he's learned that he can make an impact no matter how he gets on.
"Desmond has a chance to be a very classic leadoff hitter as he gains more experience in baseball. He's a really good base-stealer because he knows when to go, and he normally does not get thrown out," Maddon said. "When he is performing right or well, he's going to accept his walks. He's going to drive himself in with some homers. He's going to do that. But when he gets on base via the walk as well, he's going to be dangerous."
As of the Rays' first pitch Sunday afternoon, Jennings had seen 4.45 pitches per plate appearances this season, third most in the Majors behind Dodgers catcher A.J. Ellis (4.61) and Twins backstop Joe Mauer (4.47). He's only walked seven times, but he's working deep counts and making solid contact when his bat does find the ball, even if he doesn't have the results to show for it yet.
"It's part of helping the team. It's part of being a team player. As a leadoff man, you want to get on base," Jennings said. "You want to get in scoring position, especially with the guys that hit behind me. If I get on base, I feel like my chances of scoring are pretty good. I'm just trying to do what I can to set the table. I mean, a hit, a walk, a hit-by-pitch, whatever. I don't prefer a hit-by-pitch, but I'll take it."
Adam Berry is a reporter for MLB.com. Follow him on Twitter at @adamdberry. This story was not subject to the approval of Major League Baseball or its clubs.