Longoria racking up homers after series of singles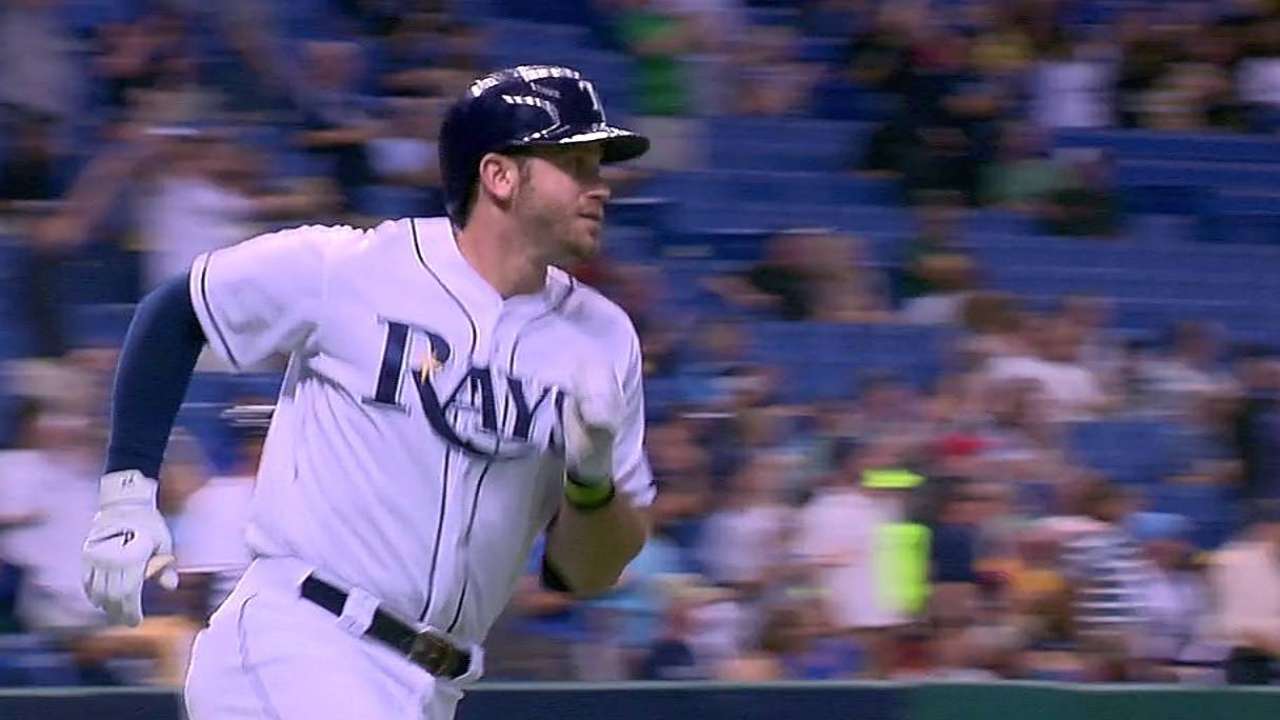 ST. PETERSBURG -- Evan Longoria waited until April 15 to hit his first home run of the year, but he hasn't held back much since then.
After Friday night's monster two-run shot to left field, Longoria has homered in four of the Rays' past five games. His first 11 hits of the season were singles, the longest streak of his career without an extra-base hit, but all of his last five hits have gone for extra bases -- the four homers and a double in Baltimore on Wednesday.
"I'd like to mix in a few multi-hit games or better at-bats in between [the home runs]," Longoria said Friday night, smiling. "I've run into a few lately, and it's good to finally get the slugging percentage up and start driving the ball."
Indeed, Longoria leads the Rays with a .509 slugging percentage entering Saturday night's game against the A's. He's also sporting a .364 on-base percentage, and he's one of only four Major League players to get on base in every one of his team's games this season. Rays manager Joe Maddon attributed Longoria's recent power surge to his overall approach and the fact that he's simply not missing his pitch to drive.
"I just think power hitters generally get into that moment where they'll get into a streak where they don't miss their pitch," Maddon said. "Watching from over here, his bat speed is incredible. It's incredible. You can see the difference between guys with bat speed and guys with uber bat speed. It's just different. And he's got that uber bat speed. It's just a matter of him squaring it up a little bit. And when he does, it makes a different sound.
"It's got the different sound and the great spin, and the ball just goes. But when guys are really that good, they'll go through that streak where they don't miss their pitch. That's pretty much what it comes down to."
Adam Berry is a reporter for MLB.com. Follow him on Twitter at @adamdberry. This story was not subject to the approval of Major League Baseball or its clubs.