Inclement weather postpones opener against Rays
Doubront loses turn amid rotation shuffling, other starters stay on schedule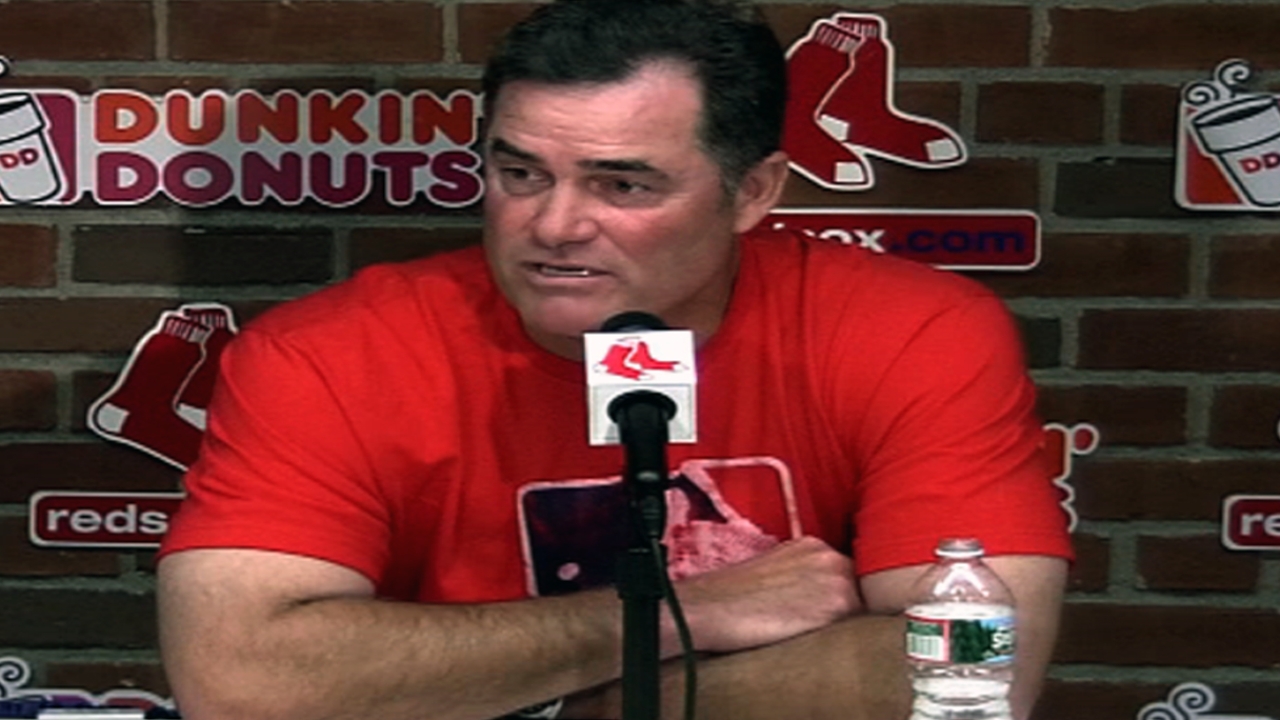 BOSTON -- Cold rain washed away the first of four games between the Red Sox and Rays at Fenway Park this weekend.
Friday night's game earned an early cancellation and was rescheduled for June 18 at 1:05 p.m. ET as part of a day-night doubleheader, with the second game starting at 7:05 p.m. Tickets for Friday's game will be honored at that June 18 makeup.
Scheduled starter Felix Doubront will have his turn in the rotation skipped for now, since manager John Farrell worried about giving the lefty yet another day of rest. Doubront made his first start of the season on April 5 and pushing him to Saturday would have left an eight-day gap between starts.
Farrell said he was pleased that Friday's game was called early, particularly with long reliever Alfredo Aceves now in the rotation, and the bullpen tired after working four innings Thursday in a 3-2 loss to the Orioles.
"One thing you want to stay away from is the start and stop within a game," Farrell said. "And that's where your bullpen can get overworked or get a little bit thin, because you don't want to push a guy into a situation where he's got a 45-minute or an hour delay, and if it's after three or four innings, then you're looking at five innings out of that bullpen. We've had an abbreviated start because of the rain the other night and then a five-inning start last night. That starts to add up."
The Sox will turn to Jon Lester for Saturday's 1:05 p.m. game, with Clay Buchholz starting on Sunday and Ryan Dempster getting the nod for the 11:05 a.m. matinee on Marathon Monday.
Doubront will likely throw 45-55 pitches Friday or Saturday to stay on a steady schedule. His next start will come Tuesday, when the Red Sox open a three-game series in Cleveland.
"I was looking forward to Felix pitching tonight," Farrell said. "His last outing in Toronto, he made some quality pitches in that game, and [he is] a guy that's going to be important for us. Right now, because of the extended time between starts, it's a little disruption to his routine or his schedule. The disappointing thing is not seeing Felix on the mound tonight."
David Ortiz, who was on track to make another rehab start at Triple-A Pawtucket, traveled to Boston to meet with Farrell after Pawtucket's game was also cancelled.
Farrell said Ortiz is aiming for four or five at-bats during a doubleheader with Pawtucket on Saturday, though if Ortiz doesn't feel loose after the first game, he could sit out the second.
"Most importantly, there's no risk being taken with a questionable surface tonight," Farrell said.
Jason Mastrodonato is a reporter for MLB.com. Follow him on Twitter @jmastrodonato. This story was not subject to the approval of Major League Baseball or its clubs.