Umpire Foster admits he missed third-strike call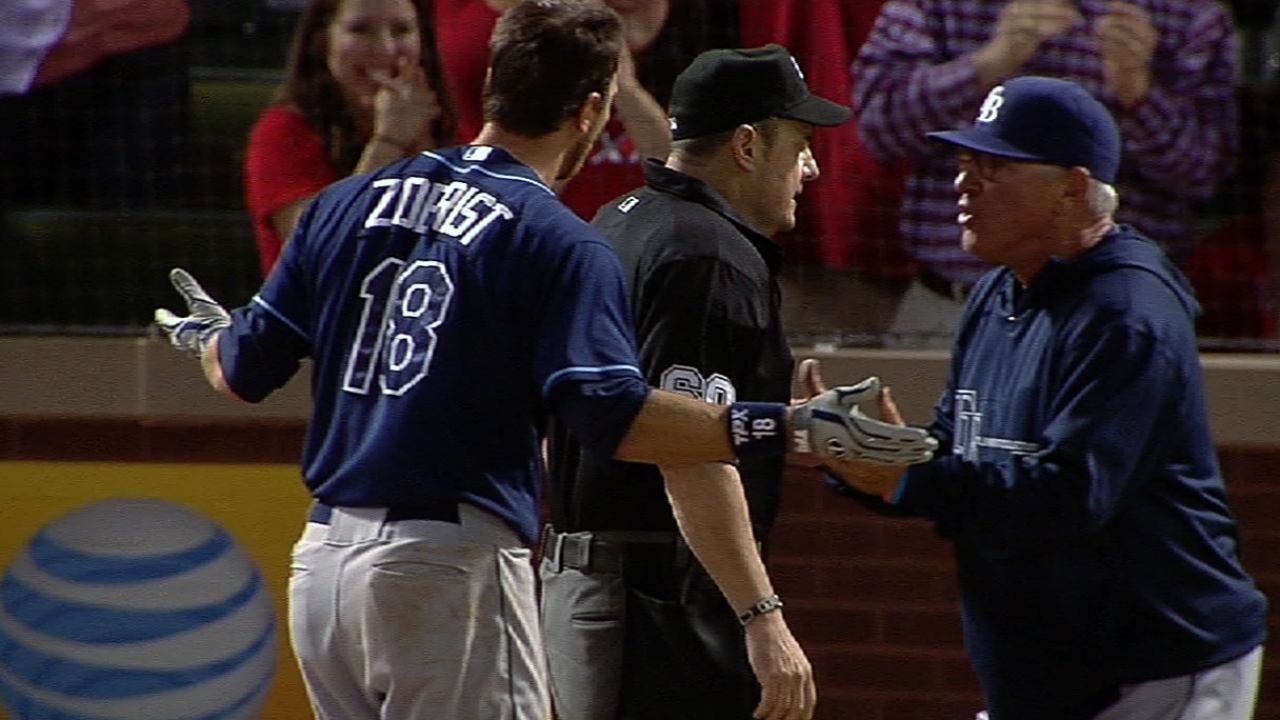 ARLINGTON -- Monday night's Rays-Rangers game ended on a controversial call that saw home-plate umpire Marty Foster call out Ben Zobrist on a pitch that appeared to be way outside the strike zone for the final out of the game. Afterward, Foster admitted that he missed the call.
Manager Joe Maddon argued with Foster after the call was made. Later, Foster called the Rays manager on the phone.
"We talked briefly after the game last night," Maddon said. "He knew the play did not come out as planned, and I really respect him a lot for checking in about that. For me, for him, it's over with. I think it shows a lot on his part. Listen, he's a very good umpire. He's also a very good guy. It's just unfortunate that that would happen with him last night, but it's time to move on."
Zobrist called Monday night's situation "a tough thing for everybody to deal with."
The umpires "know that for us, we get emotional about it," Zobrist said. "And they get emotional about it. Because they're trying to do the right thing, make the right call. So it can be a really hairy, sticky situation emotionally for everybody involved, so you can understand why it got so heated."
Zobrist also credited Foster for coming clean about the call.
"You can't fault a person for understanding that they messed it up, for saying, 'Hey, I blew it,'" Zobrist said. "Who in this room has never had to do that? We all have made those mistakes and said, 'Man, we really screwed that up.' There's nothing more to say, it's nice to know that at least he's willing to admit it. That's kind of a consolation."
Evan Longoria would have been the next batter, had Zobrist reached base.
"I'd like to think I'm going to go up there and get a base hit and win the game, but [if the call went the Rays way], it didn't guarantee us a win," Longoria said. "So, we all make mistakes, hopefully Marty learns from it and doesn't do something like that again."
Bill Chastain is a reporter for MLB.com. This story was not subject to the approval of Major League Baseball or its clubs.