Peralta steps up as leader among Latino pitchers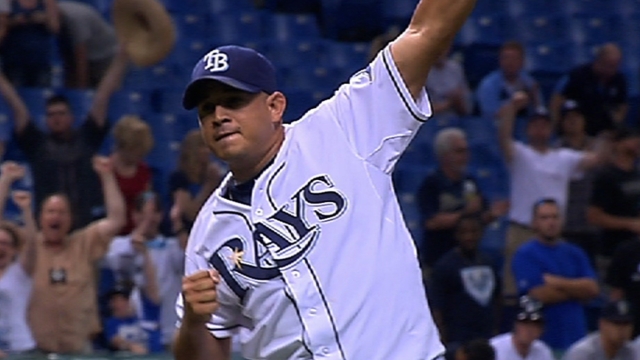 SARASOTA, Fla. -- Joel Peralta is a quality performer out of the Rays bullpen, but his relief work is hardly the only positive the veteran right-hander brings to the team.
"He is so good with our young Latin players," Maddon said. "You can't overestimate the true value of what he's doing there. He really brings the message. Guys want to hear it, they follow and they listen.
"It's a tremendous asset for us to have him there doing what he does as a player, then how he mentors the young Latin players. Remarkable, truly remarkable."
Maddon noted that Peralta's mentoring seems to be done with ease.
"It's very natural to him," Maddon said. "And I think the way he came up really permits it to flow so naturally. Because he came up in a very difficult way where nothing was handed to him and he had to fight to get everything he's had. So now he's at this particular point in his baseball career and he's got the personality to really give back to the other players."
Maddon also said that Peralta is one of the team's biggest leaders.
"No question," Maddon said. "What he's done and how he's done it; he's so subtle. Believe me, there are times when I'll throw something his way and ask him to carry it and he will. And it's almost always accomplished in a very positive way."
Maddon believes Peralta has a future in baseball once his playing days are complete.
"He'll be a fine pitching coach one day if that's what he wants to do," Maddon said.
Bill Chastain is a reporter for MLB.com. This story was not subject to the approval of Major League Baseball or its clubs.