Rays' advisor Zimmer to throw Opening Day first pitch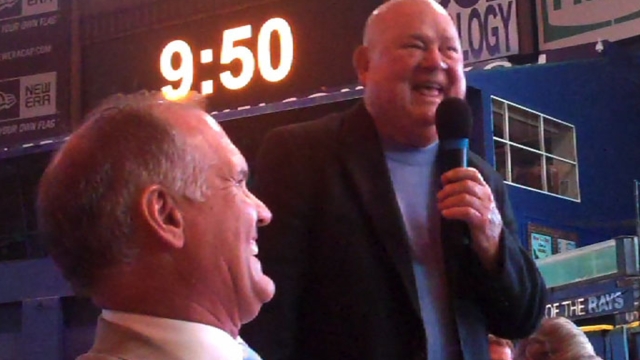 CLEARWATER, Fla. -- Rays senior advisor Don Zimmer will be joined by his family to deliver the ceremonial first pitch prior to the Rays season-opening game against the Orioles at Tropicana Field on April 2 at 3:10 p.m. ET.
Zimmer, 82, is entering his 65th season in professional baseball. This will be his 54th Major League Opening Day. This is also his 10th season with the Rays, equaling his most years with one Major League club.
Zimmer has been a Major League coach, manager or advisor every year since 1971. During his career, he has worn the uniforms of 14 Major League teams. He signed with the Brooklyn Dodgers in 1949 and broke into the Major Leagues as an infielder in 1954. His Major League playing career spanned 12 seasons with the Dodgers, Cubs, Mets, Reds and Senators.
Previous first pitches at Rays home openers:
1998: Hall of Famers Ted Williams, Stan Musial, Monte Irvin and Al Lopez
1999: Larry Doby
2000: Wade Boggs
2001: St. Petersburg Mayor David J. Fischer
2002: United States Army General Tommy Franks
2003: Jon Gruden and Rich McKay, Tampa Bay Bucs
2004: Winky Wright, World Junior Middleweight Champ
2005: Racing legend Michael Andretti
2006: Al Lopez, Jr., Al Lopez III and Al Lopez IV
2007: Governor Charlie Crist
2008: Governor Charlie Crist and Buccaneers' great Mike Alstott
2009: Governor Charlie Crist
2010: Admiral Eric Thor Olson, Commander, US Special Ops
2011: Florida Governor Rick Scott
2012: Jim Dundee, son of the late boxing legend Angelo Dundee
Tickets to the opener are available in a handful of sections at Tropicana Field. The team expects its eighth consecutive Opening Day sellout. Tickets are available at all regular Rays outlets including raysbaseball.com and raysbeisbol.com, the Tropicana Field box office, the Rays' Tampa office located at 400 N. Tampa Street, all Ticketmaster outlets and Ticketmaster phone, or by calling 1-888-FAN-RAYS.
Bill Chastain is a reporter for MLB.com. This story was not subject to the approval of Major League Baseball or its clubs.