Gomes pitching well, should be factor this season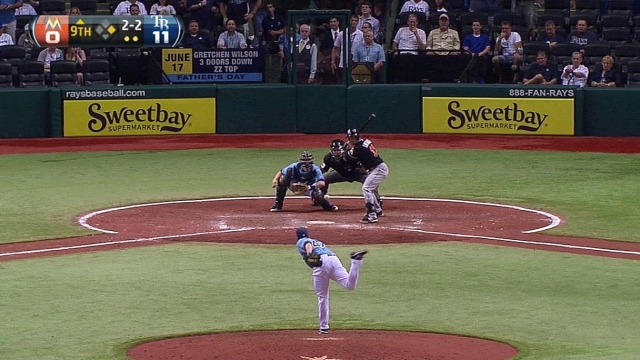 PORT CHARLOTTE, Fla. -- Brandon Gomes has been impressive all spring, posting a 1-0 record with a 2.00 ERA in eight games.
"I think Gomer has been one of the best in camp, period, as a relief pitcher," Rays manager Joe Maddon said. "He's throwing the ball great, velocity is back up. The split's been really good."
The 28-year-old right-hander likely would have broke camp with the team last spring if he had not been slowed by his recovery from offseason back surgery. This spring has been totally different for Gomes.
"I don't think you can even compare the two," Gomes said. "Right now I'm feeling great, health-wise, mechanics-wise, I've got a lot of confidence. It's been really good so far, so just keep it going that way."
Gomes called the 2012 season a learning experience.
"Because I now know that I can still get guys out if I'm not 100 percent," Gomes said. "Last year I think I was just trying to do too much in spring instead of just staying within myself, keeping the ball down. Just more of a learning experience, take that into a positive this year."
Gomes also believes he learned a lot about his mechanics in 2012, which allowed him to find his mechanics quicker this spring.
"I think I became a better pitcher at the end of last year," Gomes said. "Utilizing all my pitches to lefties and righties, and cleaning up my mechanics after talking to Wade Davis, J.P. [Howell], Cesar [Ramos] and [Joel] Peralta and all those guys and figuring out what works best for me. So my mechanics are better this year, and my command has gotten better because of it."
Unfortunately for Gomes, he has one remaining option, which means he'll likely be optioned to Triple-A Durham to allow the Rays to maintain some depth for their pitching. Veteran Jamey Wright and the loser of the Jeff Niemann/Roberto Hernandez battle for the No. 5 spot in the rotation will likely grab the final two bullpen spots. Gomes noted that he wasn't about to play the game of trying to figure out if he fits in on the Opening Day roster.
"No, I'm not going to worry about that," Gomes said. "I'm just going to worry about, 'Am I pitching to the best of my abilities every day? Am I learning something and getting better?' And the rest will play itself out."
Even if Gomes doesn't start the season on the Rays' 25-man roster, there's a good chance he'll see plenty of action in the Major Leagues this season.
"The Brandon Gomes' of the world, if in fact they don't make the team out of Spring Training, they will impact and when their time comes, they stay there for a long time," Maddon said.
Bill Chastain is a reporter for MLB.com. This story was not subject to the approval of Major League Baseball or its clubs.