DR heads into finals with its bullpen on a roll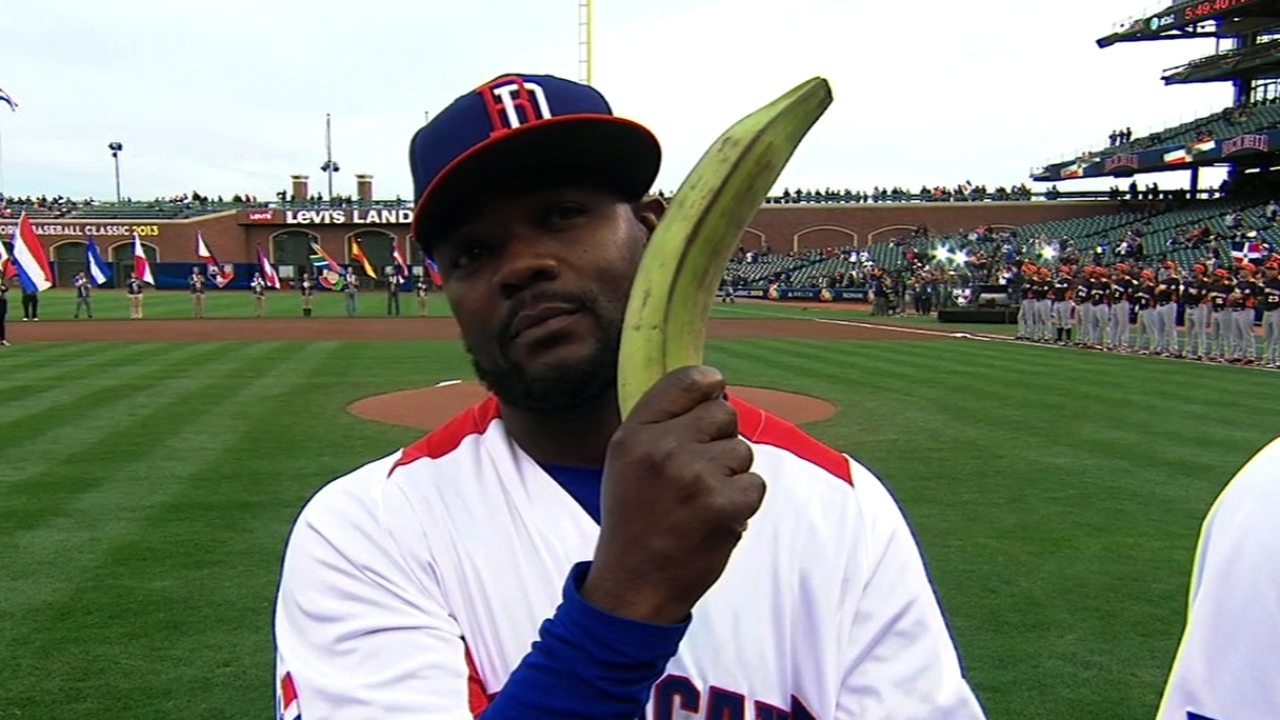 SAN FRANCISCO -- Before the start of the World Baseball Classic semifinal between The Kingdom of the Netherlands and the Dominican Republic Monday night, Dominican closer Fernando Rodney pulled a giant plantain from his uniform during the opening introductions.
Whether or not this strange maneuver helped his club to its 4-1 victory, placing it in the Classic final for the first time, is uncertain. But one thing was certain -- it generated some laughs in the Dominican dugout.
"I got surprised when I saw Rodney with a banana," said Dominican manager Tony Pena following the game. "I just laughed ... you need to have a little bit of fun."
Pena's Dominican Republic squad had a lot of fun Monday. A four-run fifth-inning rally was enough for a stellar bullpen to convert into a championship game berth against Puerto Rico. The relievers held the Dutch to two hits in four scoreless innings of relief from Kelvin Herrera, Pedro Strop and Rodney, who left the fruit behind in the dugout as he took the mound to close out the game in the ninth.
The save was Rodney's sixth of the tournament, extending his record for most saves in a single Classic tournament. Overall, it was the flamethrower's seventh career Classic save, also a record.
"Rodney has been unbelievable," said Pena, who also added that his closer will be ready should he be needed in the tournament finale on Tuesday night.
The three relievers came into the game not having allowed a single run in a combined 18 2/3 innings pitched in the tournament. Manager Hensley Meulens' Dutch squad came into the game swinging hot bats, scoring 17 runs against the San Diego Padres and Seattle Mariners in Arizona earlier in the week. But Andruw Jones, Andrelton Simmons, Jurickson Profar and the rest of the Dutch lineup was thoroughly silenced.
"Everybody's done a great job out of the bullpen," Pena continued. "And as I've said before, the bullpen is the root of the ballclub."
Meulens agreed, saying that the Dominicans "base their team on [the bullpen]. Lots of their guys are bullpen guys, and it showed today ... it's a great bullpen. Those guys calmed our bats."
Given the stingy Dominican pen, Team Puerto Rico will have a monumental obstacle to overcome should it fall behind early in the championship game.
As Pena said in anticipation of the final game of the 2013 World Baseball Classic, "Now tomorrow, the World Baseball Classic will be decided. We'll see who wins there."
Who wins there may very well be determined by the strongest bullpen performance. And given what he saw tonight, Pena has to like his chances.
Manny Randhawa is a contributor to MLB.com. This story was not subject to the approval of Major League Baseball or its clubs.