Cobb takes away positives from first loss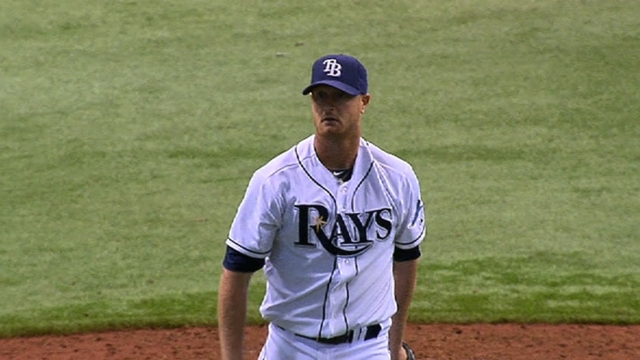 FORT MYERS, Fla. -- For the first time in a while, Alex Cobb allowed runs to cross the plate, but it was still another solid outing for the right-hander penciled in as the Rays' No. 4 starter.
Cobb's line against the Red Sox in a 5-1 loss on Sunday afternoon wasn't pretty: 5 1/3 innings, six hits, four runs (three earned), one walk and five strikeouts. The first run, which came on two-out hits from Will Middlebrooks and Jonny Gomes in the bottom of the second, was the first he allowed in his last 13 2/3 Grapefruit League innings, but manager Joe Maddon felt Cobb's outing was just another step in what's been an outstanding spring.
"I thought Cobb was really good," Maddon said. "I thought he threw the ball great again. Middlebrooks and Jonny hurt him a little bit, but otherwise he was all good. Fastball was good, curveball was really good. I liked it a lot. With our group, if Cobb continues to pitch like that, we score a couple of runs, we'll be just fine."
Cobb wasn't quite as effusive with his self-analysis, though he certainly found positives to take from his fifth start -- and first loss -- of the spring. As sharp as he's been, sometimes getting work in is also acceptable.
"It was not a great, not a bad outing. It was just an outing," said Cobb, who now has a 2.33 ERA over 19 1/3 frames. "It was a Spring Training, get your work in, get up and get down for six innings, and that's what I did. It was good in that sense. There were a couple of balls I left up over the middle of the plate that got hit. There were also good pitches I executed. I'll take a little bit of both from the outing."
It was another step forward, if not as dramatically as his previous shutout outings, for the 25-year-old right-hander. While there clearly are mainstays of the Rays staff who will be asked to anchor the rotation, Cobb's ability to continue to develop into a reliable starter should help ease the transition in year one without James Shields.
"He has just been sharp," Maddon said. "He had that one outing that was not so good at the beginning and then all of a sudden, it's a different guy. It's been fun to watch. I think part of it is him understanding what's going on: 'James isn't here anymore. We have to get our stuff together here and I know I can do better than I have in the past.' I think all of that are the kinds of thoughts that are floating around in his head right now."
The key, Cobb said, is that sometimes less is more. Gaining an understanding of that, both physically and mentally, should be important in Cobb being able to bring what he's done this spring into the regular season.
"We were joking that the most complicated thing in baseball is to simplify it," Cobb said. "I feel like I've taken a good step forward toward doing that this year. That's just repetitions, maturity, getting older and getting a lot of innings in under your belt.
"I simplified my mechanics. I've really understood what I need to do on the mound to get guys out. I've also been able to combat the days where I just don't have it, I feel awful, walking out to the mound, scared I'm going to give up a nine-spot or something. I've simplified everything."
Jonathan Mayo is a reporter for MLB.com and writes a blog, B3. Follow Share This