Myers among six sent to Minors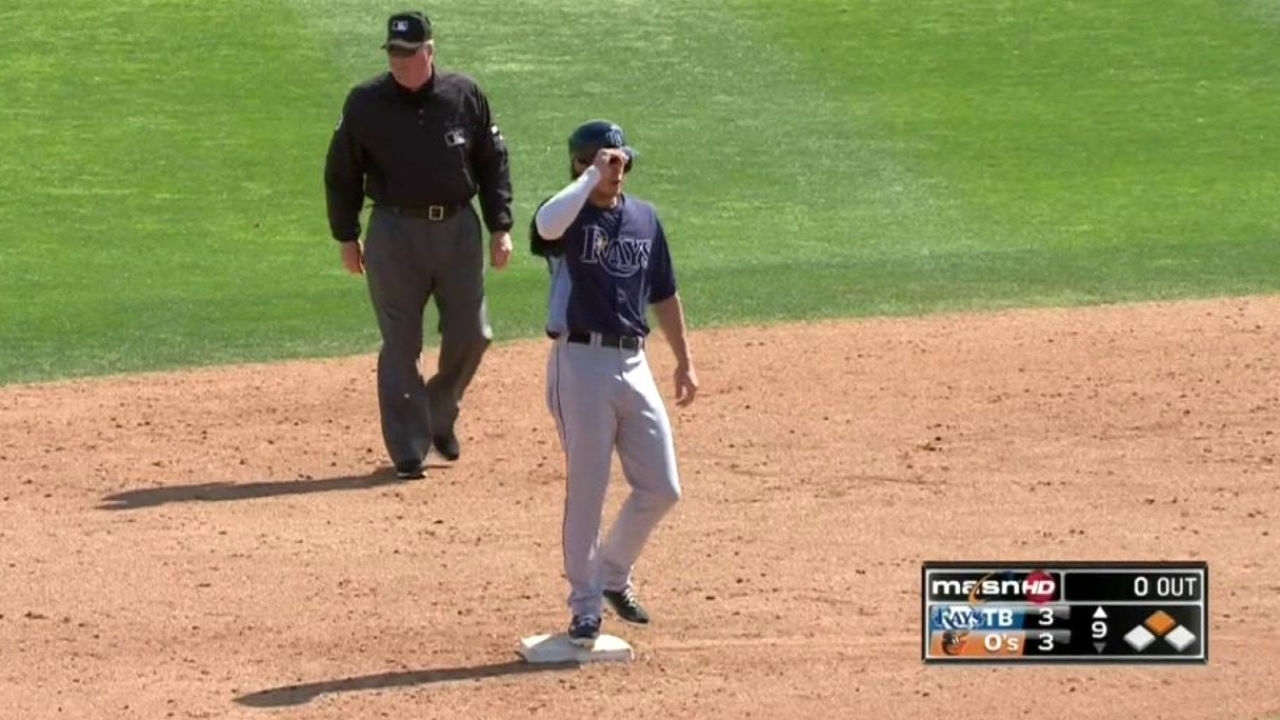 PORT CHARLOTTE, Fla. -- Wil Myers was one of six players officially sent down prior to Saturday's game against the Red Sox. But there are few who doubt the Rays' top prospect won't be back soon.
The outfielder, ranked No. 4 on MLB.com's Top 100 Prospects list, was reassigned along with fellow non-roster invitees Will Inman, Juan Sandoval and J.D. Martin. Brandon Guyer and Josh Lueke were optioned to Triple-A Durham, as well.
"I'm actually kind of excited about it," said Myers, who still got into Saturday's game, entering in the seventh inning as a defensive replacement in right field and singling in his lone at-bat. "It was something that I knew was going to come eventually. It wasn't a surprise at all, so I'm really looking forward to getting down there and getting some at-bats. I really enjoyed my time here, it was a blast. But now I'm ready to get down to business, get down there and get my at-bats in."
Myers has appeared in 17 Grapefruit League games, including Saturday, and has hit .285 over 35 at-bats, with three doubles and a triple. He impressed not just with his bat, but with a better all-around game than expected.
"He was actually better than advertised for me, personally," manager Joe Maddon said. "Everybody talks about hitting and worries about hitting. I like the rest of the potential in his game. Defensively, he made a nice throw to the plate. He's a better runner than I thought. He truly can be a complete baseball player. The bat can be very special, but the rest of his game can be very good, too. That's what I saw."
Guyer hit well in more limited time, hitting .313 in 16 at-bats. He had a double, an RBI and one stolen base.
Lueke picked up two wins in relief, appearing in six games. Over his nine innings of work, he allowed just one run on six hits, walking one and striking out six.
"We wanted to impress upon him how impressed we were with his camp," Maddon said. "He's made a lot of great improvements in a few weeks. I think the most noticeable thing about him is he seems to be maturing a bit. The stuff is really good. I thought his rhythm was better, his fastball command was better. He's on the right path right now. It's a classic example of when the student is ready to teach, he will appear."
Inman didn't allow a run during his time, though he collected just 3 1/3 innings in four total appearances. The right-hander gave up just one hit and three walks while striking out three.
Sandoval, who pitched in the Mexican League in 2012, showed some impressive arm strength in relief, though he was better earlier in the spring. Overall, he allowed six runs on seven hits over seven total innings, walking six and striking out six.
"I think the lack of sharpness is from just missing with the fastball," Maddon said. "But we still like him. I like the arm a lot. I like the breaking stuff, I like the ball on the ground a lot."
Martin appeared in five games, all in relief. In his 6 2/3 innings, he allowed four runs on eight hits, walked just one and struck out three.
The roster moves bring the Rays' spring roster down to 39.
Jonathan Mayo is a reporter for MLB.com and writes a blog, B3. Follow Share This