Peralta proud of Dominican brethren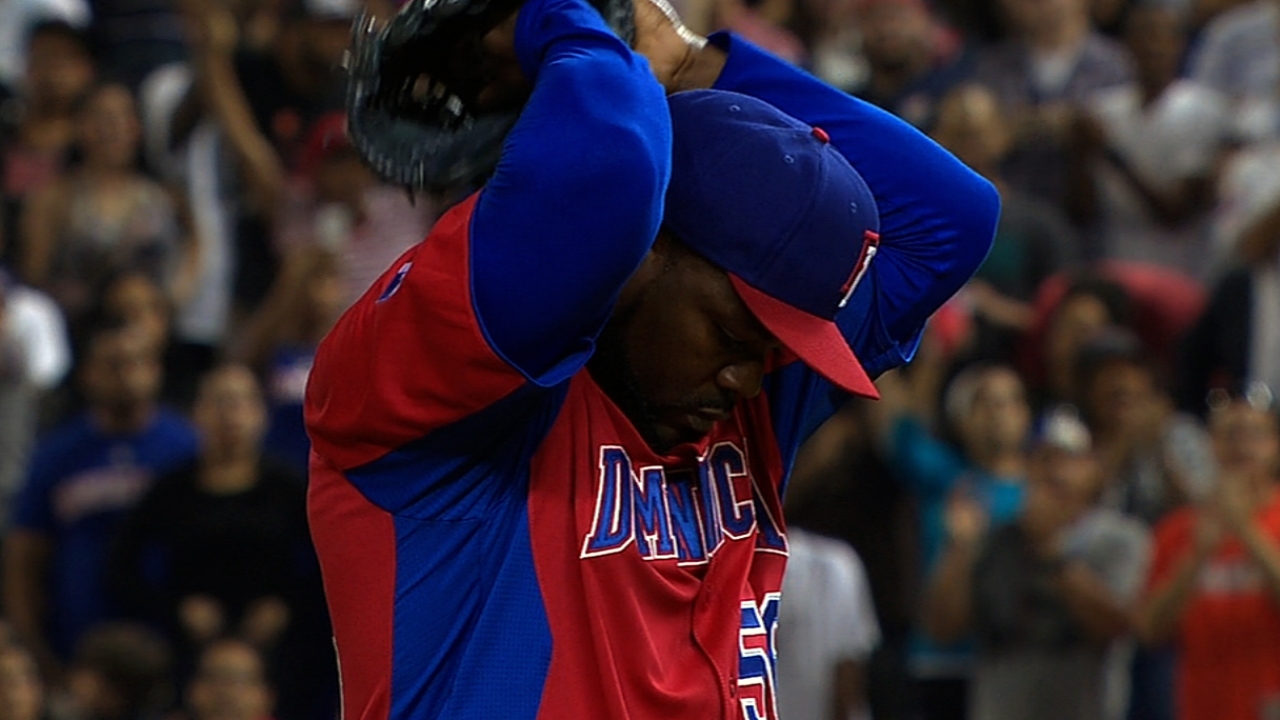 PORT CHARLOTTE -- Joel Peralta entered the clubhouse on Friday morning with a swelled chest, wearing a Dominican Republic cap.
The native of Bonao, Dominican Republic, had a bounce in his step from watching the Dominican Republic defeat the United States, 3-1, in their World Baseball Classic matchup Thursday night.
"Awesome," said Peralta, who watched the game with fellow Rays countrymen Juan Sandoval, Juan Oviedo, and Jose Molina (the Minor Leaguer pitcher, not the Rays catcher who's playing for Puerto Rico in the Classic). "Definitely wished I could have been there, wanted to be there from the start. This whole thing started and I was like, 'I wish I was there,' but I couldn't be there."
Peralta had originally been scheduled to pitch for the Dominican Republic in this year's Classic, but a stiff neck slowed him early in camp, which prompted him to withdraw from the team.
The Dominican Republic scored twice in the top of the ninth to take a 3-1 lead before Rays closer Fernando Rodney came in to pitch the bottom half of the inning for the Dominicans.
Peralta, who is good friends with Rodney, noted that he was a little nervous for his friend.
"I mean, I know he's got his stuff to do well, but I don't want him to be over-throwing," Peralta said. "He did a good job. He was definitely anxious to get into that game. I could see how happy he was after he got in."
Ben Zobrist pinch-hit for the United States in the ninth and had a good at-bat before Rodney finally struck his Rays teammate for the second out of the inning.
"I was kind of curious if that [matchup] was going to happen," Rays manager Joe Maddon said. "I thought it was pretty interesting to watch both of them going at it like that."
Watching the confrontation put Maddon in an unusual situation.
"It was kind of weird, I can understand the Harbaughs," Maddon said referencing brothers John and Jim Harbaugh, who coached against each other in the Super Bowl. "Who do you root for? There is no rooting, you want them both to do well so you stay out of it and see what the heck happens."
Maddon giggled.
"Fernando's throwing the ball really well right now," he said. "That's kind of an uncomfortable moment for Zo."
After Rodney got the final out of the game, he fired one of his imaginary arrows into the air.
"I was so happy for him," Peralta said. "He actually sent me a picture after the game last night. It was a really good one. I'm happy for him."
Bill Chastain is a reporter for MLB.com. This story was not subject to the approval of Major League Baseball or its clubs.