Archer waiting his turn in bid for rotation spot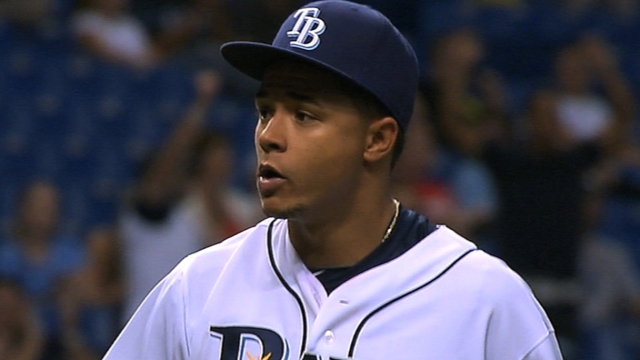 DUNEDIN, Fla. -- While the competition for the No. 5 spot in the Rays' rotation continues, at least one of the competitors isn't wrapped up in the idea of battling others for the spot.
"I'm constantly battling for a spot," said right-hander Chris Archer, who allowed just one hit in three scoreless innings Friday against the Blue Jays. "That's battling for a spot against me. Each day I can get better than I was yesterday. Really, it's cliche, but that's what I try to do."
Several years ago it's likely all four of the competitors for the fifth spot would have been in the Rays' rotation. Now just one from the group of Archer, Jeff Niemann, Roberto Hernandez and Jake Odorizzi will be in the rotation.
"It is a little frustrating," Archer said. "But from the way the Rays have done things, it proves that they know what they're doing. They know everybody is completely ready to get there and stay. So I'd rather be able to get there and stay instead of going up and down, up and down. I mean, if they need me to do that, obviously I wouldn't mind going up and down, up and down.
"But one day I'm going to have a solidified spot in the rotation and the young guys in A ball and Double-A, they're going to be in my position. I'm going to have my spot because I've waited for my turn, basically. So I'm going to be patient and it can be frustrating if you let it be. But it doesn't frustrate me because I know eventually I'll be that guy with a spot and somebody else will have to be patient."