Bullpen ready to move on without Howell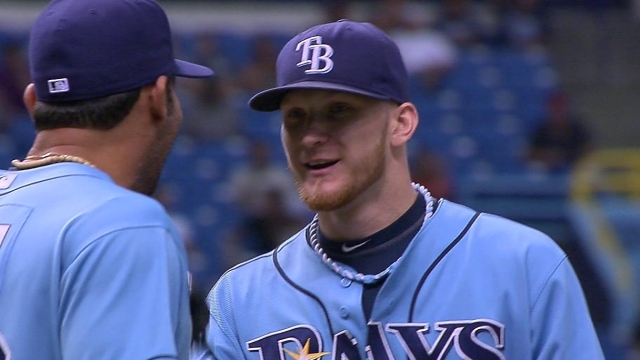 ST. PETERSBURG -- After southpaw Randy Choate signed a three-year, $7.5 million deal with the Cardinals last month, the writing on the wall seemed to indicate that the Rays would likely not be able to re-sign J.P. Howell.
That forecast came to fruition Monday, as the 29-year-old lefty signed a one-year contract with the Dodgers that will pay him $2.85 million, along with another $1.2 million in incentives.
Howell has been one of the more popular players in the Rays' clubhouse since his 2006 arrival via a trade with the Royals. He brought an element of fun to the team, like the time he fell asleep in the bullpen during a day game against the Marlins. Cameras focused on the snoozing Howell as he sat in the sunshine, much to the delight of the bullpen and television audience. He always seemed to have something going on with all of his teammates.
Howell's popularity also stemmed from his on-field performance, where he showed talent and grit.
Rays pitching coach Jim Hickey couldn't say enough nice things about the departing Howell.
"In the short span of a month, from my staff I've lost James Shields, Wade Davis and now J.P. Howell," Hickey said. "I think I was with Shields longer than with any pitcher in my career, and he certainly pitched more innings for me than any pitcher in my career. But J.P. Howell's been around just as long.
"First of all, everybody loves J.P. Howell in the clubhouse, and the reason that they do is because his concern is for the team and his teammates long before him personally."
Hickey pointed to the 2008 season, when the Rays converted Howell from a starter to a reliever.
"In 2008, we didn't know what we had and he was the long man," Hickey said, "and he turned into one of the best late-inning pitchers that there was. Period, end of story. And, of course, [in] 2009 he stepped into the closer's role and did some things that we asked that probably weren't even fair to him. And he did it without any hesitation. He ended up getting injured. Battled his way back. He did every single step of the rehabilitation along the way. He was extremely diligent. He did everything he could to get back, and he pitched extremely well for us.
"He's one of the guys that I'm going to hate to see go, for sure. And he's one of the guys who just brings a great levity to the clubhouse. And I'm certainly going to miss him. He's one of my all-time favorites, for sure."
Sans Howell, the Rays should still have two left-handers in this year's bullpen with Jake McGee and Cesar Ramos.