#AwardWorthy: Vote for Kiermaier's glove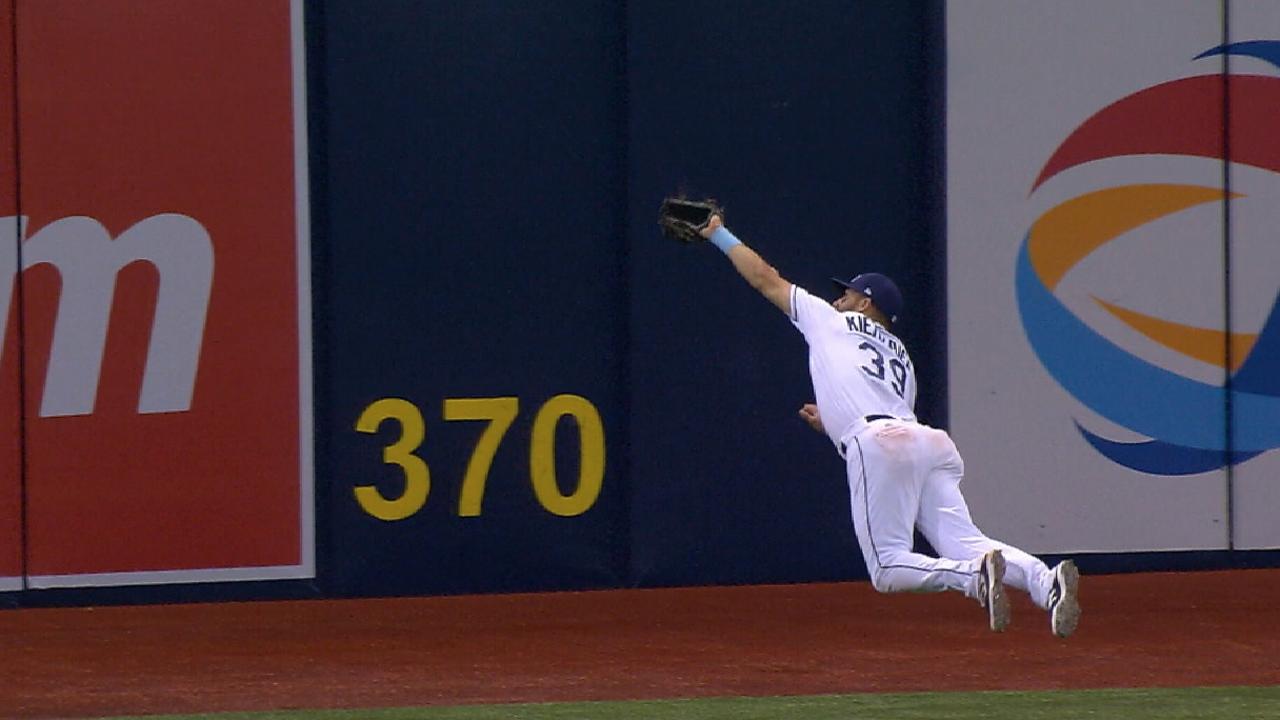 Kevin Kiermaier has long been one of the premier defensive outfielders in baseball. With great instincts and above-average speed, he plays one of the deepest center fields in the game and tracks down balls that fall for hits in most outfields.
Although he missed two months of action with a fractured right hip, Kiermaier still made one of the signature catches in baseball this season. His flying, five-star grab on Sept. 15 against the Red Sox earned him a nomination for Best Play, Defense, in this year's Esurance MLB Awards.
• Vote for this season's best stars and moments in the Esurance MLB Awards
The Esurance MLB Awards annually honor MLB's greatest achievements as part of an industry-wide balloting process that includes five groups, each of which accounts for 20 percent of the overall vote: Media, front-office personnel, retired MLB players, fans at MLB.com and Society for American Baseball Research (SABR) members.
The MLB Awards are an all-inclusive program, encompassing the top players and performances from both the American and National Leagues from Opening Day through the end of the postseason.
Voting led off with seven categories on Sept. 18 at mlb.com/awards, serving as the grand entrance of a program that will unveil nominees for Best Call, TV/Radio; Best Major Leaguer, Postseason; and Best Postseason Moment following the Fall Classic's final out. The ninth inning of voting will begin around BBWAA Awards week, which opens when the Jackie Robinson Rookie of the Year Award winners are unveiled on Monday, Nov. 13. Voting for the final five categories will begin at 7 p.m. ET on the following dates:
• Best Executive: Thursday, Nov. 9.
• Best Rookie: Monday, Nov. 13.
• Best Manager: Tuesday, Nov. 14.
• Best Pitcher: Wednesday, Nov. 15.
• Best Major Leaguer: Thursday, Nov. 16.
MLB Awards season will culminate on Friday, Nov. 17, when winners are announced live on MLB Network and MLB.com starting at 8 p.m. ET.
The Rays were leading by a run in the ninth with two runners on when Jackie Bradley Jr. shot a hard liner into the gap in left-center. But Kiermaier was able to cover 104 feet in 5.1 seconds and come through on a ball with an 18 percent catch probability.
"Probably one of my better ones I've had," Kiermaier said. "I had a long way to go, but like I said, when I see that ball in the air, all I want to do is catch it. Come down with it, and let my instincts take over. And you get such an adrenaline rush when that ball's in the air going after it."
On the season, Kiermaier was 4-for-19 in five-star catch opportunities (21.1 percent), which was best among players with at least five chances. He was also 9-for-10 on four-star catches and 14-for-15 on three-star catches. Kiermaier ranked fourth in Defensive Runs Saved (22) and sixth in Outs Above Average (12) on the season.
Ben Weinrib is a reporter for MLB.com based in Cleveland. Follow him on Twitter at @benweinrib. This story was not subject to the approval of Major League Baseball or its clubs.