Ramos eager to return to All-Star form in '18
Rays catcher prepares for full season after missing April, May this year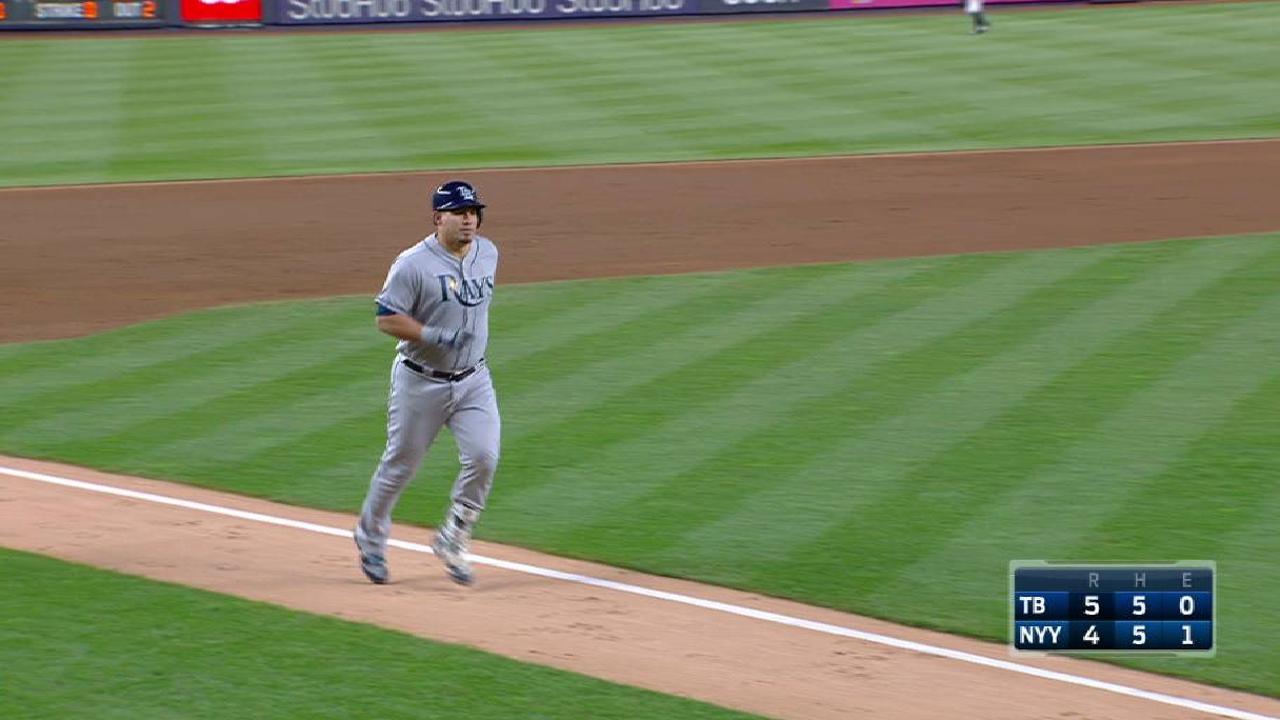 NEW YORK -- Wilson Ramos is a player Rays fans can get excited about for 2018.
In Thursday night's 9-6 win over the Yankees in the series finale at Yankee Stadium, he showed one of the reasons why: "The Buffalo" can hit.
"It is its pretty remarkable in short time what he's done, the production that he's put up, hitting the ball out of the ballpark," Rays manager Kevin Cash said. "There's a lot to be excited about with him at the plate going into next year with a healthy offseason, a healthy Spring Training and know how he can kind of fit in the middle of our lineup and [is] a right-handed bat.
"At times or through the bulk of our year, we've missed that big right-handed bat to complement some of our lefties when we're facing left-handed starters."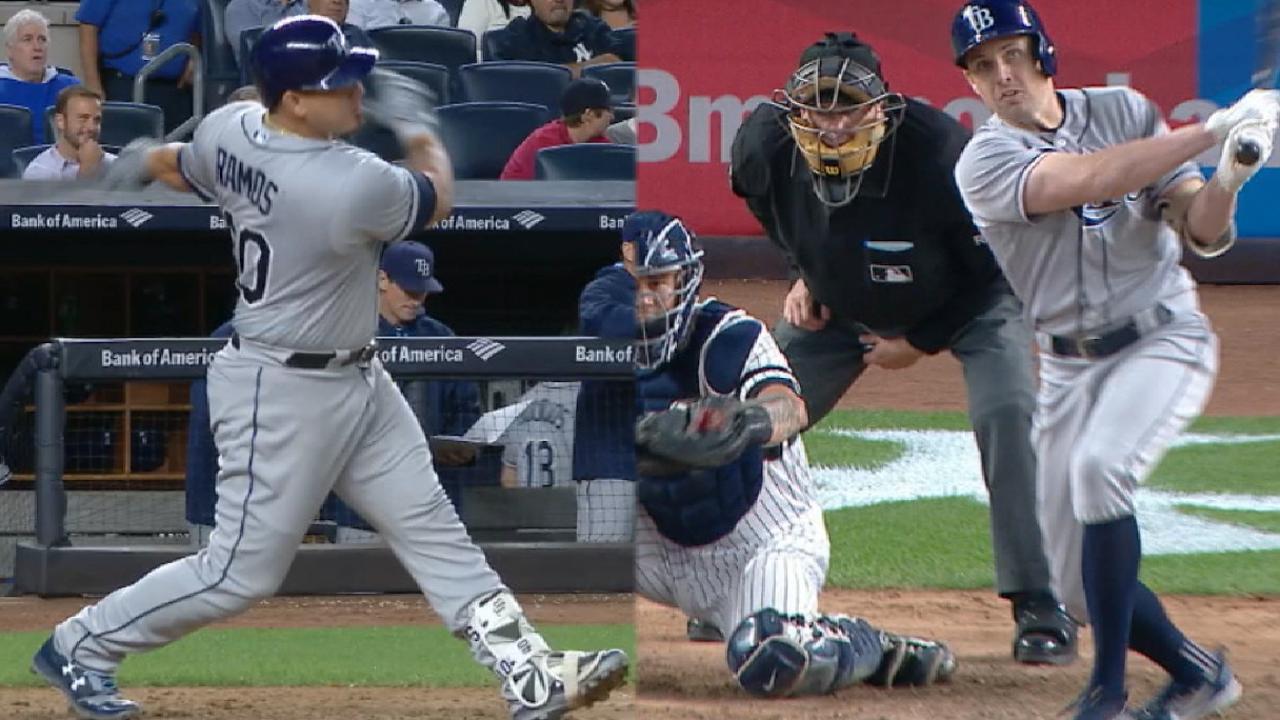 Ramos, who got robbed of a grand slam by Aaron Hicks in Tuesday night's loss to the Yankees, directed another blast toward center field. This time, it cleared the wall with plenty to spare for a go-ahead two-run homer -- No. 11 -- to help fuel a seven-run fifth.
"That was a good day today," Ramos said. "I got a little bit scared with [center fielder Jacoby Ellsbury] stopped and jumped. But finally, I get that one."
Ramos' barreled ball traveled 409 feet and had a 106.4 mph exit velocity with a 28-degree launch angle, per Statcast™.
Ramos made the National League All-Star team in 2016, batting .307 with 22 home runs and 80 RBIs in 131 games with the Nationals. Following the season, he won the NL's Silver Slugger Award among catchers and received two eighth-place votes for the NL Most Valuable Player Award, tying for 17th in the overall balloting. But he suffered a torn ACL in his right knee near the end of the 2016 season. That opened the door for the Rays to sign him in December to a two-year, $12.75 million deal.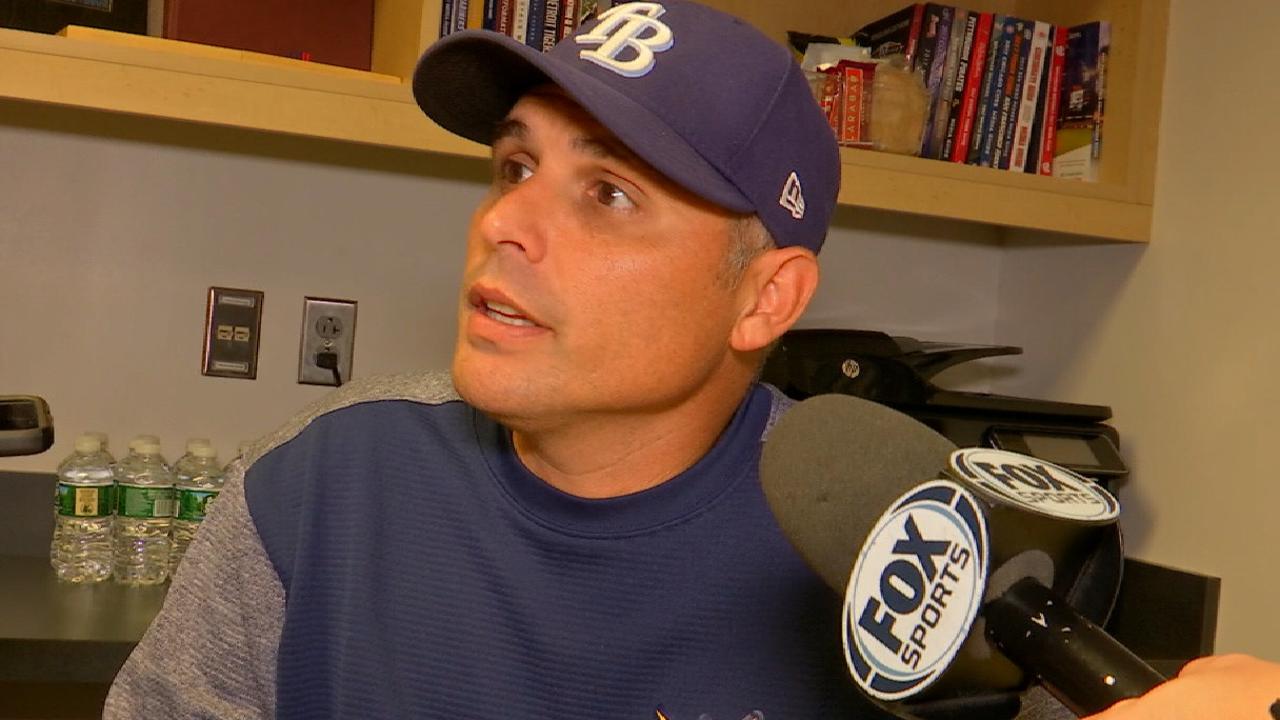 The expectations were that he'd return in the second half and the Rays would get the payoff for their faith in signing him through next season.
Ramos might have returned a little earlier than expected, which might have led to some supbar results for the first part of his Rays tenure. He hit .143 in June, .213 in July, .274 in August, and he's finishing with a bang, hitting .333 in September -- including five home runs and 15 RBIs.
"I feel very good right now," Ramos said. "Especially with my timing. That was like nine months, not doing baseball activity, not facing pitchers. And now, I feel like my timing is back. It feels great and that's how I play this game."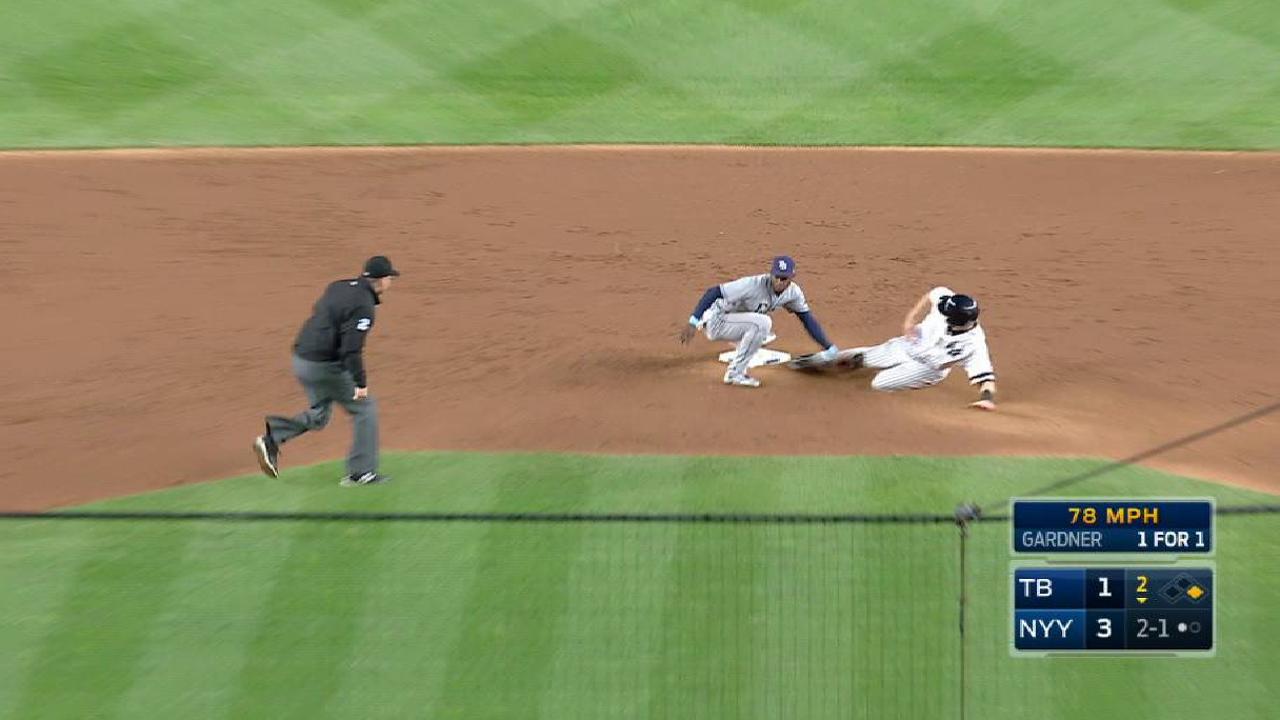 In recent years, the Rays have struggled at the catching position. They've had some who had quality defensive skills, but they have had hard luck finding one who could contribute offensively.
Once the season is over, the Rays know they will head into 2018 with perhaps their best catching situation in team history. Wilson should be long past any residual effects from his knee surgery, and unless something unexpected occurs, he'll be backed up by Jesus Sucre, who has been dependable.
"We're doing a really good job," Ramos said. "I'm very happy the way we work with the pitcher. How we work in the situation. [Sucre] did well when he got the opportunity to play. And I'll be excited to work with him next year."
Ramos is looking forward to a fully healthy 2018 campaign.
"I'm very excited," Ramos said. "Because [the way his season has ended] push me to keep working hard. Especially this offseason, because last offseason I was just doing rehab. And this offseason, I will do baseball stuff, working out, and that will help me to come back strong next year."
Bill Chastain has covered the Rays for MLB.com since 2005. This story was not subject to the approval of Major League Baseball or its clubs.