Snell faces hometown Mariners in finale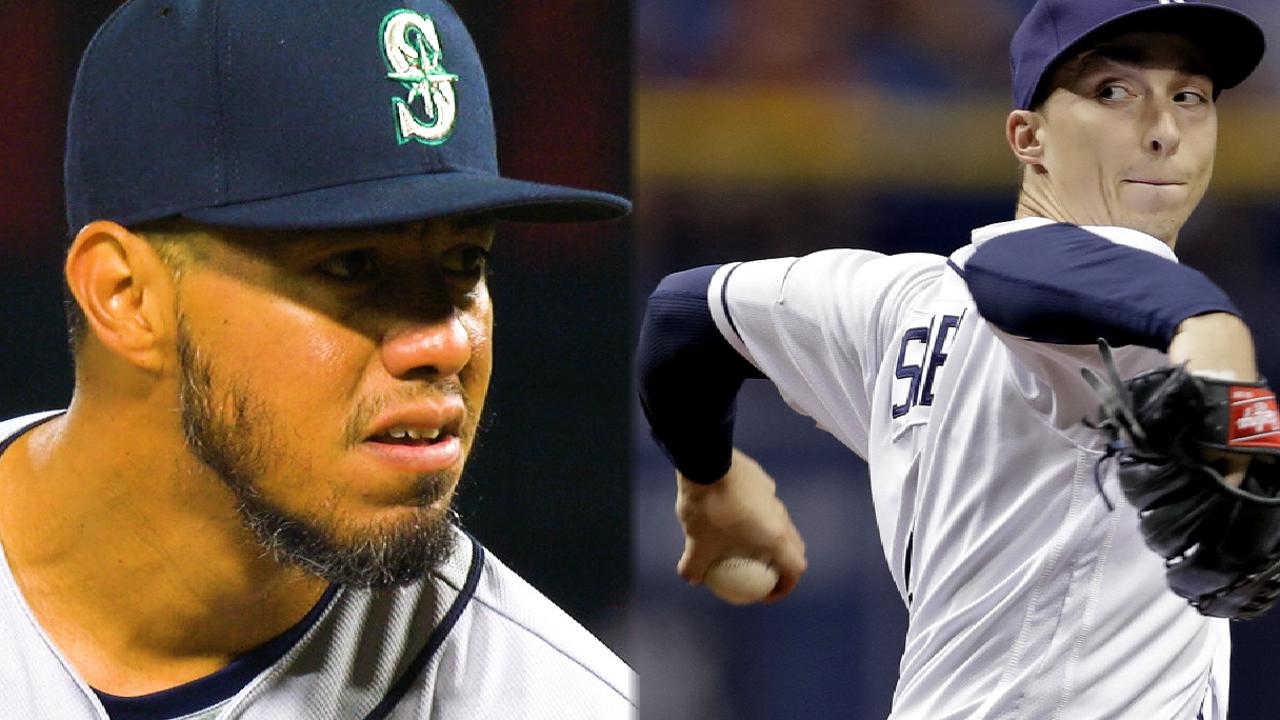 Blake Snell (1-6, 4.78 ERA) will face his hometown Mariners opposite Yovani Gallardo (5-8, 5.84 ERA) as the Rays and Mariners conclude a three-game series on Sunday afternoon at Tropicana Field, with Seattle seeking a sweep and fifth consecutive win overall.
With the streak, the Mariners have pulled to within a half-game of the second American League Wild Card spot, while the Rays have fallen to four back.
Born in Seattle and a first-round Draft pick in 2011 out of Shorewood High School in Shoreline, Wash., Snell said Sunday's matchup with the Mariners means a little extra to him on a personal level.
"Of course it does. Hometown team," Snell said. "But I do watch their games. I feel like I've watched them enough to know more about them than any other team not in our [division]."
Snell said after his last outing in Toronto that since his most recent callup, he's better understood why to throw each pitch he and the catcher choose.
He's thrown 12 1/3 innings in his two starts since rejoining the Rays, allowing five earned runs. The lefty earned his first win of the year against Toronto. Snell said his mentality has been a big factor in his turnaround.
"Each pitch is the most important pitch," Snell said. "I'm going to focus on it. And I don't feel like anything is bothering me. I'm just focused on the next pitch and what I have to do. And after that, it's the next one. I've been really happy how locked in I've been and on how focused I've been on every pitch."
Gallardo has struggled since Seattle added the veteran back to its rotation in late July. He's allowed 18 earned runs over 24 innings pitched across five starts for a 6.75 ERA. Baltimore tagged Gallardo for eight runs and nine hits in four innings in his last outing.
Three things to know about this game
• The Rays faced Gallardo four times last year when he was a member of the Orioles. Tampa Bay collected 27 hits off him in 18 2/3 innings, scoring 13 earned runs (6.27 ERA).
• Snell's win against Toronto was his first since Sept. 22, 2016, snapping a 16-start winless streak. Without that win, he would have tied the Rays' franchise record for consecutive winless starts.
• Longtime Yankee Robinson Cano has made the most of his many visits to Tropicana Field, batting .321 (111-for-346) over his career in St. Petersburg. Among active players, only Joe Mauer and Victor Martinez have a higher average at the Rays' home.
Connor Mount is a reporter for MLB.com based in St. Petersburg. This story was not subject to the approval of Major League Baseball or its clubs.