Outfield dazzles despite missing Kiermaier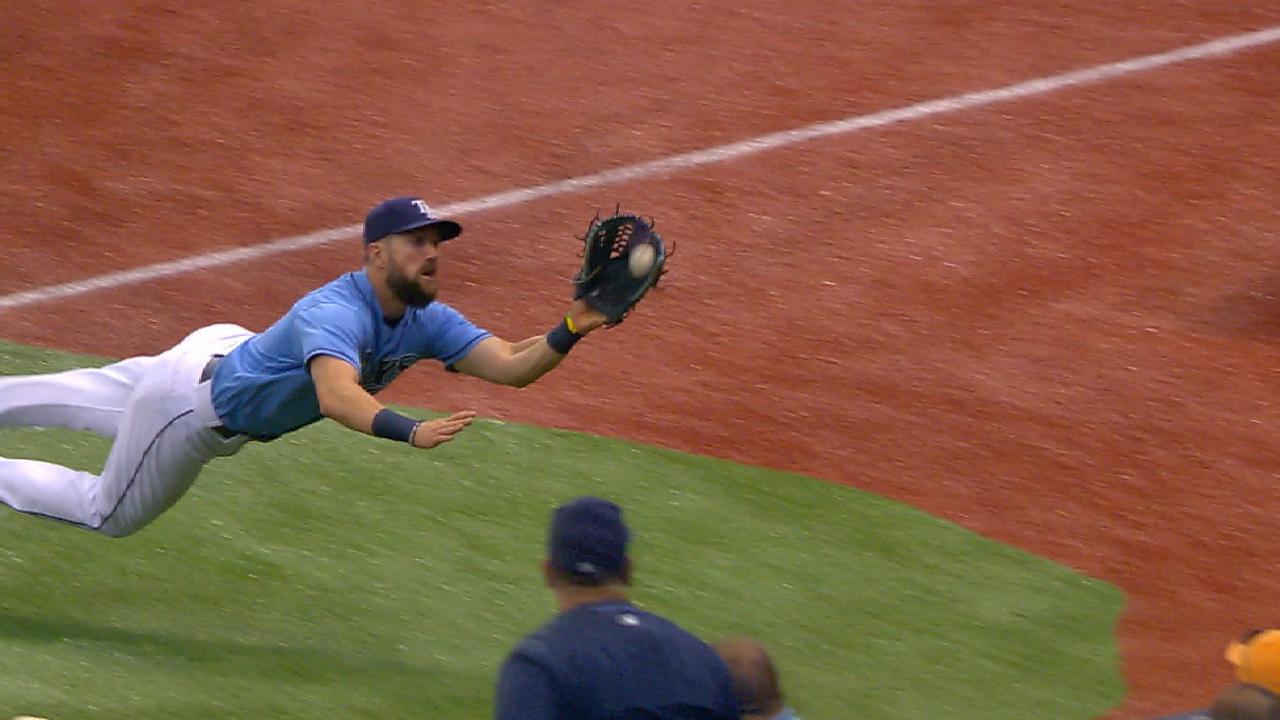 ST. PETERSBURG -- Even if Kevin Kiermaier isn't currently a part of the Rays' outfield, that hasn't stopped Rays outfielders from playing superlative defense.
Sunday afternoon's 5-3 win over the Red Sox at Tropicana Field featured two plays by Rays outfielders that would make anybody's highlight reel.
The first of the plays came in the fourth. The Red Sox were threatening after Hanley Ramirez and Jackie Bradley Jr. singled with one out. That's when Christian Vazquez hit a foul pop down the right-field line near the home bullpen mound. The ball appeared as though it would drop, which would have simply been strike two.
Steven Souza Jr. had other thoughts.
The Rays right fielder went after the ball in a full sprint, diving at the last instant, stretching out the length of his 6-foot-4 frame and somehow making the catch for the second out.
"The bullpen in that area helps me out," Souza said. "The let me know where the mound is, which is beneficial at home. Especially in foul territory, I can dive and not worry about it as much if I don't catch it. I knew I had a good chance when I got there. Big out for [starter Chris Archer]."
Rays manager Kevin Cash said Souza has made a lot of great plays.
"That's right there with the best I've seen," Cash said. "We're going to see that a bunch on highlight reels to come."
Ramirez singled with one out in the sixth. Bradley then hit the ball the opposite way and Rays left fielder Corey Dickerson went to the wall to make a leaping catch before he threw to second baseman Brad Miller, who made a successful relay to first baseman Logan Morrison to complete the inning-ending double play.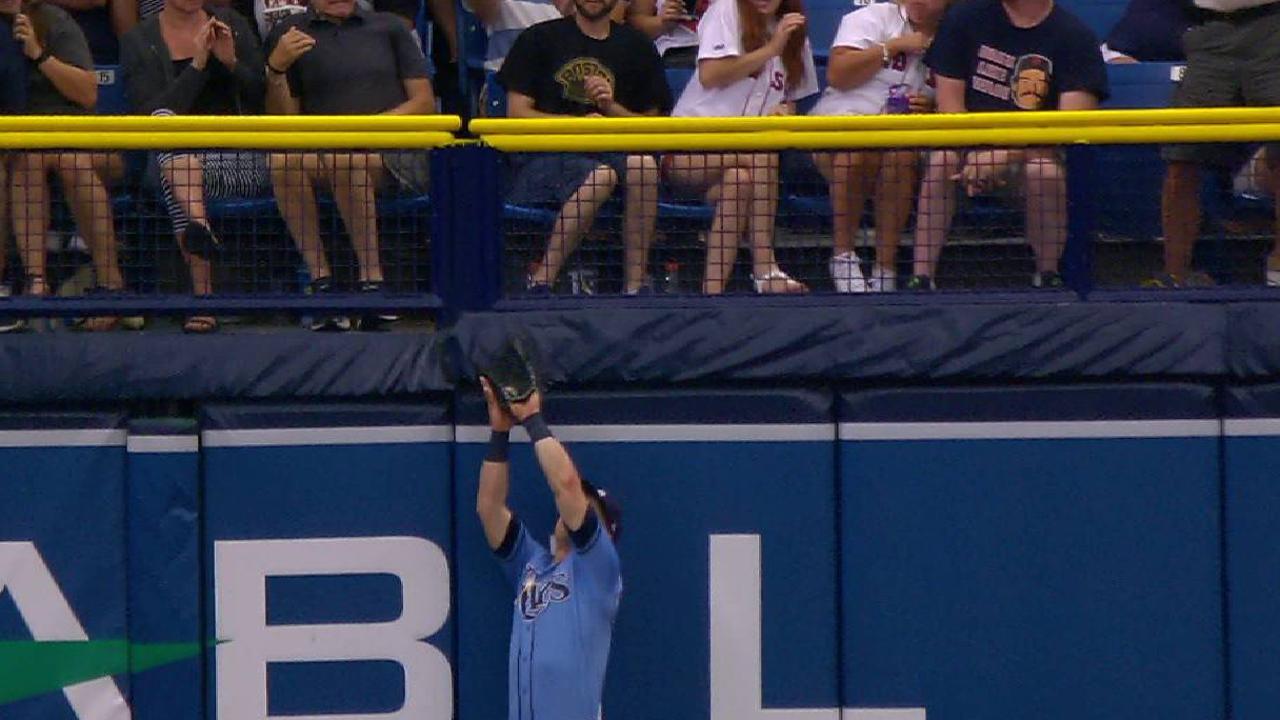 "Jackie's been staying through the ball pretty well and driving the ball the other way," Dickerson said. "When it came off the bat, I knew he'd gotten it pretty well. I was playing kind of deep already. I tried not to take my eyes off it too much. I used my peripheral [vision]. It was going to be against the wall. I needed to jump. I timed it pretty good and was able to make the catch.
"I saw Hanley already past second, so I just tried to get it in as quick as I could. I knew I had a chance because he had to go back and touch the bag. Brad made a nice throw to finish the play."
Cash said Dickerson has transformed himself into a "pretty good defender."
"When we play good defense it seems like we win games," Cash said.
Bill Chastain has covered the Rays for MLB.com since 2004. This story was not subject to the approval of Major League Baseball or its clubs.