LoMo honors dad with #ASGWorthy day
First baseman lost father to cancer following 2010 season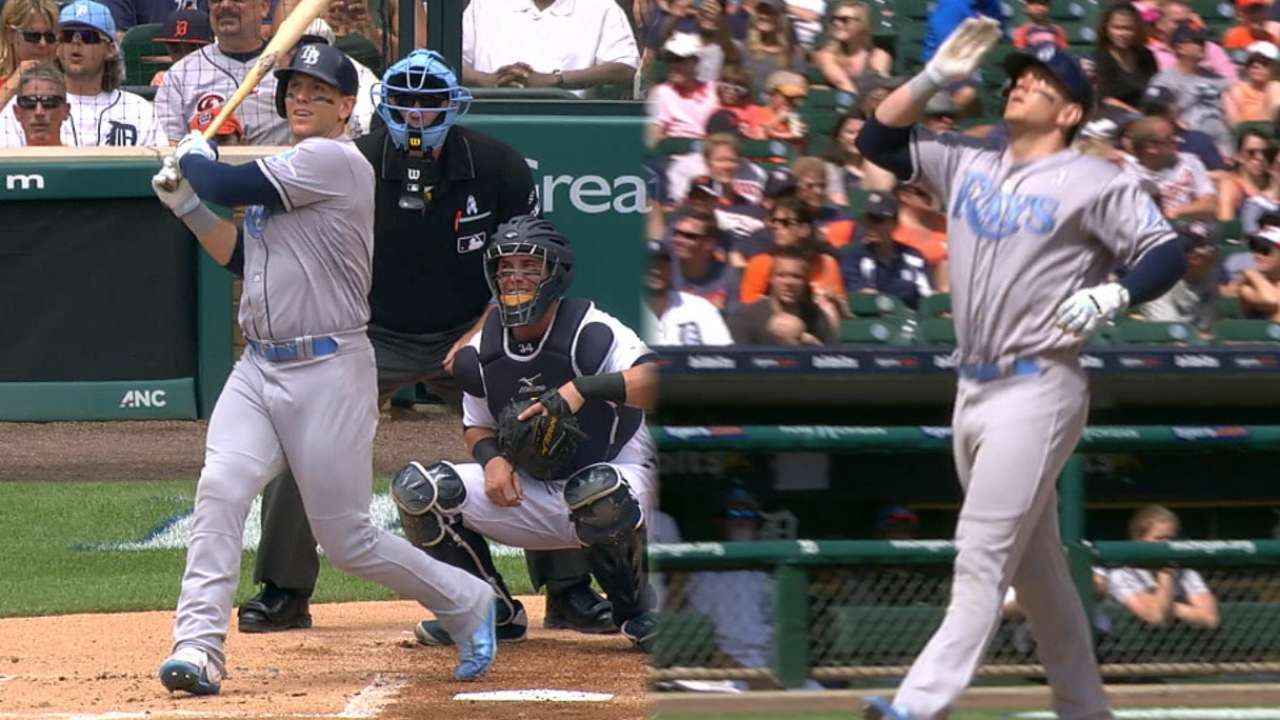 DETROIT -- After every homer he's hit since 2011, Logan Morrison looks skyward and gives a quick military-style salute. The gesture is a nod to his late father, Tom, who served 28 years with the United States Coast Guard.
Morrison saluted twice in Tampa Bay's 9-1 win over Detroit on Sunday. Every time he does it, he's reminded of his role model and his strongest motivator. Homering twice on Father's Day brought old memories to the surface.
• Cast your Esurance All-Star ballot for LoMo and other #ASGWorthy players
"I started doing [the salute] after he passed away in [December 2010]," Morrison said. "For him, and appreciating everything he did for me. Even when he wasn't able to be at home, he was out on the boat for six weeks at a time, he was calling back, making sure I was doing what I needed to do."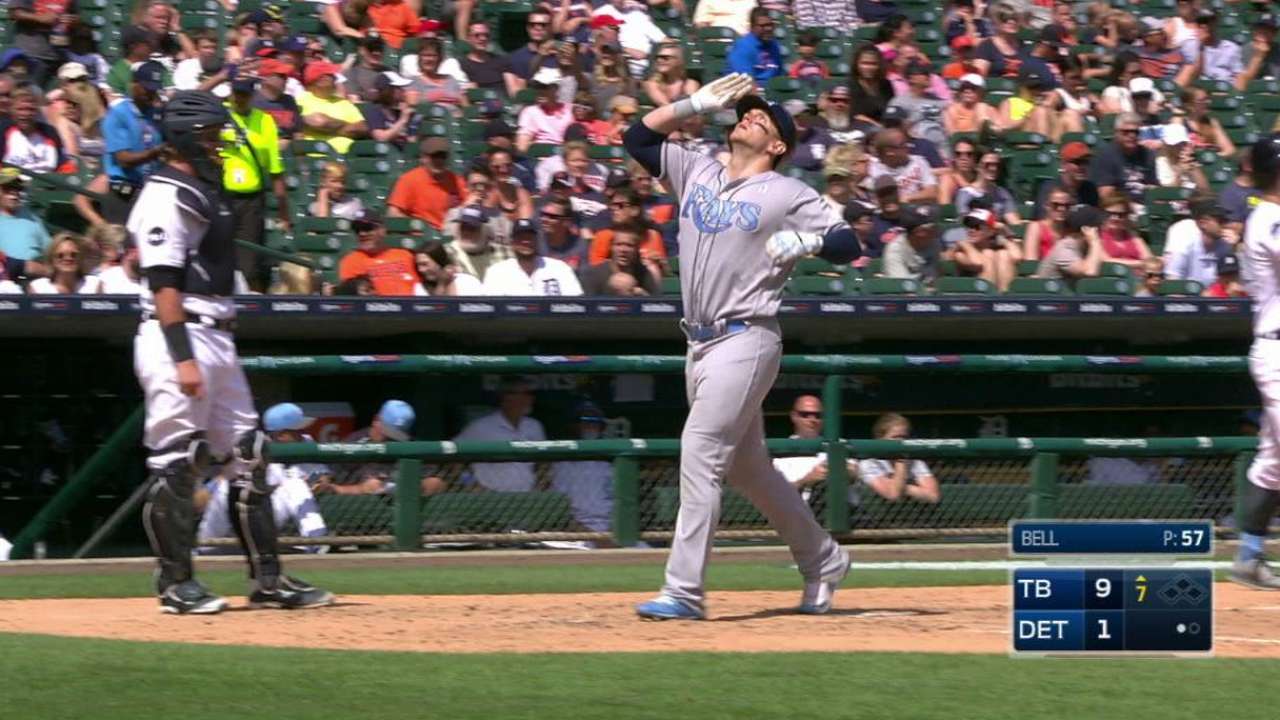 Tom died of lung cancer at 51. The cancer was in Stage 4 by the time he was diagnosed, though he was a non-smoker. A couple of months after Tom died, Morrison was in Jupiter, Fla., for Spring Training with the Marlins and got a tattoo on the inside of his left biceps in memory of his father.
The tattoo is a colorful collage of symbols that commemorate the relationship Morrison had with Tom: a $100 bill Tom gave him for hitting his first home run with a wood bat; a SIG Sauer handgun, Tom's favorite weapon; a baseball diamond; crossed cannons for the Coast Guard; and a silhouette of a father holding a baby.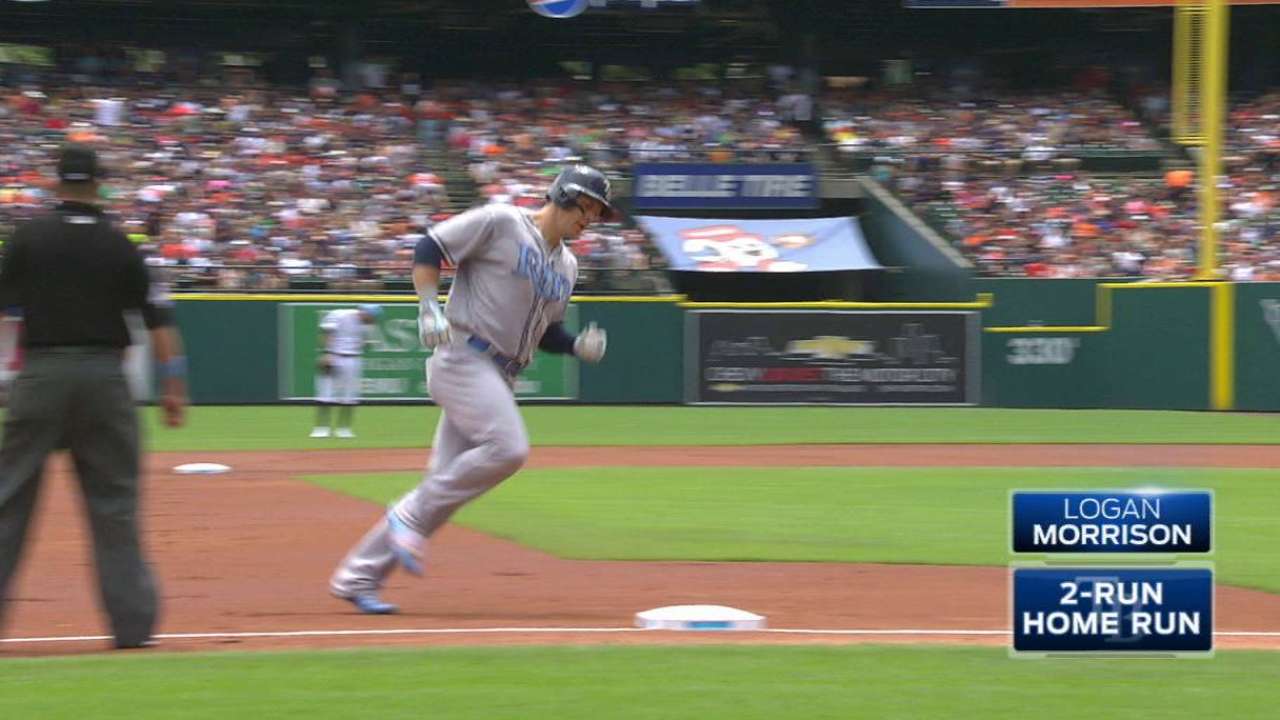 Morrison wears a sleeve on his left arm during games, which hides the tattoo. But the home run salutes remain a public tribute to the man who pushed Morrison more than anyone else. With 21 home runs already this season, second most in MLB, Morrison continues to honor Tom's memory and give a quick "thank you" every time he crosses the plate.
"Obviously, when you come up in baseball you gotta have somebody that makes sure you're getting to the right places, getting in front of the right people, giving you the equipment you need," Morrison said. "He did all that for me and more. He pushed me to the point where it was like, you know, 'You said you wanted to do this. I'm not gonna let you forget it.' There were times that I didn't want to go out there and hit baseballs and take BP from him, but he made me do it and I'm very appreciative now."
Jordan Horrobin is a reporter for MLB.com based in Detroit. This story was not subject to the approval of Major League Baseball or its clubs.