Inbox: Beckham the Rays' future at keystone?
Beat reporter Bill Chastain answers questions from fans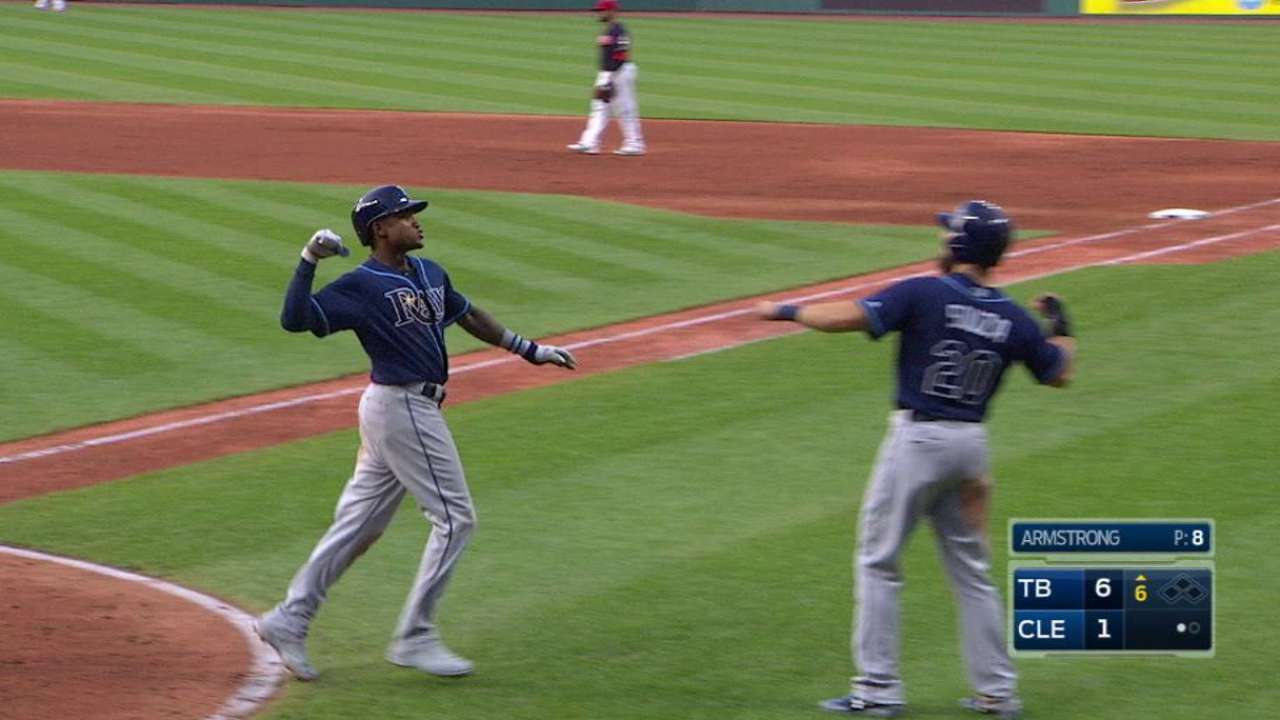 With the impending return of Matt Duffy at shortstop, is it a given that Brad Miller will remain at second base? This is the first year that Tim Beckham has had a chance to be an everyday player, and I love what I see. Could he become the Rays' second baseman of the future?
-- Jerry H., Largo, Fla.
Good question, and certainly the Rays will be considering all possibilities. First, let's wait and see when Duffy actually returns. He's headed back to Tropicana Field to be re-evaluated on Friday, and he did not play on Wednesday for Class A Advanced Charlotte as originally intended. If Duffy comes back any time soon, I think it's likely that we will see Beckham playing more outfield rather than second base. The initial plan this spring called for Beckham to get used to playing the outfield, a new position for him. Given his speed and arm, Beckham moving to the outfield appears to be a relatively simple transition on paper. Once it became clear that Duffy would not be returning before the start of the season, manager Kevin Cash made sure to give Beckham as many reps as he could at shortstop.
• Submit a question to the Rays Inbox
I agree with management's decision to send Blake Snell to Triple-A. Maybe he's an example of a young pitcher who is basically a thrower in the Minor Leagues, but doesn't make the transition to a pitcher when he moves up. When he comes back, maybe long relief would be a better spot for him -- not as much responsibility.
-- Bob W., Fuquay-Varina, N.C.
I agree with you, the move to option Snell back to Triple-A probably was best for the young left-hander. Snell has quality stuff; he just needs to get in the mindset of throwing more strikes. I would imagine he'll address that at Durham. As for him becoming a reliever, I'm not on board with that. I believe Snell will get his act together at Durham and return to the Rays a different pitcher.
At what point do the Rays recognize the Rickie Weeks Jr., experiment at first base is a failure? Veteran leadership only goes as far as productivity. His numbers are comparable to Casey Gillaspie at Durham, who' s an actual first baseman and a switch-hitter (something Tampa Bay doesn't have on the roster). I'm sure the Rays want Gillaspie to get maximum playing time and not platoon, and Logan Morrison has earned the starting job, but at what cost to the roster is it to keep RWJ around?
-- Mike M., Bradenton, Fla.
I can't really weigh in on the value of Weeks' leadership, but I hear that mentioned all the time. What's that worth? Who knows. I can say that the Rays will have to make some decisions once Duffy returns. Who they keep from a list of players will be a critical decision. As always, they make moves where they try and keep players in the fold. In Weeks' case, if they decided to go another direction, they would have to designate him for assignment, and that would give other teams an opporunity to sign him.
I think the Rays are better than they are playing. Could Cash be the issue?
-- Ronald I., Wildwood, Fla.
I know it's popular to bash the manager when a team doesn't win more games than it loses, but I don't really remember any situations where Cash made questionable decisions that cost the team a game. On top of that, I believe that being a manager is a little bit like being a parent. You get too much credit when your kids do well and too much blame when they don't. So it comes down to whether the team simply wants a different climate, and I don't think the Rays are at that point right now.
Sometimes I feel like I'm Corey Dickerson's biggest fan and can't understand why he's not relied on for starts against all pitching -- platooning him and DHing him seems less productive. Do you feel he should be an everyday player?
-- Brian P., Naples, Fla.
Dickerson is off to a nice start, which should not be a surprise given the numbers he posted with the Rockies prior to the 2016 season, his first with the Rays. So far, he's played in 40 of Tampa Bay's 43 games, with 36 starts, of which 15 have been in left field and 21 at DH. While there are times when he might get a rest against a left-hander the Rays think he might have trouble against, he's pretty much been an everyday player to this point. I don't see that changing.
Bill Chastain has covered the Rays for MLB.com since 2005. This story was not subject to the approval of Major League Baseball or its clubs.