Ramirez pitches Rays to sweep of Tigers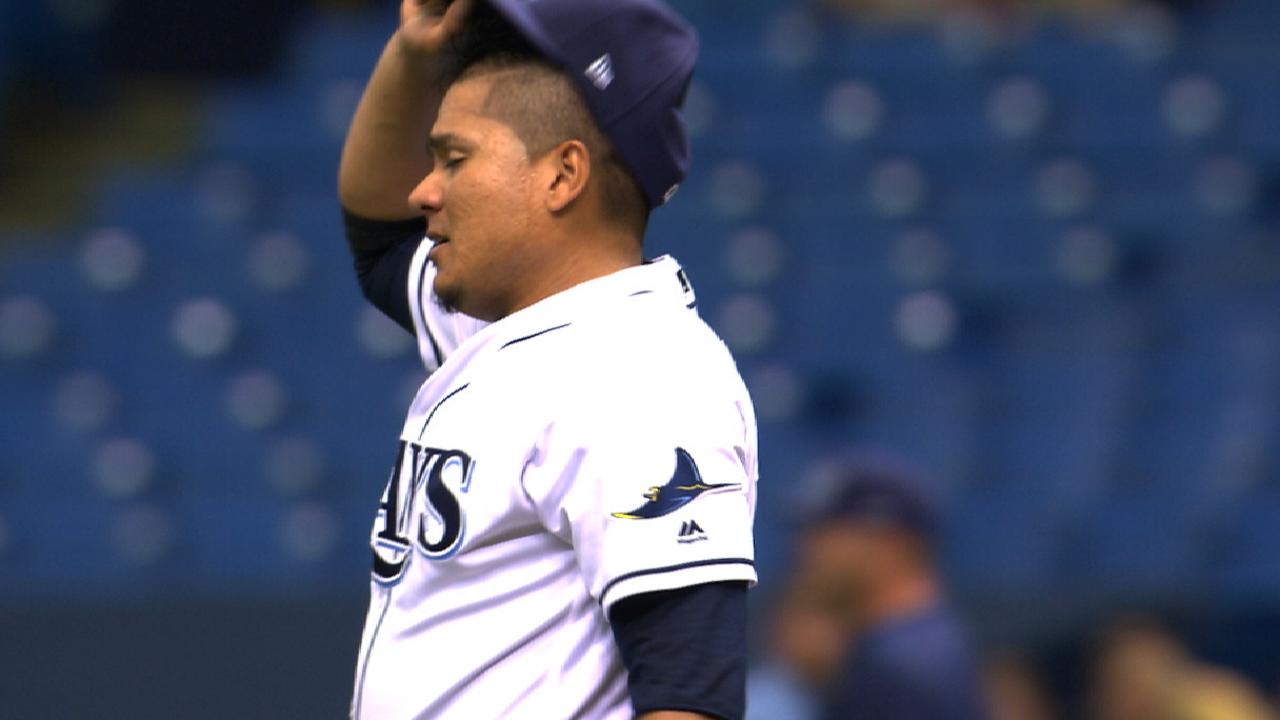 ST. PETERSBURG, Fla. -- Right-hander Erasmo Ramirez, who had only started one game in his last 70 appearances, was called upon Thursday afternoon to pull the Rays out of a tough situation. He delivered.
Ramirez's spot start turned into a gem. He allowed just two hits in five efficient innings while taking advantage of some early support from his offense and late support from his bullpen in the Rays' 8-1 victory against the Tigers at Tropicana Field, completing the Rays' first sweep of the Tigers since 2010.
"Erasmo's stuff looked really good,'' Rays manager Kevin Cash said. "It had a lot of late action, which was nice to see.''
• Erasmo's rubber arm invaluable to Rays
The Rays collected solo home runs from center fielder Kevin Kiermaier, third baseman Daniel Robertson and right fielder Steven Souza Jr., who just missed the cycle on a monster 3-for-5 day with a homer, triple and double.
• Souza on the march in young season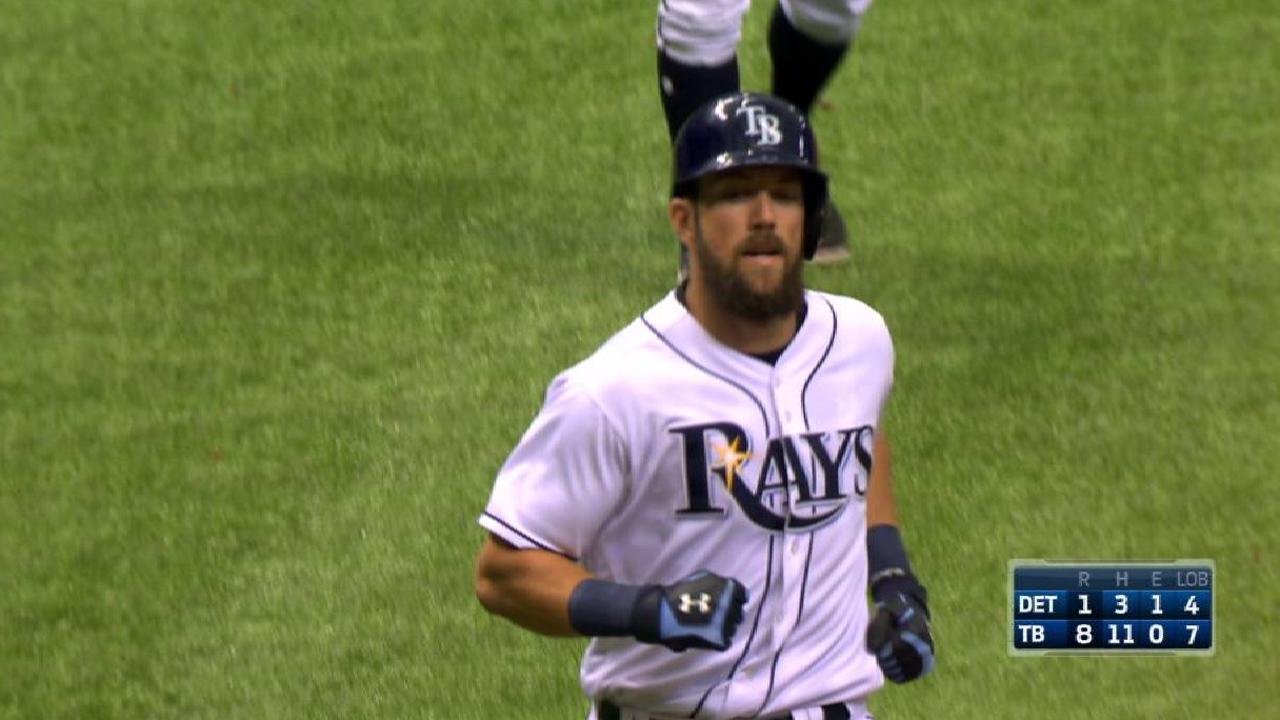 After giving up a solo home run to Tigers second baseman Ian Kinsler on the game's third pitch, Ramirez set down the next 11 batters. Overall, he retired 15 of the last 16 batters he faced, throwing 66 pitches (47 for strikes).
"Ramirez has been tough on us before," Tigers manager Brad Ausmus said. "He did a nice job. Nothing is really straight and he moves everything around. He did a nice job and really kind of stymied our bats for those five innings where we couldn't do anything at all."
Tigers left-hander Daniel Norris, who gave up eight hits and five runs in 4 2/3 innings, lost for the first time in his career away from Detroit. Coming into Thursday, Norris had been 7-0 with a 2.77 ERA on the road. The Rays chased him in the fifth when Brad Miller smacked a one-out double, went to third on a wild pitch and scored on Tim Beckham's RBI grounder to third.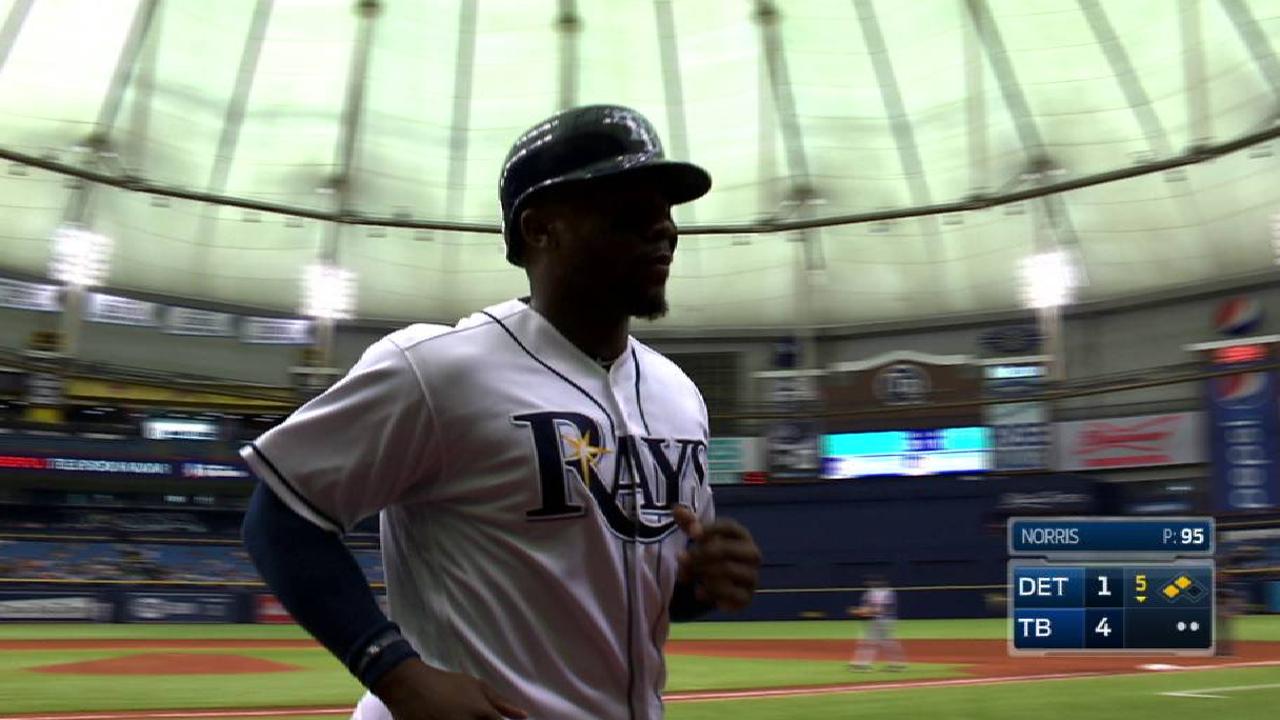 "The whole day my stuff felt good," Norris said. "I was getting quite a few swing and misses and I felt locked in as far as that goes. Just nothing was rolling our way but sometimes that's baseball."
MOMENTS THAT MATTERED
Bloop Triple: Souza broke a 1-1 tie in the second inning with a two-run, two-out triple that confounded Tigers right fielder Tyler Collins. Souza's bloop forced Collins to run a long way, He leapt to try and stop the ball on the bounce, but it caromed away, all the way to the right-field bullpen wall as Souza galloped around the bases, sliding in safely at third. More >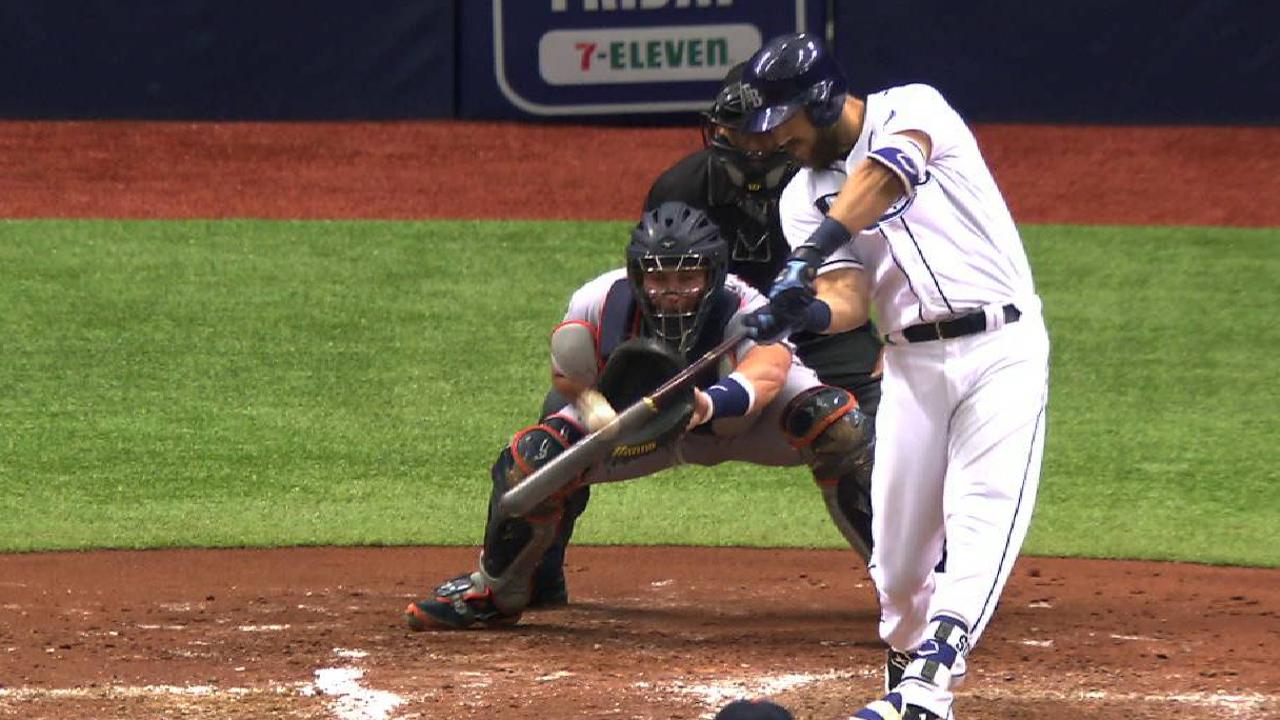 Snuffed Out: The Tigers made a late attempt to tighten the game with the margin at 6-1 in the eighth inning. With two outs, Dixon Machado singled and Kinsler walked, sending up Collins with Miguel Cabrera on deck. Chase Whitley immediately got ahead of Collins with two strikes, coaxed a foul, then was high on two pitches. Whitley's 2-2 breaking ball got Collins for strike three, ending Detroit's most promising inning.
QUOTABLE
"Rounding the bases, I felt like I was almost going to trip. I couldn't even feel my body. It felt good to slow everything down and put some good barrel on the ball.'' -- Robertson on his first Major League homer.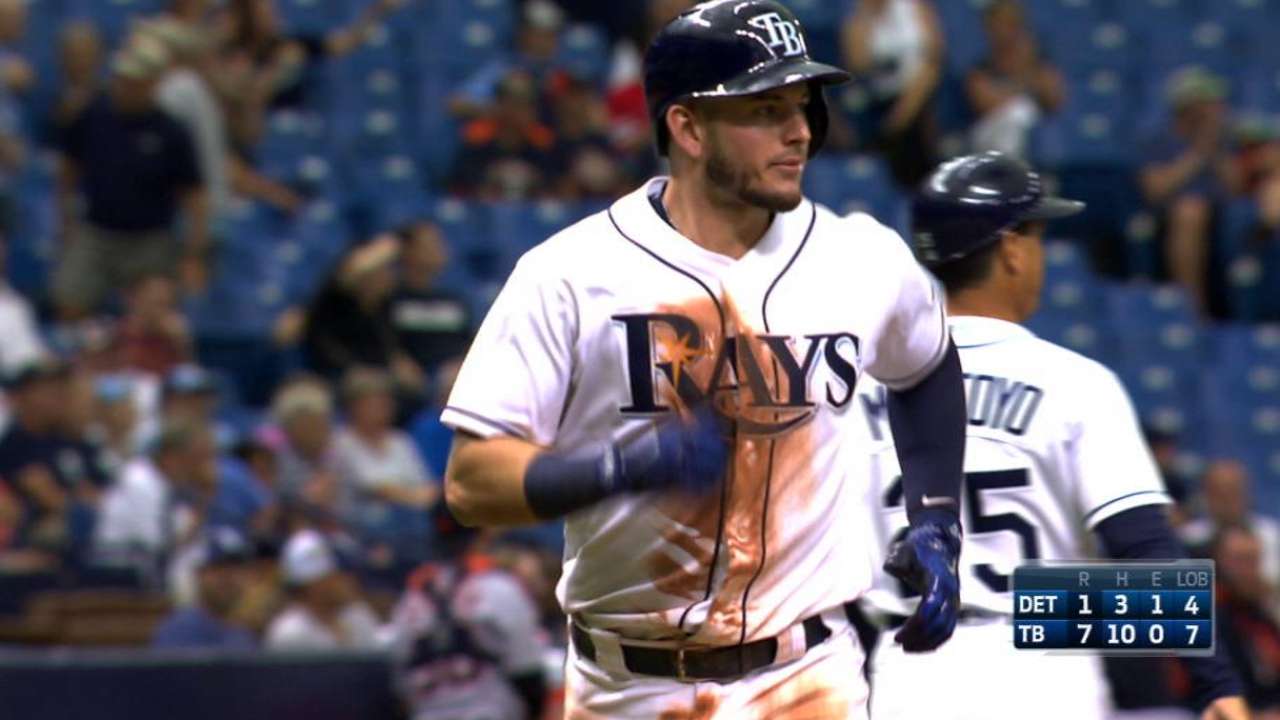 SOUND SMART WITH YOUR FRIENDS
Kinsler collected his 41st career leadoff homer, second among active players to Curtis Granderson (42 with the Tigers, Yankees and Mets). Kinsler ranks seventh in leadoff homers since 1913. According to ESPN Stats and Information, all 41 of Kinsler's leadoff shots have come within the last 10 seasons -- his first was in 2008, two years after his debut -- and he ranks first in the Majors during that span.
UNDER REVIEW
Ausmus challenged a home run by Kiermaier in the bottom of the seventh inning on the grounds that the runner did not touch second while rounding the bases. After a 58-second delay, the call was confirmed.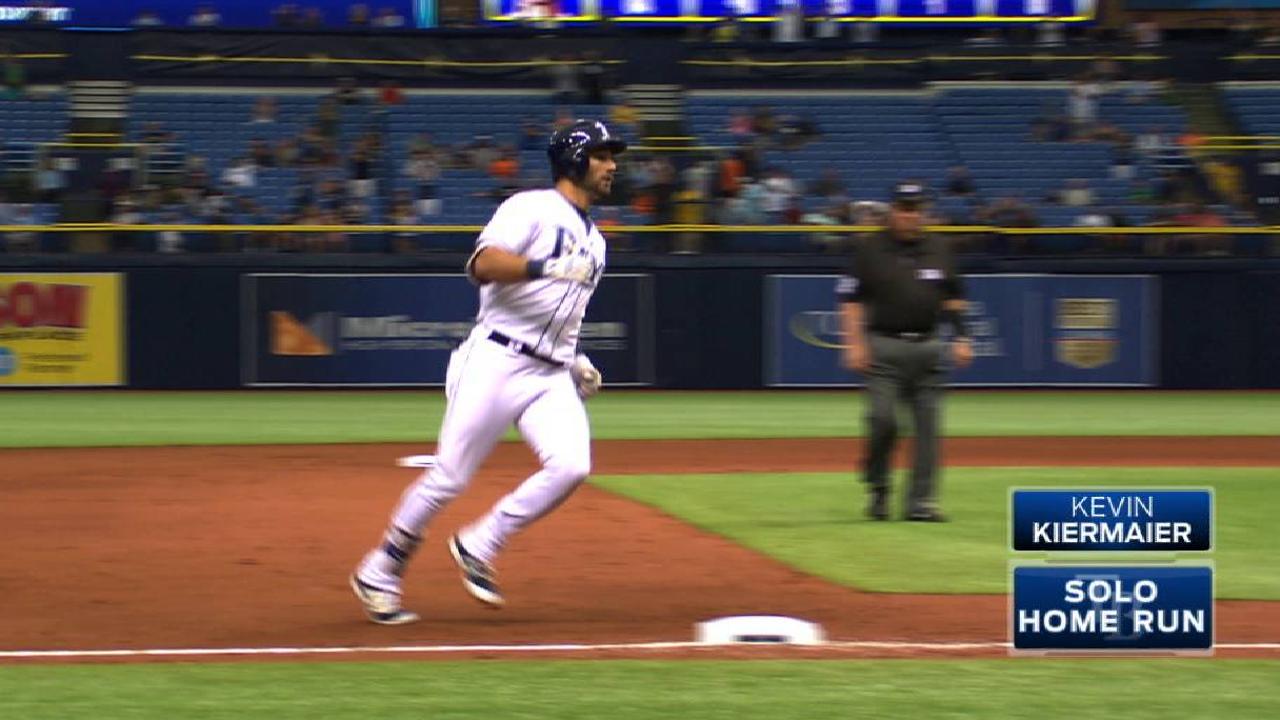 For a half-inning, Thursday's game utilized a three-man umpiring crew. Larry Vanover missed the game due to a personal matter.
Joe West, who lives in the Central Florida town of Clermont (about two hours from Tropicana Field), was called to substitute for Vanover and worked at third base, but he just missed the first pitch at 1:10 p.m. ET.
Alfonso Marquez, the crew chief, was the home plate umpire. Chad Fairchild (first base) and David Rackley (second base) split the infield duties until West's arrival.
WHAT'S NEXT
Tigers: Detroit will head to Target Field to take on the Twins for a three-game series that starts at 8:10 p.m. ET on Friday. Starter Justin Verlander (1-1, 5.71 ERA) is coming off a rough outing after allowing nine earned runs on 11 hits in four innings against the Cleveland Indians on Saturday. Lefthander Hector Santiago will take the mound for the Twins.
Rays: The Rays will host the Astros for a three-game series that starts at 7:10 p.m. ET on Friday. Starter Alex Cobb (1-1, 4.50 ERA) is coming off a no-decision against the Red Sox, where he allowed 11 hits (his highest total since Aug. 18, 2012) and had no strikeouts for the first time in his career. He will be opposed by Astros righty Mike Fiers (0-1, 4.50).
Watch every out-of-market regular-season game live on MLB.TV.
Joey Johnston and J. Scott Butherus are contributors to MLB.com. This story was not subject to the approval of Major League Baseball or its clubs.