MLB.com Columnist
Richard Justice
In Kiermaier, Rays have quite a catch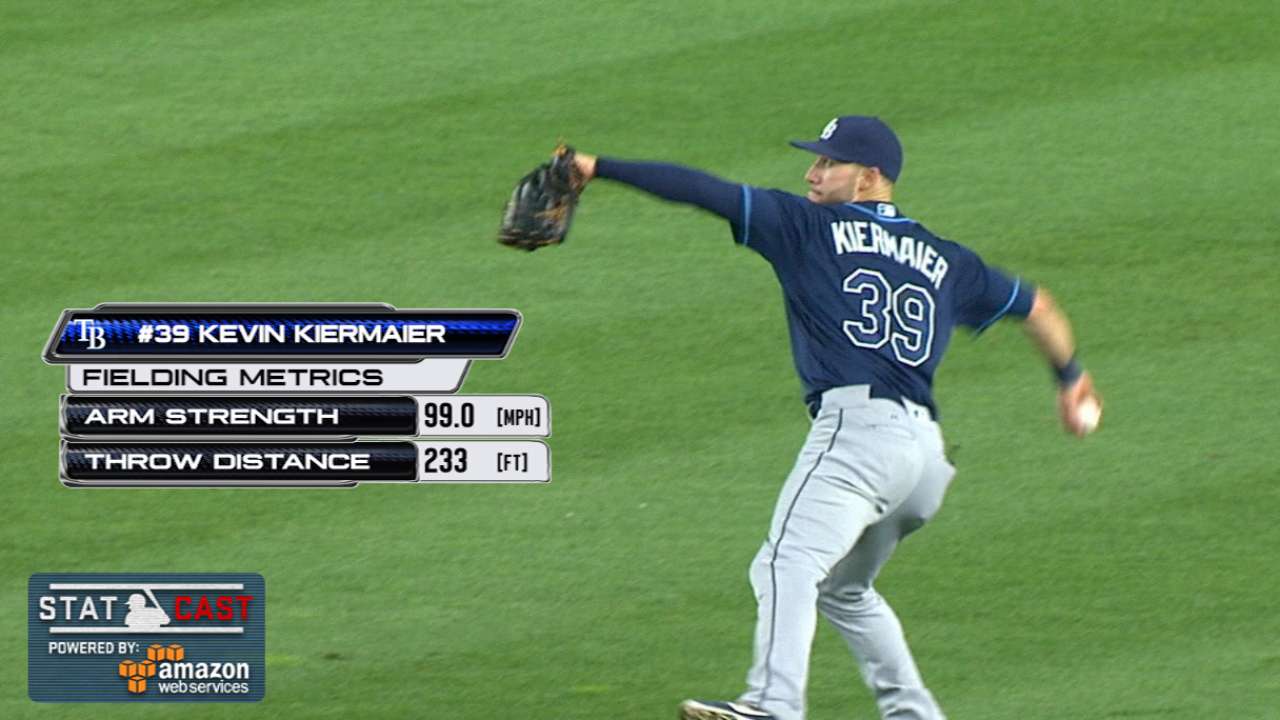 PORT CHARLOTTE, Fla. -- In the Rays' dugout, they're long past being surprised by anything Kevin Kiermaier does in center field. Diving catches? Sure, no big deal. Robbing home runs? Routine stuff, pal. Anything else?
"If it's not caught, then literally nobody in the world would have caught it," Rays pitcher Chris Archer said. "He's the best defender in the world at his position, maybe at any position. That's a fact."
In just three seasons, Kiermaier has established himself as a once-a-generation defensive player and a franchise cornerstone. That's why the Rays announced Monday morning that they'd signed the 26-year-old to a six-year contract worth at least $53.5 million.
• Slice of Kevin: Rays, Kiermaier make it official
The deal covers all three of Kiermaier's arbitration seasons and at least two free-agent years, through 2022. There's a club option for '23 that could bring the total value to $66.15 million.
Every defensive metric on the planet confirms Kiermaier's talent. His 42 Defensive Runs Saved in 2015 is a record. According to Statcast™'s new Catch Probability, Kiermaier led baseball at 65 percent in 2016 (the Major League average was 19 percent).
"I've never seen the electricity someone brings from one specific position every night," Tampa Bay pitcher Alex Cobb said. "We just look at each other and laugh. Literally, every game he seems to do something."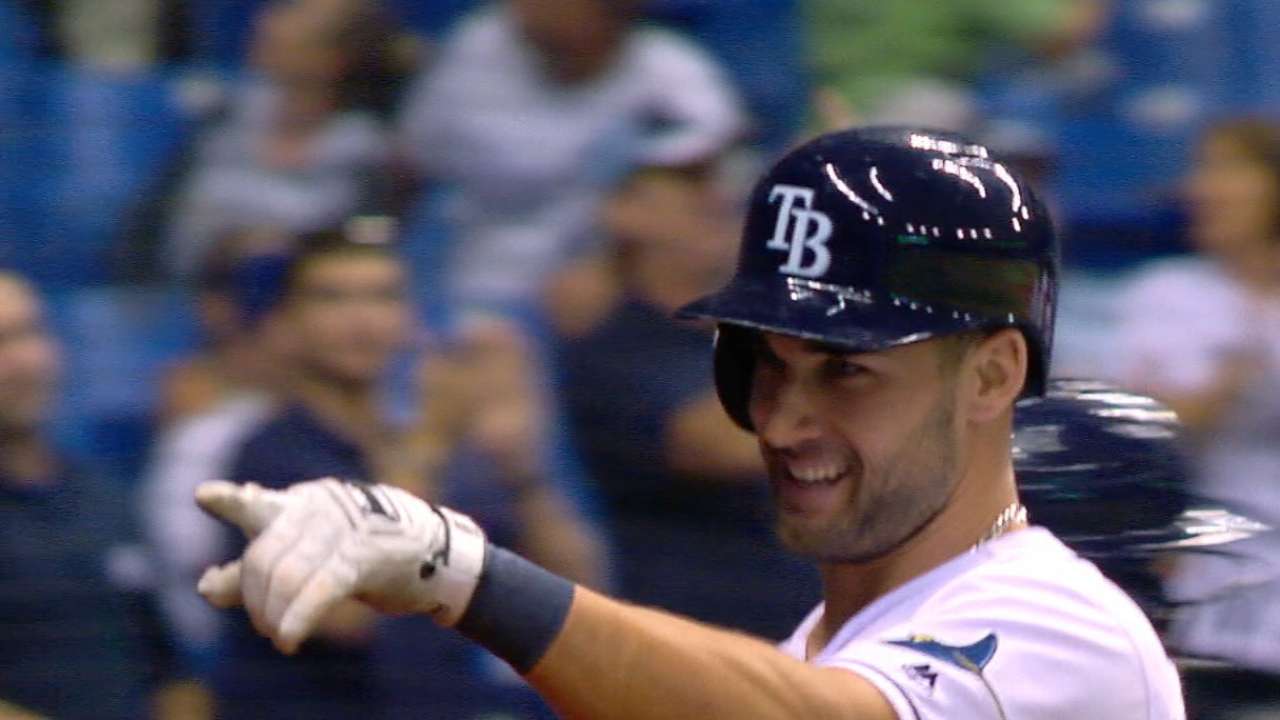 There was a time when a Major League team might not fully appreciate a player like Kiermaier. In the past decade or so, as teams have attempted to quantify all the ways a game can be won and lost, they've come to what seems like a reasonable conclusion: saving a run is as valuable as scoring one.
"We can measure the likelihood of him making a certain catch now with the benefit of Statcast™," Rays president of baseball operations Matt Silverman said. "But there's no way to quantify all the spillover effects he has on our club. Whether it's the pitcher having the confidence to throw a pitch, knowing if he makes a mistake, it might turn into an out. Or that that little blooper is going to get caught. All those little things roll up into a giant avalanche."
Kiermaier has become one of the faces of this franchise both by impacting games and making plays that bring fans out of their seats and send them scrambling to catch a replay.
So this is what smart teams do: They identify their core guys and attempt to lock them up. The Rays now have three of their most important players -- Archer, Kiermaier and third baseman Evan Longoria -- signed through at least 2020.
"I think it's pretty obvious that Kevin Kiermaier is a superstar," Silverman said. "If you ask the other 29 teams, there wouldn't be any disagreement. If you look out on that field and ask who is an impact player, everyone is going to identify Kevin Kiermaier."
Kiermaier's journey has been improbable. He was the 941st player selected -- that's the 31st round -- in the 2010 Draft. In other words, no team in baseball saw Kiermaier as anything more than the longest of long shots.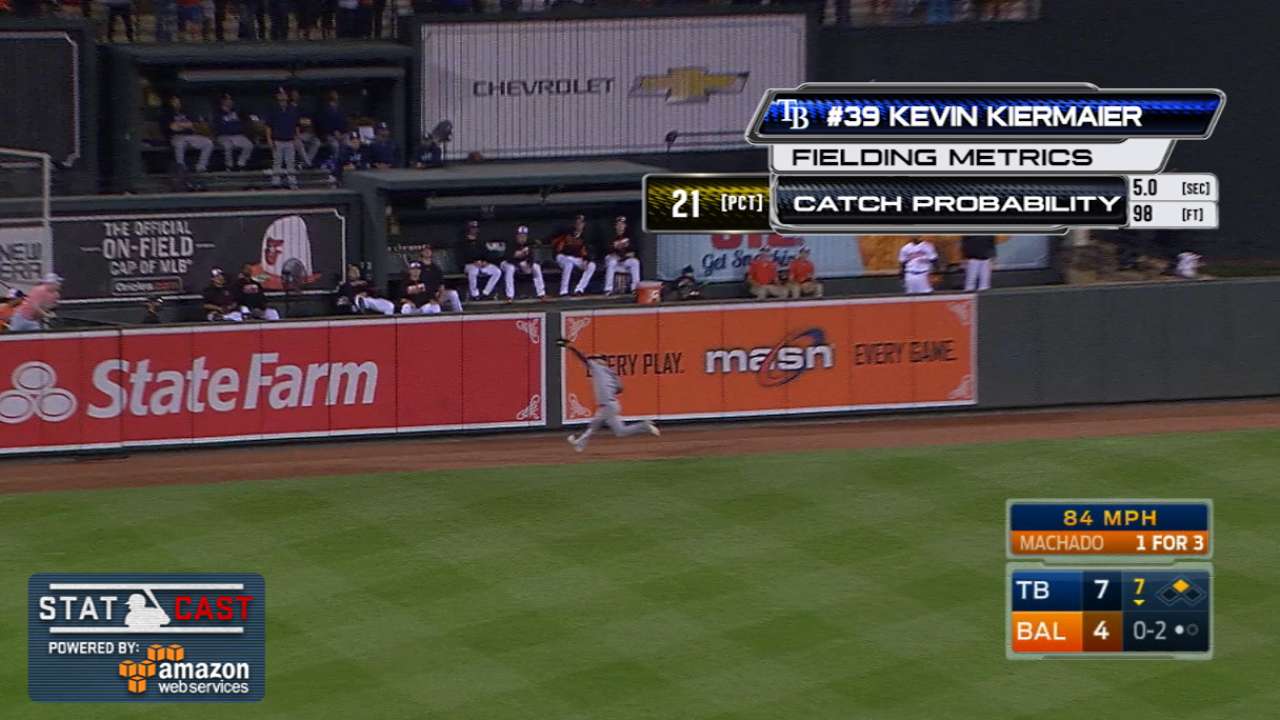 "At the time, I was pretty bitter about that, because I knew I was better than that," Kiermaier said. "At the same time, I wouldn't change that for anything. I always use that as a chip on my shoulder.
"I'm very grateful I was a 31st-rounder. I think it's going to hopefully inspire other people. He might not be a prospect or highly touted player. If you play and perform, you're going to get a chance sooner or later."
Kiermaier made an impact quickly. After his second professional season, Tampa Bay began hearing reports from its Minor League staff.
"You hear all sorts of things about young players coming through the system," Silverman said. "With Kiermaier, it was, 'This is the best center fielder you're ever going to see.' You always discount any time you hear 'best ever.' But it stuck."
Two years later, in 2013, the Rays did something amazing. They added Kiermaier to their Major League roster for the 163rd game of the regular season, in a tiebreaker game against the Rangers.
Kiermaier had played just 39 games above Double-A and was in Florida staying in shape in case he was needed (Tampa Bay's regular center fielder, Desmond Jennings, was nursing an ankle injury).
"That was the confidence our player development group had in his ability, that he wouldn't get caught up in the moment and his defense would shine through," Silverman said. "That's when it really crystalized that this player's defensive ability was superlative and had a chance to be one of the best of his generation."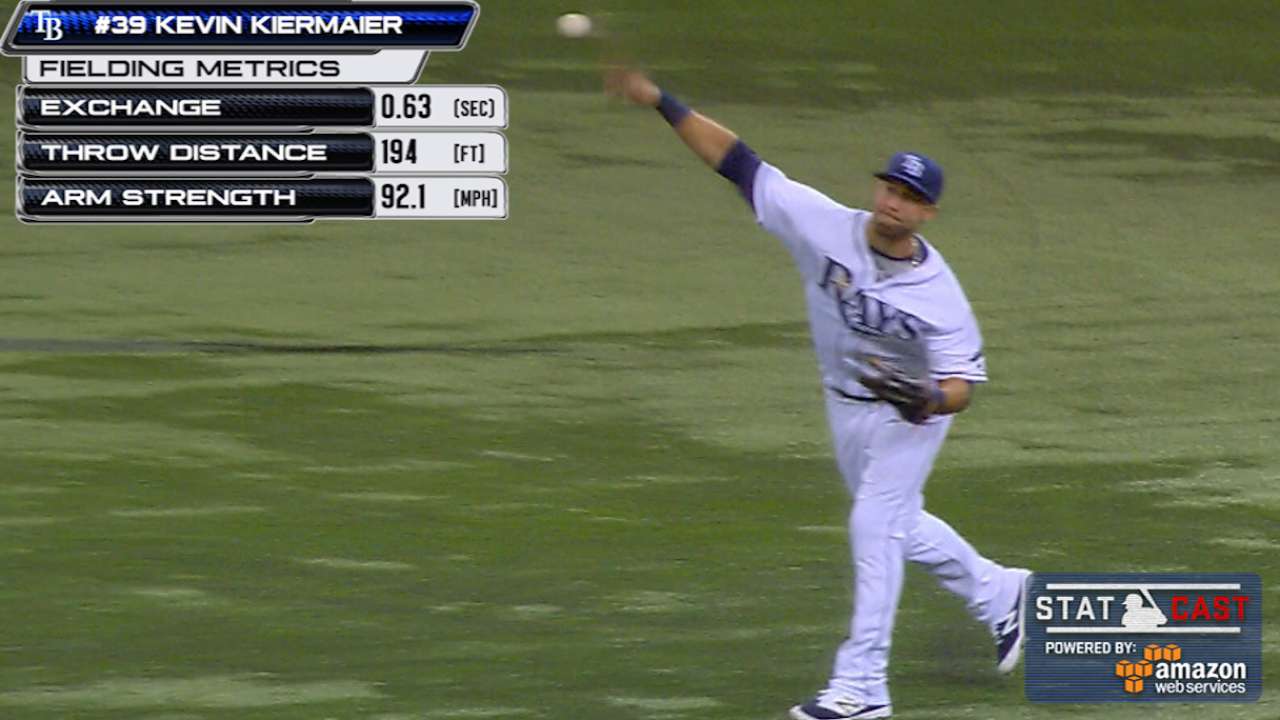 When a player is taken in the 31st round, they're usually paid little or no attention. Coaches and instructors figure if a player is taken that low, his skill set doesn't merit much attention.
Kiermaier opened some eyes with his speed and defensive play almost from the start. When he arrived to stay in 2014, his defensive play became a staple of highlight-reel packages everywhere.
Kiermaier's career OPS is .738, but even after missing 57 games last season, his stat line included 20 doubles, 12 home runs and 21 stolen bases. The Rays are convinced his offense will continue to get better. But even if it doesn't, Kiermaier is already one of baseball's special -- and most entertaining -- players.
"To be honest, I don't think I've scratched the surface yet," Kiermaier said. "I know I can be a lot more well-rounded player, and I hope to prove that this year and many to come."
Richard Justice is a columnist for MLB.com. You can follow him on Twitter @richardjustice. This story was not subject to the approval of Major League Baseball or its clubs.