Rasmus shakes off rust in Rays debut
Outfielder goes 0-for-3 with three strikeouts in game against Phils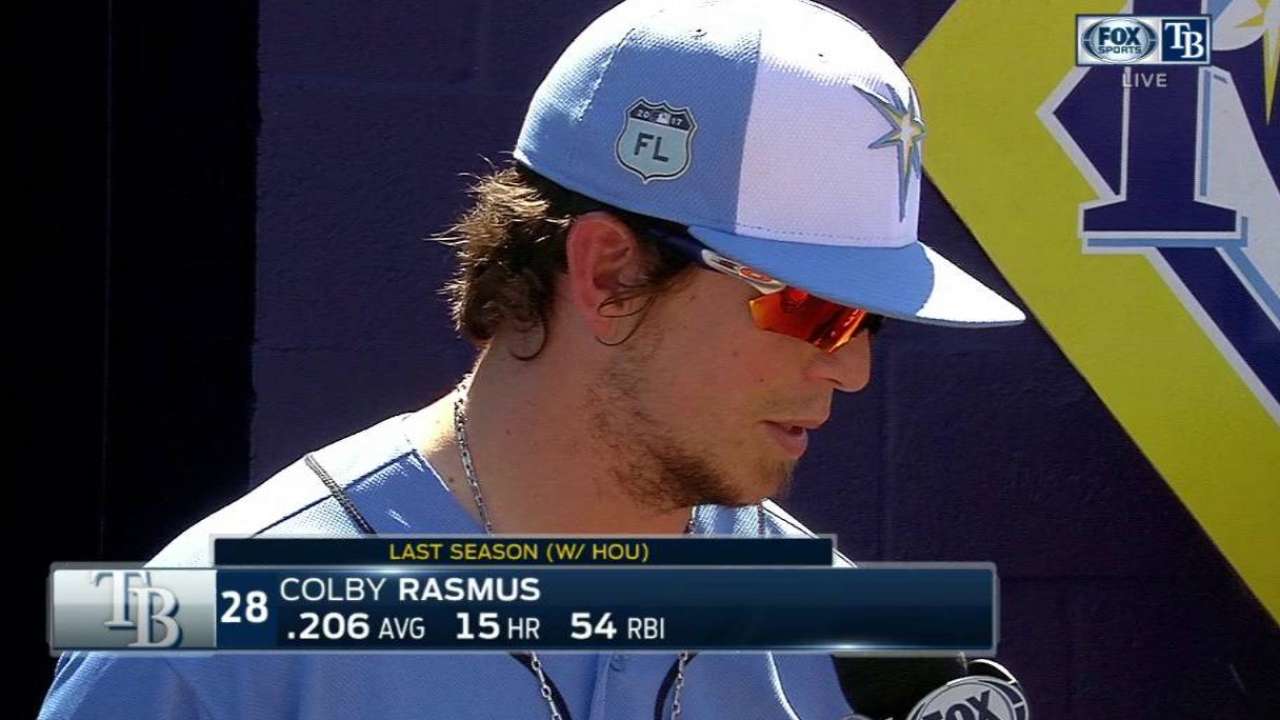 PORT CHARLOTTE, Fla. -- While his line may not read the way he would have liked, just getting into a game represented progress for Colby Rasmus. The Rays left fielder had been sidelined all spring following offseason hip and core muscle surgeries. He made his Grapefruit League debut Sunday afternoon, going 0-for-3 with three strikeouts in the Rays' 8-0 win over the Phillies.
Serving as the designated hitter and batting third, the left-handed-hitting Rasmus faced Phillies starter Jerad Eickhoff in each of his three at-bats.
"You'd always like to do good but it felt fine," Rasmus said. "Trying to get the feeling more so now and just seeing some pitches. He mixed it up on me pretty good. But that's the [big league] innings that's going to give you pitches and let you get in the groove.
"So that's going to be a fight in the beginning to get the feeling of getting inside the ball and pulling those balls back fair, but I felt pretty good just getting out there with the boys and just a good feeling to be on the field today."
• Archer returns from World Baseball Classic
Manager Kevin Cash said he expects Rasmus to DH again on Monday when the Rays host the Pirates. That will be contingent on how Rasmus feels.
"I was just happy to get him out there," Cash said. "Hopefully he feels [good] and he'll be right back out there DH'ing tomorrow."
While it is not a certainty, Cash said Rasmus' progress is a good sign he could be ready for Opening Day. Rasmus, who had a long foul ball against Eickhoff, could get at-bats in Minor League games to get him up to speed.
"Yeah, we just have to see how it goes," Rasmus said. "I'm going to try to be honest with myself and make sure I make the right decision. But if it comes down to it, I'll go over to the Minor Leagues and get some at-bats. I haven't had much success with that because you go down and they see the number on your back and you don't see many strikes.
"So we'll try to just make the best decision possible, make a wise decision moving forward as far as that goes. But look forward to tomorrow getting back in there, slowing it down, seeing the ball, recognizing spin.
"Today [Eickhoff] was spinning some on me pretty good, throwing breaking balls and mixing the seams on me. ... I hit that one ball foul, and then they kind of locked it in on me, which is the way it's supposed to be, that's the big leagues, because that guy's trying to make a job. We'll just continue to work, try to get better."
This and that
• Second baseman Nick Franklin was ejected in the eighth inning by home plate umpire Ryan Blakney for arguing balls and strikes.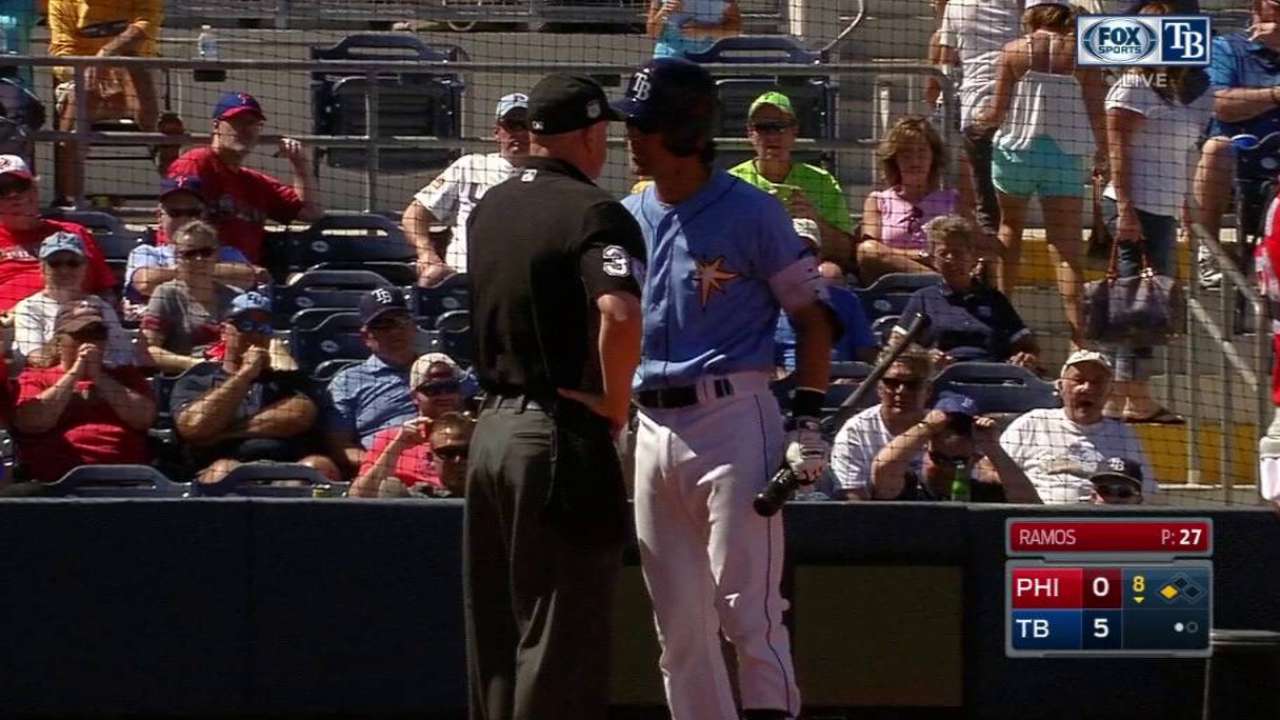 • Dayron Varona and Jake Bauers hit back-to-back triples in the Rays' five-run eighth.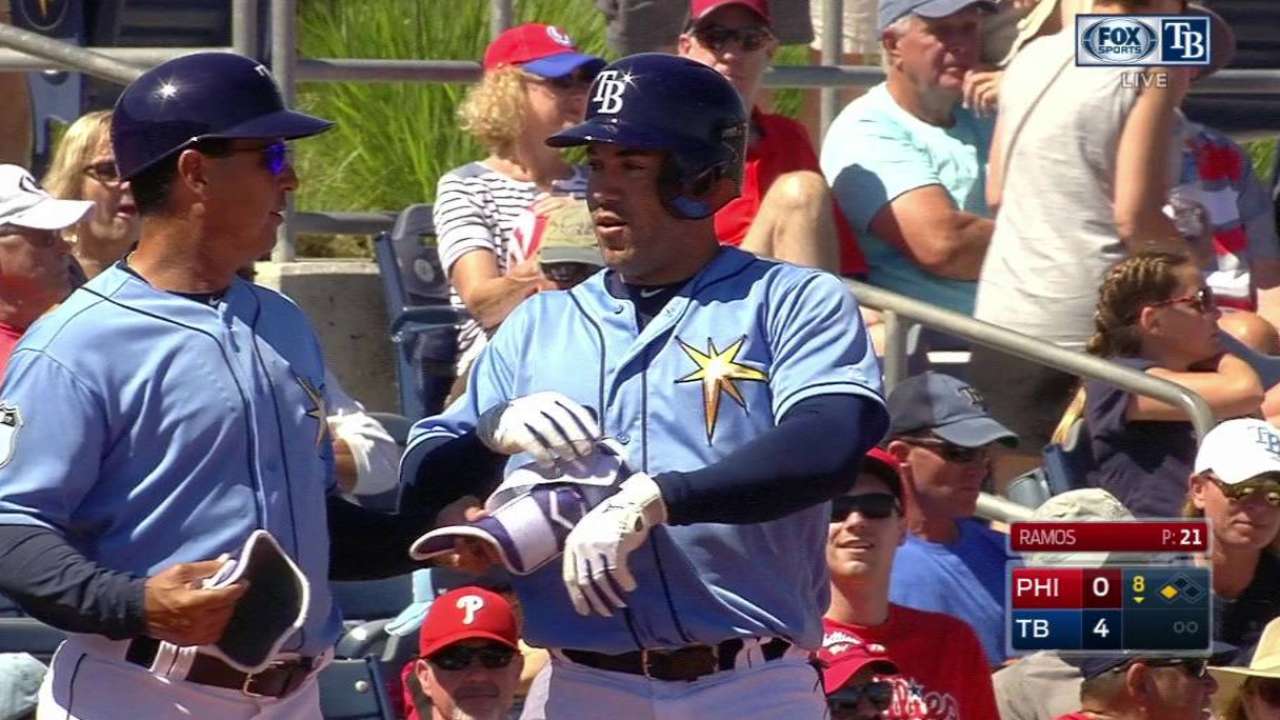 • The Rays raised $16,350 for the Pediatric Cancer Foundation's "Cut for a Cure," as 20 fans and 35 Rays staff, players and coaches had their hair cut.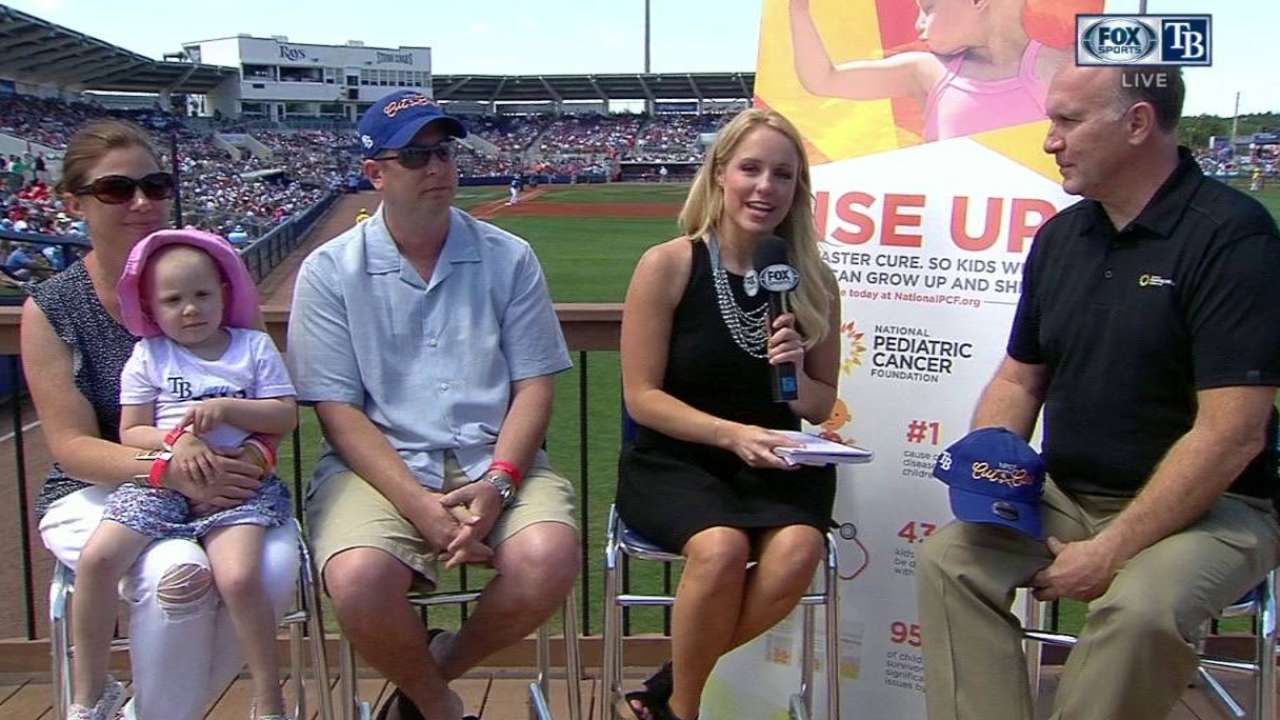 Maureen Mullen is a contributor to MLB.com This story was not subject to the approval of Major League Baseball or its clubs.